Well, it's my turn. I got the gift of Covid for Christmas. Many lessons I've learned during these days of quarantine. (1) I'm extremely grateful that my family is still healthy. (2) I'm extremely grateful that my symptoms aren't worse (3) I'm extremely grateful for having the vaccine so my duration of this virus has been shortened and (4) I can't wait to hug EVERYONE I know once I'm out of my quarantine.
In the meantime I am getting lots of puppy snuggles from Nutmeg, I'm drinking more lemon water than I ever have in my entire life, I've rearranged my apartment about 7 times and I finally made myself homemade cinnamon rolls and I've eaten one every day of quarantine without regret.
I also have made myself plenty of healing soups, bone broths and a new immunity tonic that I'm so excited to share with you. Whether you have covid, the flu, a cold or are just feeling blah from winter this antioxidant rich and anti-inflammatory tonic will help arm your body with an extra punch of fight. Is this a cure? No. Is it full of things your body will be grateful for? Yes. Plus it tastes delicious and takes about 5 minutes to put together.
with love from quarantine,
Kendra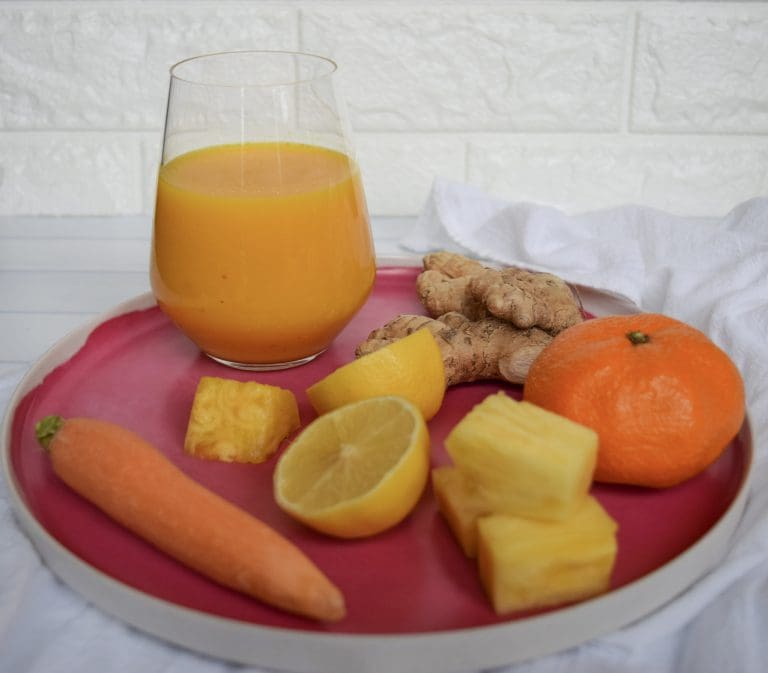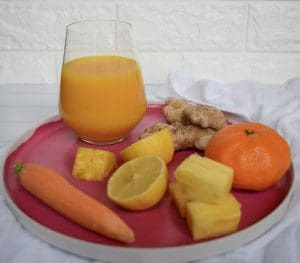 Pineapple-Turmeric Immunity Tonic
Free From Top-9 Food Allergens, Vegan, Low-Fodmap
Serves: Makes approximately 3 cups
Prep Time: 5 minutes
1 c. chopped fresh or frozen pineapple
3-4″ peeled chunk turmeric, roughly chopped
3-4″ chunk fresh ginger, roughly chopped
1 carrot, thoroughly washed and roughly chopped
1 orange, peeled
2 lemons, juiced
crack of pepper
Directions
Add everything to the base of a blender, add 1 c. of water and blend at high speed for 1-2 minutes. Adding more water as needed to make sure the liquid is at 3 cups. Keep refrigerate for 4-5 days and drink as desired.
Happy Foods are the Best Foods!