I have a love hate relationship with things labeled "protein" this or "protein" that. Generally speaking most Americans get plenty of protein, if not more than they need. And don't even get me on people who never eat breakfast but have a "protein shake" every morning. BUT I have been a big proponent of protein from collagen powder for awhile now. It's a great way to pump your body with healing collagen and also a super clean source of protein, as long as you are choosing a good source for your collagen powder.
All that being said, there are many days when we or our kids or our partners are having a rushed morning and need a grab and go situation or the kids need something for after school. I'm sure there are plenty of other reasons as well. I'm one of them!! My Monday mornings tend to be so hectic that often I'll reach for a bar. And while I like to think I'm pretty savvy and pick very clean bars I think there are few bars cleaner than this recipe below for what I think is the best recipe for protein bars. 7 ingredients is all that makes up these beauties. They're unbelievably easy to put together and really tasty. If you prefer you can also make them into protein balls and dip them in the chocolate rather than having a topping of the chocolate layer. Or you could skip that step all together and just make little nourishing "truffle" bites!
While being easy this is also a flexible recipe. Love sunflower seed butter? Use that! Love almond butter? Use that! Can't have any seed or nut butter? Try chickpea butter! Love white chocolate? Try using the new Enjoy Life Foods White Chocolate Mini Chips! Prefer to use maple syrup over date puree? No problem! Use 3 Tbsp. of that in lieu of the date puree! Make it your own. Just be sure to make these chocolate protein bars, you'll be happy you did!
xo,
Kendra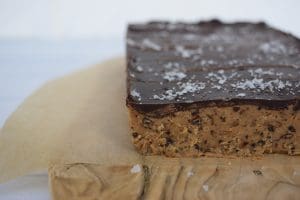 Chocolate Chunk Protein Bars
Free From the Top-9 Food Allergens
Vegan, SIBO Phase II
**contains coconut
Ingredients
approx 8 fresh Medjool dates, soaked in hot water for 15 minutes OR 3 Tbs. maple syrup OR 3 Tbs. honey
1 tsp. vanilla extract
1 c. favorite seed or nut butter, unsweetened
1/4 c. grass fed, plain collagen
3-4 Tbsp. coconut flour*
1/3 c. chopped Hu Chocolate Gems (or your favorite chocolate)
Topping
1/2 c. Hu Chocolate Gems (or your favorite chocolate)
2 tsp. coconut or olive oil
flaky sea salt
Directions
Drain the soaked dates and add them to a mini food processor. Add the vanilla and blend until you have as smooth of a paste as you can get.
Add the date-vanilla paste to a bowl and all remaining bar ingredients. Mix with a spoon and let sit for 5 minutes for the coconut flour to absorb the moisture. Check it and add more coconut flour as needed, but not too much as it will get crumbly!
Line a 9×5 Loaf pan with parchment and press the bar mixture into the pan in a single layer. Refrigerate while you make the topping.
Melt together the 1/2 c. Hu Chocolate Gems with the 2 tsp. coconut or olive oil until smooth.
Pour over the top of the packed bars in the loaf pan and sprinkle some sea salt over the top. Refrigerate for a couple hours, cut into 8 bars and wrap for easy grab and go!
*While I haven't tested it out, if you aren't able to have coconut I think you could use some chickpea flour in lieu.
Happy Foods are the Best Foods!