It's been in the 90s and humid this entire week in Chicago. And what that means is that every day I want to gobble down watermelon in any way, shape or form. A watermelon salad is one of my favorite things to enjoy on hot days and watermelon "pup-sicles" are definitely a treat I have made for Nutmeg the Frenchie on hot days!
But sometimes, when I want a cocktail, I also want to add some refreshing watermelon into the mix. Or sometimes I just have so much watermelon that I need to find more creative ways to enjoy it. Enter: The watermelon-basil margarita.
It's simple (literally 2 steps), it's refreshing and it's so pretty. It'll be your summer cocktail this year and it's easy enough to keep alcohol free also for your kiddos or if you prefer to not drink alcohol!
Stay cool this week, Drizzlers. It's a steamy one out there. Me? I am teaching a 3 day kids cooking camp outside at a clients house, today it's grilled gluten free and dairy free pizzas…..so I will be looking forward to a cooling watermelon margarita when I return home!
Stay safe out there, drizzlers!
xo, Kendra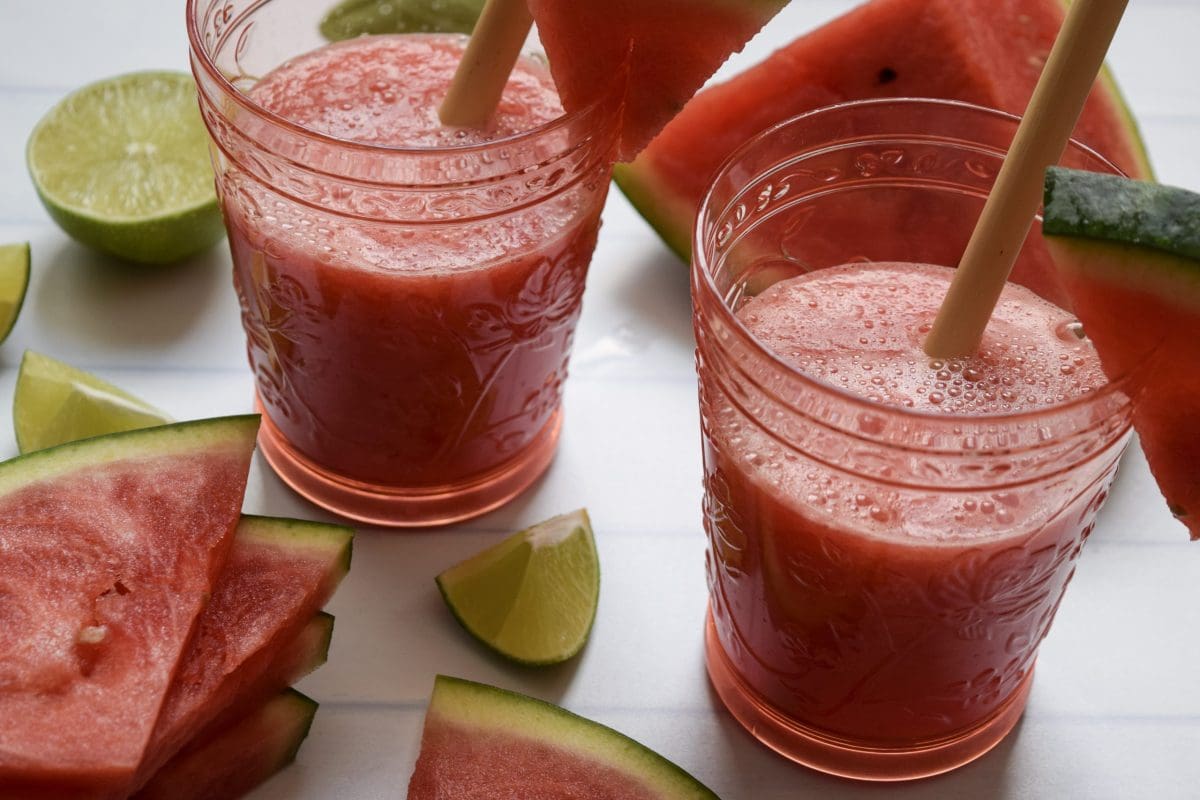 Watermelon Basil Margaritas
Free From the Top-14 Food Allergens, Vegan
Serves 6-8
4-5 cups watermelon, small cubes
4 limes
12-16 basil leaves
1 1/2 to 2 c. tequila blanco
Directions
Add the watermelon to a blender base.
Juice the limes into the blender base and place the lid on. Blend until smooth and you have a puree.
Tear half of the basil leaves into the blender and pulse. Leave the other basil leaves for garnish.
Pour about 1/2 c. into a glass filled with ice and then add 1/4 c. chilled tequila. Garnish with another basil leaf and lime wedge, if you'd like.
happy foods are the best foods!