Having something handy, tasty and nutritious at the ready is pretty much a lifesaver. Am I right? While the grocery stores offer PLENTY of convenience foods for us that tout on the packaging to be healthy and nutritious, I can tell you with certainty that 10/10 times if you make something at home it will be better for you. Fewer ingredients, less processing plus it'll taste better since it hasn't been made knowing the potential to sit on a shelf for weeks or even months.
That being said, with allergies or dietary restrictions it can be even harder to find snacks that taste great, are clean and nourishing and that your whole family enjoys. Well, enter in this recipe. I've been making all sorts of versions of power balls for years now. There is a recipe in my first cookbook, there are recipes on my website, I've created recipes for many different brands.
Now, living with my SIBO and working through the foods that trigger me and that sit well with me I have found convenience breakfasts and snacks to be nearly impossible to find/make. Enter this recipe. It's super flexible so you can use whatever nut or seed butter you are able to eat. Don't like chocolate? Try adding some freeze dried blueberries! Don't like coconut? Leave it out entirely and just use psyllium husk! Love pumpkin pie flavors? Add pumpkin pie spice!
It's just sweet enough with not much added sugar, a hit of omega-3s from flax meal, a bit of fiber from the coconut flour/psyllium husk and oh so easy to throw together. So grab your favorite nut or seed butter and white these puppies up. They taste too delicious for you to not stock your fridge at all times with these little bites!
xo, Kendra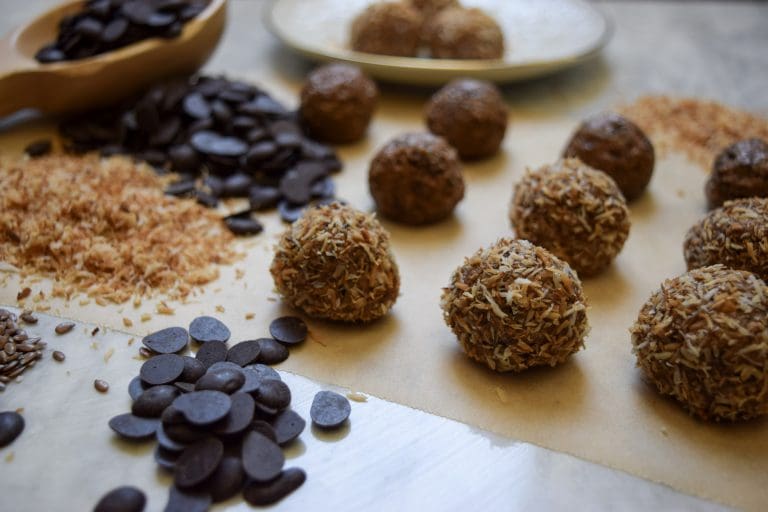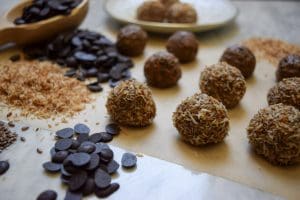 Sunflower Seed Butter Chocolate Bites
Free From Top-9 Food Allergens
**contains coconut**
SIBO Phase 2/Low-Fodmap Friendly (with a serving size of 2 bites)
Makes 18
Prep Time: 20 minutes
1/2 c. unsweetened chocolate chips (or dark chocolate chips)
2 Tbsp. flaxmeal
2 Tbsp. sweetener of choice*
2 Tbsp. coconut flour/psyllium husk/chickpea flour/oat flour
1/2 c. favorite nut or seed butter**
1 tsp. maple or vanilla extract
1 tsp. flaky sea salt
*Optional:

To add to the bites

: Collagen powder, cinnamon, cacao nibs.

To Roll the bites in

:  Toasted coconut flakes.
Directions
Add the chocolate chips, flax meal, sweetener of choice and coconut flour/psyllium husk/chickpea flour or oat flour to the bowl of a food processor. Pulse until the chocolate is broken down into smaller pieces. If you plan to add collagen powder, add 2 scoops now.
Add your nut/seed butter, maple or vanilla extract and flaky sea salt.
Pulse until all mixed together and it becomes almost like a big ball.
Scoop out with a spoon or a scooper, about 1-ish Tbsp. in size, roll gently into a ball and, if using, toss with toasted coconut.
Store in the refrigerator for up to 1 week.
*SIBO phase 2: use coconut sugar or 1 Tbsp. of honey to sweeten. Pending allergies: use almond butter or sunflower seed butter.
*Low-Fodmap: use coconut sugar or  1 Tbsp. maple syrup to sweeten. Pending allergies: use sunflower seed butter or almond butter or peanut butter. 
Happy Foods are the Best Foods!