Love pie but don't want to worry about a pretty pie crust edge? Don't know how to really transfer it from rolling out to the pie dish itself? I have the easiest and most delicious solution for you….CROSTATA! It's essentially an open faced pie. Baked flat on a sheet tray you simply toss the fruit filling with some sugar, some spices and a bit of vanilla and/or lemon juice then spread onto the center of the rolled out crust. Fold the edges over, sprinkle with sugar and bake. Easy peasy, stress free, pretty and oh so tasty. So maybe this year instead of purchasing an apple or pear pie you'll just toss together a pear crostata?
xo, Kendra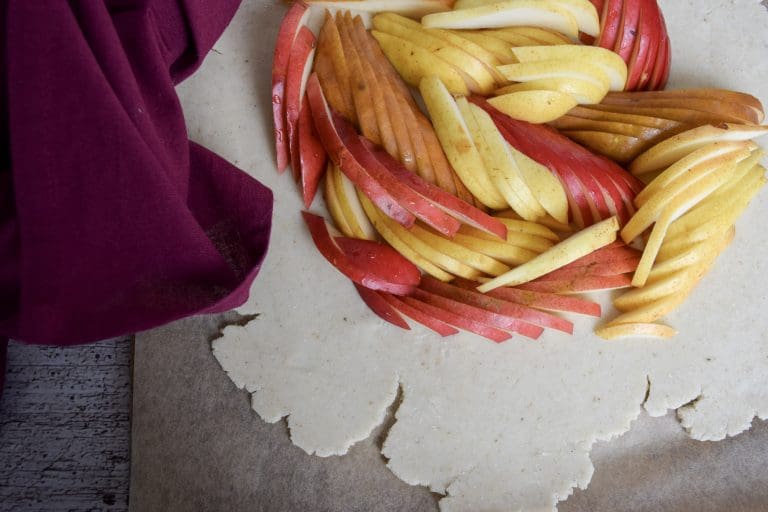 Pear Crostata
Gluten Free, Top-9 Allergen Free Adaptable, Vegan Adaptable
Makes: 1-10″ crostata
Serves: 8Ingredients
1 1/2 pounds ripe but firm pears, like d'Anjou or Bosc (about 4-5)
zest from 1/2 lemon
1/4 c. brown sugar
1 Tbsp. tapioca starch
1 tsp. pumpkin pie spice
pinch salt
2 Tbsp. diced butter or vegan margarine
1 whisked egg + 1 tsp. water or 3 Tbsp. plant based milk
1/2 c. fresh cranberries
2 Tbsp. turbinado sugar
Optional-1 Tbsp. apricot jam + 1 tsp. water to brush over after baking
Directions
Preheat oven to 400. Line a flat baking sheet with parchment paper and set aside.
Halve, core and thinly slice the pears keeping them together in shape.
In a small bowl mix together the lemon zest, brown sugar, tapioca starch, pumpkin spice and pinch of salt.
Roll out the pastry crust into a 12″ round.
Leaving a 2″ perimeter around the outside, arrange the pears in a fluted pattern molding them to fit around each other and stacking some of them to fill in the empty spaces.
Sprinkle the brown sugar mixture all over the pears, sprinkling between slices.
Place the pats of diced butter or vegan margarine all over the pears.
Brush the outside 2″ perimeter with some of the whisked egg water mixture or the plant based milk and gently fold over.
Fill any empty spots with the cranberries.
Brush the outside crust with the same egg/water or plant milk and sprinkle with the turbinado sugar.
Bake for 35-40 minutes at 400 until golden brown and the filling is bubbly.
Best served the same day it is baked, preferably slightly warm with ice cream!
Happy Foods are the Best Foods!