Overwhelming requests from you all for homemade pop tarts during our live class. So, whether you plan to make these for Easter or just for because, let me tell you-they are FUN!
Oh, and did I mention very easy to make allergy adaptable? Whether you can eat butter or not. Whether you can eat gluten or not. And the flavor combinations are somewhat endless. On our call today you all told me your favorite flavors of pop tarts from when you you were younger. Everything from s'mores to blueberry to cinnamon. So, below you'll see the recipe that I showed you on instagram live today but also some really fun variations!
And also, don't forget! You can make one big slab pop tart if you don't want to deal with rolling out the whole lot of them. Simply bake it for 40-45 minutes rather than 20 and then cool for about 20 minutes before cutting. Fun, easy and a great project for the weekend!
Stay safe out there, Drizzlers
xo, Kendra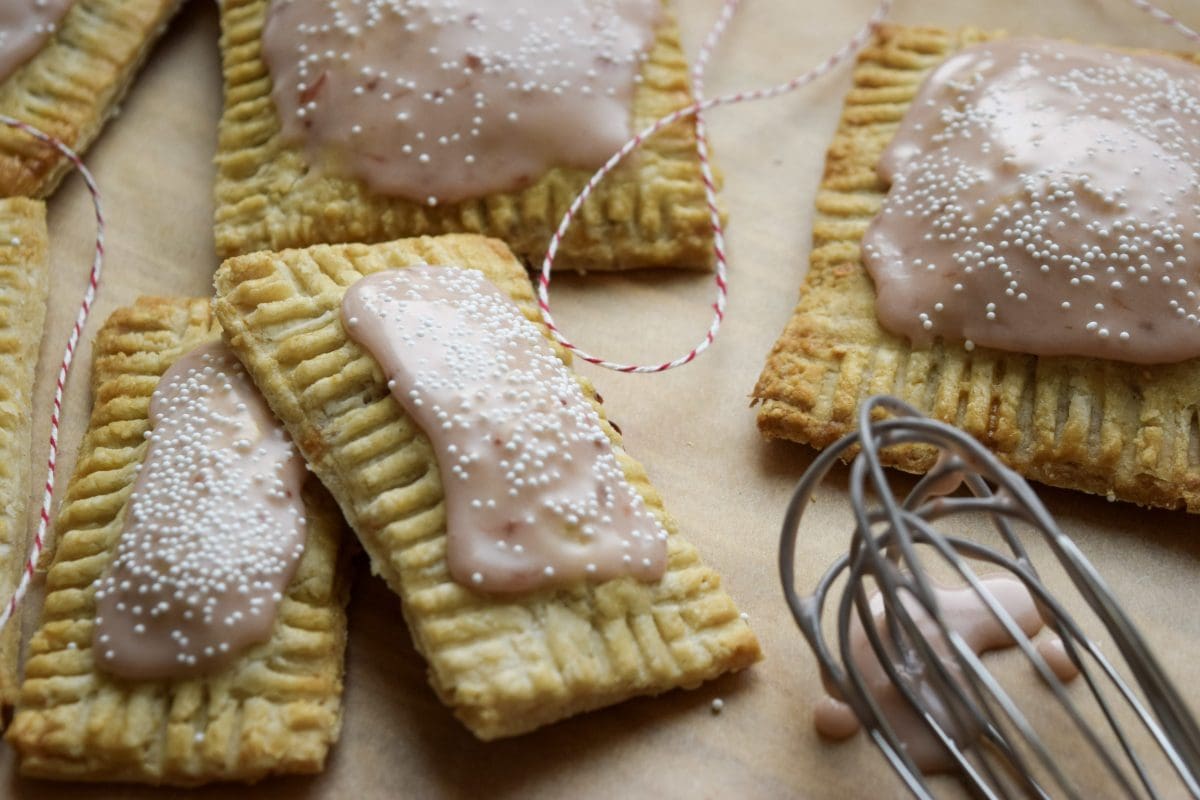 Homemade Strawberry Pop Tarts
Free From Top-8, Corn, Potato, Mustard, Sesame
Makes 8 Pop Tarts or 16 Mini Pop Tarts
3/4 c. oat flour
1 1/4 c. gluten free flour blend (including xanthan or guar gum, if not please add 1 tsp. xanthan gum or 2 tsp. guar gum)
3 Tbls. granulated sugar
1/2 tsp. salt
6 T. shortening, chilled
6 T. vegan margarine (or butter if you can have dairy), chilled
1-2 T. ice water
Filling
3/4 c. seedless strawberry jam
3 Tbs. dairy free milk (or a whisked egg if you can eat egg)
Top Frosting
1 1/2 c. powdered sugar
1 Tbs. seedless strawberry jam
1 Tbs. dairy free milk
Directions
To make the pastry crust: add the oat flour, gluten free flour blend, sugar and salt to a food processor. Add the chilled shortening in 6 portions and pulse until mixed in, it should look like damp sand.
Add the chilled margarine in 6 portions as well and pulse until it looks more like very wet sand.
Add the ice water, small bit by small bit until the dough is totally combined and just barely tacky to the touch. Form into a disc, wrap in plastic and refrigerate for 30 minutes-1 hour.
Preheat the oven to 350 and line a baking sheet with parchment paper.
Break the dough in half, place half on floured surface and set the other half on the side. Gently roll out and cut into 8 rectangles. Lay on a parchment lined baking sheet. Brush the edges with either the dairy free milk or whisked egg and fill with a heaping tablespoon of strawberry jam.
Roll out the other half of the dough and cut into another 8 rectangles, place on top of the strawberry jam filled bottoms.
Use a fork to seal the edges and then brush with either dairy free milk or whisked egg.
Bake at 350 for 18-20 minutes until golden brown around the edges. Cool for half an hour.
Whisk together the frosting ingredients: 1 1/2 c. powdered sugar, seedless strawberry jam and 1 Tbs. dairy free milk. Spread on top and let set about 20 minutes.
Enjoy!