Growing up French toast was always my go to for breakfast. The outside was crispy and hot and the center soaked up the maple syrup like a sponge which was always my favorite part. I saved the very middle bite for last!
Well, trying to make french toast free from dairy, gluten and eggs means you need to substitute every single ingredient. That doesn't always make for a great finished product. But, I'm here to tell you friends that I've figured it out. Not without a little help, though.
I was recently introduced to a product that I kept seeing at the store and just never tried. We love eggs in our house and don't have an egg allergy so I usually stick to my standard egg subs of: flax egg/aquafaba egg for baked goods and what not. But what if you want a scrambled egg? What about things like french toast or fried rice? Well, after I tried JUST EGG….I almost lost my mind. I simply can't believe how good it is. Seriously, I was really skeptical. Initially I just made a scrambled egg. DELICIOUS. Then I made a vegetable omelet. DELICIOUS. Then I made some asian sautéed noodles with scrambled egg. DELICIOUS. Then, I thought, I've read its not the best to bake with but what about something like french toast?
YES. The answer is yes. It comes out nice and custard-like, creamy, delicious. It's all the things eggless french toast was missing before! So get your french toast love back and make my simple recipe! Just be sure to get some extra JUST EGG because you might want a side of creamy scrambled eggs with your french toast!
*please note Just Egg Liquid "Egg" does contain soy
Stay Safe out there, Drizzlers!
xo, Kendra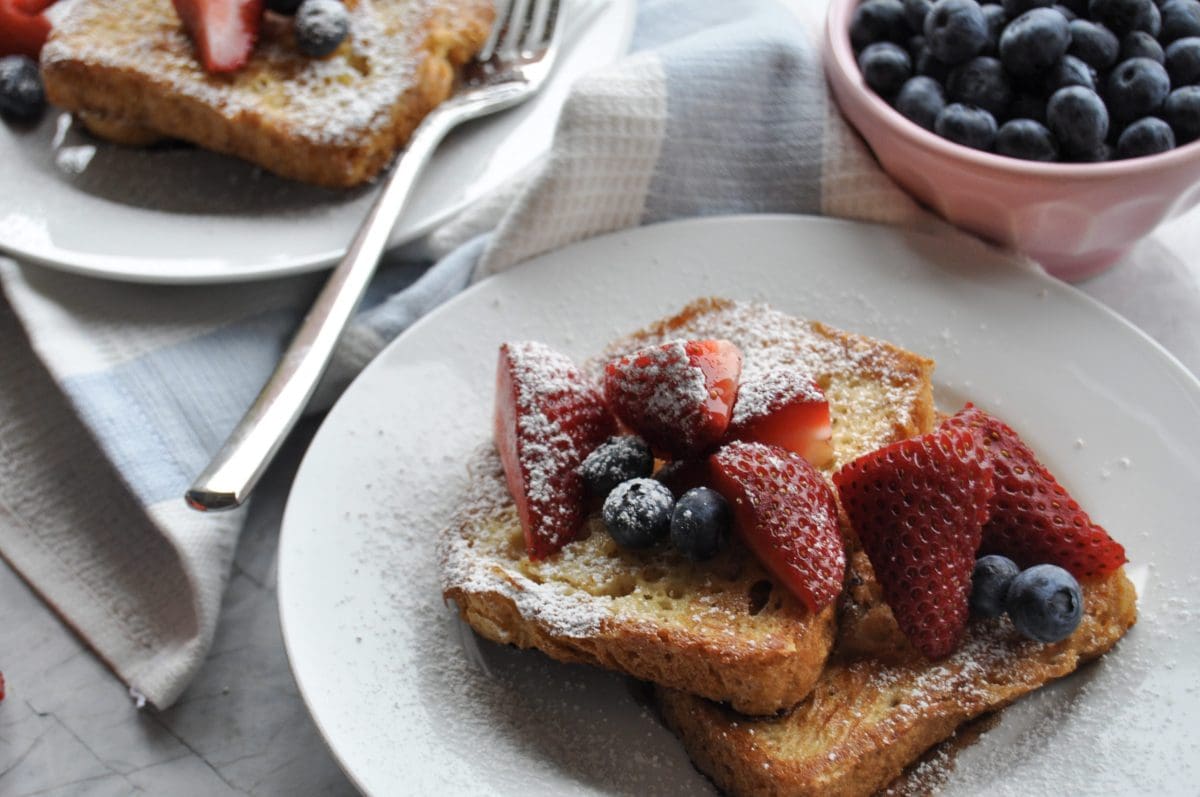 French Toast
Allergy Adaptable to be free from Top-9 +potato +mustard +corn
Serves 4
1 c. dairy free milk OR regular milk (if you can have dairy)
1/2 c. Just Egg OR (for soy free) 2 chia eggs OR 2 regular chicken eggs (if you aren't allergic)
1 tsp. vanilla extract
1 tsp. ground cinnamon
2 Tbs. brown sugar
8 slices gluten free bread
Suggested toppings: maple syrup, fresh fruit, chocolate drizzle
Directions
Whisk together the dairy free milk, Just Egg, vanilla extract, ground cinnamon and brown sugar.
Preheat a nonstick pan.
Meanwhile, start soaking your bread in the mixture, one by one, and place on the heated and lightly greased nonstick pan.
Cook quickly on each side, about 1 minute, until golden brown. Continue with remaining bread.
Serve with your favorite toppings.
Happy Foods are the Best Foods!