Quarantine Kitchen Series: Chickpea Veggie Burgers
---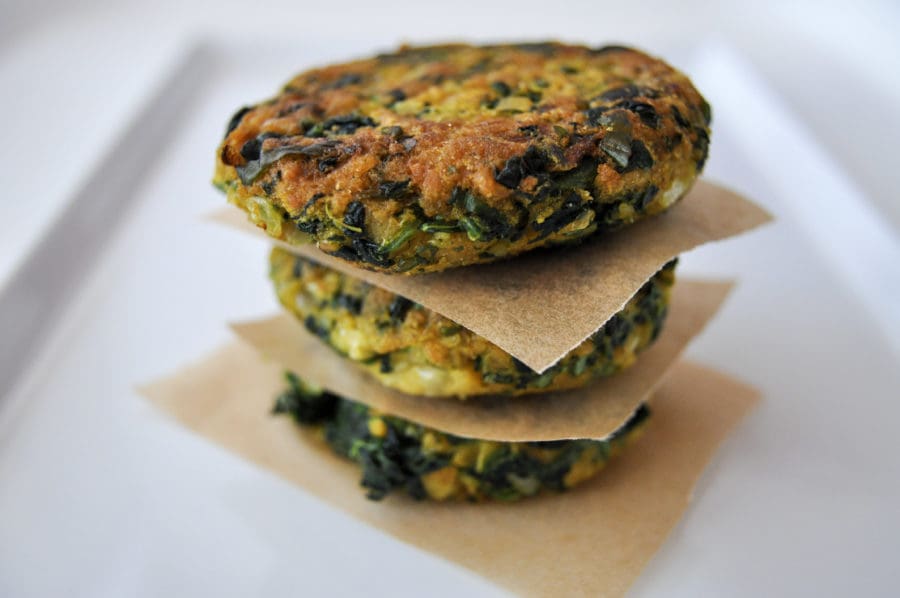 Last weekend my chickpea burger episode aired on Living Healthy Chicago and I've been getting emails left and right requesting the recipe!
It seems to be pretty timely that it aired now even though we filmed it months ago, as many people stocked up on canned and dried beans and need some fun new uses for them.
I created this recipe years ago for a client who was a vegetarian and her husband was a meat lover. Well, guess who I turned into a chickpea burger lover-the husband! So if you are hesitant to try this veggie burger, I say give it a shot. Top it with your favorite regular burger stuff and you'll enjoy this riff on a bbq classic. Now, it isn't meant to "ooze" like some of the new, highly processed vegan patties do. It isn't meant to taste similar to beef. It's just another option that is cleaner, homemade and way less processed than the majority of veggie patties you find at the store. It's easy, customizable and a great way to use up all those beans you bought a month and a half ago!
Stay safe out there, Drizzlers!
xo, Kendra
Chickpea Veggie Burgers
Free From Top-8 Allergens, Potato, Sesame, Mustard
Makes 6 thin "bun style" patties, or 3 thick traditional patties
1 can chickpeas, drained
1 t. cumin
1 clove garlic, grated over microplane
½ yellow onion, roughly chopped
Zest from ½ lemon
4 T. gluten free flour
1 T. flax meal + 3 T. warm water OR 1 egg, whisked
sea salt
Optional mix-ins: micro greens, finely shredded kale, finely shredded spinach, snipped chives
Topping Ideas: sliced avocado, avocado crema, sliced tomatoes, caramelized onions, lettuce, microgreens, cashew cream "cheese", sliced cheese
Directions
Add everything to the bowl of a food processor and chop until mixed together.
Using floured hands, form into 6 balls and then press into thin patties. Refrigerate for about half an hour and then brown each side in a lightly oiled nonstick pan, only flipping once.If you are making the thicker patties you'll want to cook them a few minutes longer on each side or pop in the oven at 350 for 7-8 minutes after browning.
I like to use the burgers as the "buns" and put the filling in the inside!