Peach Streusel Muffins
---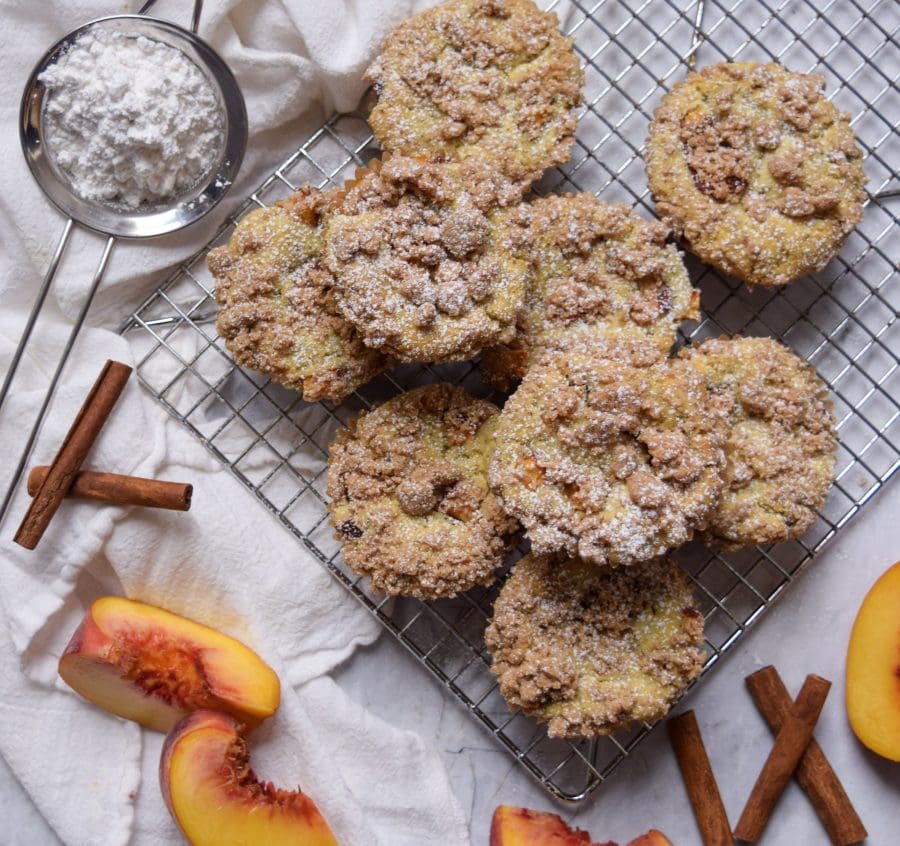 Happy favorite produce season, Drizzlers! September is my favorite time of the year to head to a farmers market or even just a farm stand because everything is at your disposal. Peaches and Nectarines? Check! Fall squash? Check! Pumpkins? Check! Blueberries? Check! Apples? Check!
So, to honor the delicious peach that is here for only another week or two in it's perfect ripeness I thought I'd post another tasty morning treat. These muffins are such a special way to be greeted in the morning and with many of us still working from home and kiddos learning from home, it's nice to have a home backed muffin that will make your home smell happy.
The beauty of this recipe is that you can really switch the fruit around. So if you actually aren't a peach person you could use blueberries, diced apples, pears, raspberries. It's a pretty versatile recipe!
Happy Cooking, Drizzlers!
xo, Kendra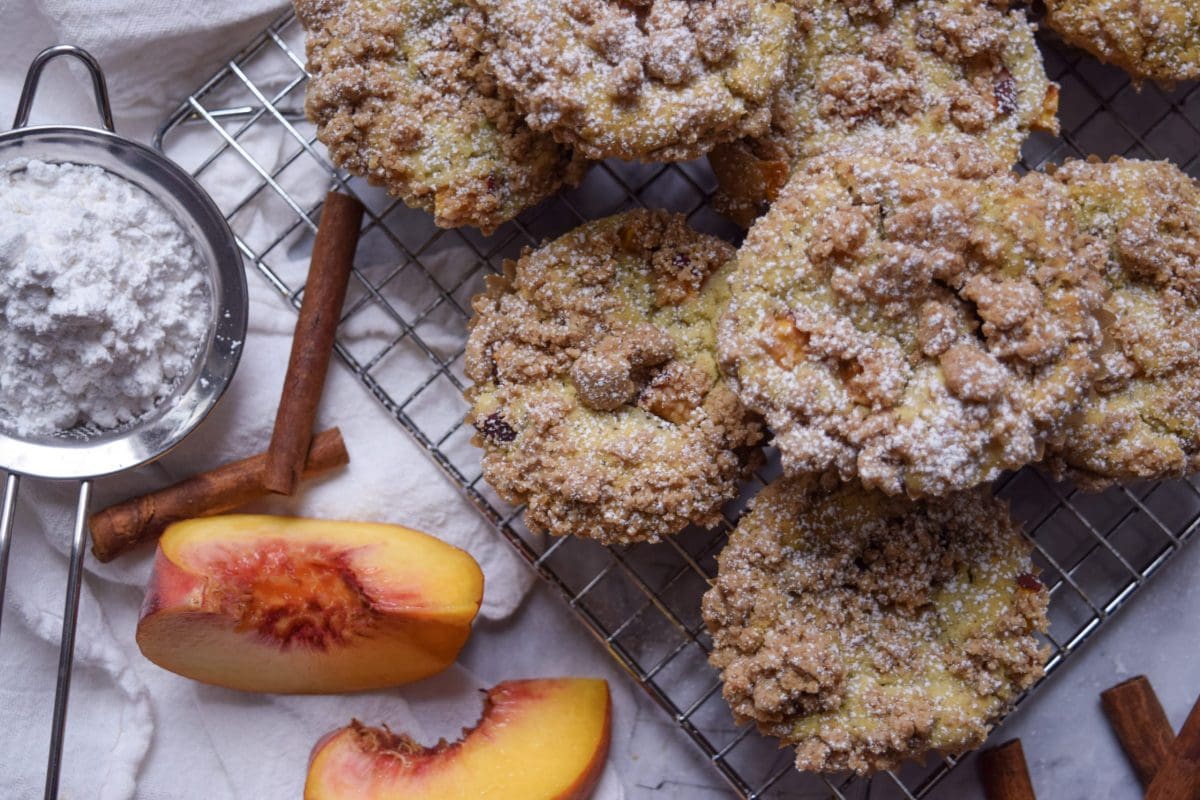 Peach Streusel Muffins
Free From The Top-9 Food Allergens, Corn and Potato
Makes 12 muffins
Streusel Topping
1/4 c. all purpose gluten free flour blend
1/4 c. packed brown sugar
3 Tbs. vegan margarine (or butter if you can have dairy)
1 tsp. ground cinnamon
Muffins
2/3 c. granulated sugar
1/3 c. vegan margarine (or butter if you can have dairy)
2 Tbs. flax meal + 1/3 c. warm water (or 2 eggs if you can have eggs)
2 tsp. vanilla extract
2 c. all purpose gluten free flour blend (be sure it has xanthan gum or guar gum), divided
1 tsp. baking powder
1 tsp. baking soda
1/2 tsp. salt
1/2 tsp. ground cinnamon
1/3 c. dairy free milk substitute (I love oat or hemp in this recipe)
1 1/2 c. chopped peaches
Directions
Preheat oven to 350 and line a 12 cup muffin tin with paper liners.
Mix together the streusel topping with a fork until crumbly and all blended. Set aside.
Add the sugar and margarine to a bowl and whip together with hand mixer or in the bowl of a stand mixer, until light and fluffy.
Scrape down sides of the bowl and add the flax eggs and vanilla. Blend for 1-2 minutes.
In another bowl mix together 1-3/4 c. of the flour blend, baking powder, baking soda, salt and ground cinnamon.
Gently toss the remaining 1/4 c. flour blend with the chopped peaches to coat and set aside.
Add 1/3 of the flour mixture to the sugar-margarine mixture and blend 1 minute. Then add 1/2 of the milk. Blend again. Add another 1/3 of the flour mixture, blend. Add the remaining milk, blend. And finally finish with the flour mixture.
Fold in the peaches and scoop out evenly into the prepared muffin tin.
Top the muffins with the streusel and bake at 350 for 25-27 minutes until springy to the touch and a skewer inserted into the center comes out clean.
Cool for 15 minutes and enjoy!
Note: Store these in the refrigerator after they've cooled to help them last longer!
Happy Foods are the Best Foods