This month has been BUSY! As you all know from my last few newsletters, it's Food Allergy Awareness Month and Celiac Awareness Month. A big month over here for Drizzle Kitchen!
I've been doing a lot of TV, radio and quoting for articles surrounding the topic of food allergies and it's been such a blast sharing awareness with the world. In one of my tv appearances, I showed the news anchors how to make this recipe for Italian Chickpea Bites…..and their excitement about how good it actually tasted was my favorite part.
When they found out it was an allergy free cooking segment I could see the judgement and disapproving looks of the food even before they tried it. But once EVERYONE (seriously, even the stage hands) tried it they were all talking about when their next party is so they could make the recipe. Cookbooks were purchased, recipes were asked for, all the samples were devoured.
It's also an appetizer you can gobble up and still feel good in your belly. It's enough to feel like you are enjoying something but also not heavy! And since the base is made with chickpea flour you're getting some great nutrition and fiber along with a tasty treat. So, if those reasons aren't enough to convince you to try this recipe for your Memorial Day Celebration I don't know what is!
Happy Foods are the Best Foods!
xo, Kendra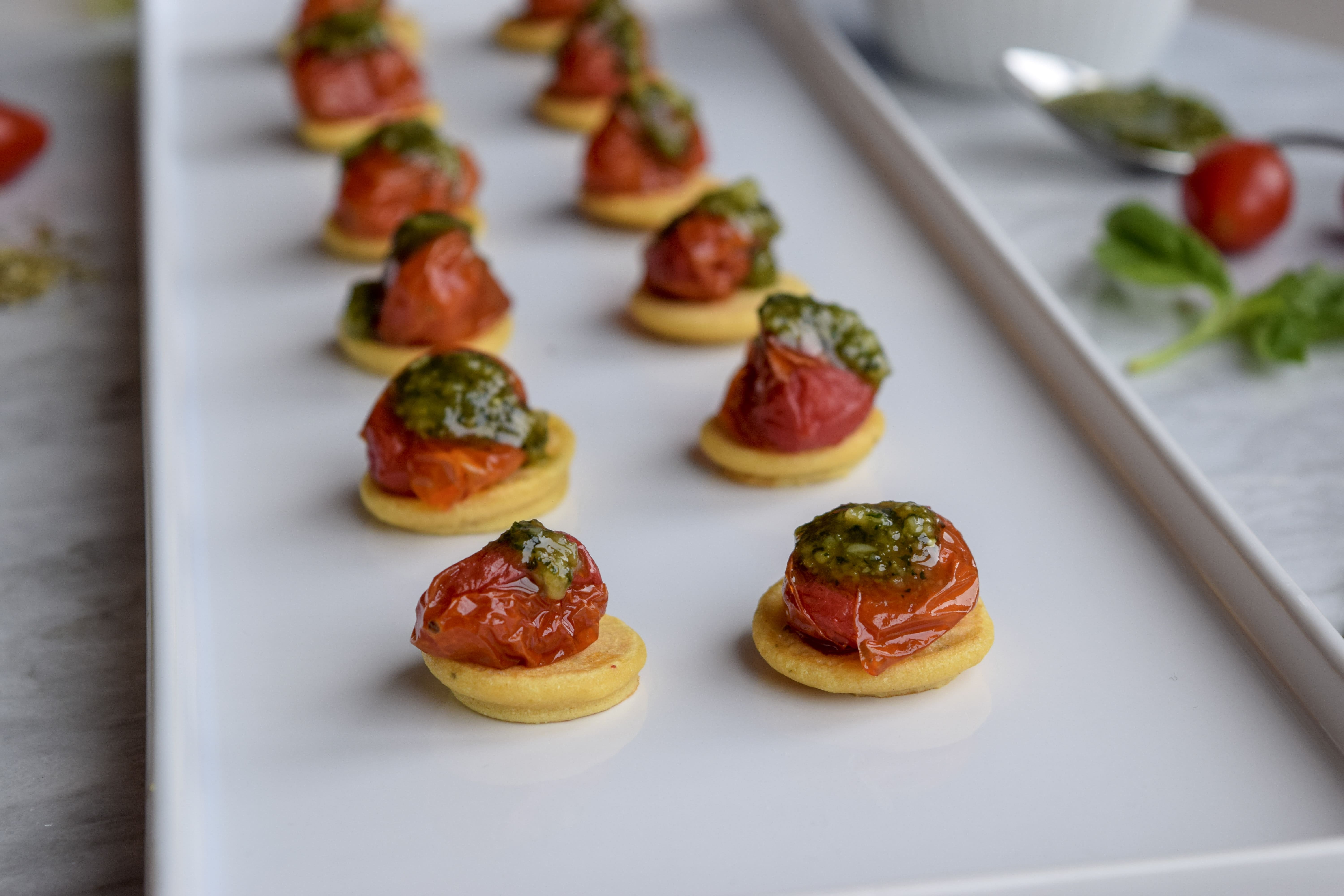 Italian Chickpea Bites
Free from the Top-9, Potato, Mustard and Corn
1 ¾ cup chickpea flour
2 cups water
2 t. fine sea salt
2 T. olive oil
Optional Spices: (add 1 T. total) cumin, garlic powder, onion powder, dried oregano
1 cup roasted grape tomatoes
Vegan Pesto
½ c. packed basil
¼ c. minced chive
¼ c. minced cilantro
1 clove garlic, peeled
1/3 c. olive oil
¼ c. toasted pumpkin seeds
DIRECTIONS
In a large bowl, mix together the chickpea flour, water, sea salt, olive oil and any optional spices with a whisk until well combined. Let rest while you make the pesto.
To make the pesto: add the basil, chive, cilantro, garlic, olive oil, toasted pumpkin seeds to the bowl of a small food processor. Turn on and process until it reaches the consistency you like (short pulses for chunky pesto or leave it run for a smooth pesto).
To cook off the socca: Heat a large flat skillet over medium heat and lightly coat with olive oil. Using a liquid measuring cup, pour out 1-2 T. of batter to the pan (do a "tester" one first, that way you can taste it and still change anything before you cook off the whole batch!). Wait until it is slightly bubbly, then flip and finish cooking on the other side. Continue this way with the rest of the batter, making them bigger or smaller as you desire.
To assemble, top each little pancake with a roasted tomato and then a small dollop of the pesto. Enjoy!