Tequila has quickly taken over the wellness world as the alcohol that is being touted as the "healthiest." Now, let's be honest that we all know alcohol probably shouldn't be labeled as healthy in any way, shape or form. But if you are comparing liquor then tequila is actually a pretty darn good choice as it is the only alcohol known to be an "upper" rather than a "downer."
Not to mention that tequila has so many different characteristics depending on how long it's aged, if it's a white (blanco) rather than añejo, what region it's from. I have had tequila that tastes like caramel and I've also had tequila that tastes like lighter fluid! After spending a lot of time in Mexico this past year I was blessed by exploring many different kinds of tequila and being able to really appreciate the differences between those you sip on and those you shake together with a mixer.
This cocktail below is one you'll want to use a very middle of the road tequila blanco for. Bad tequila will for sure give you a hangover the next day, so do yourself a favor and spend $30 on a decent tequila blanco for this recipe. This came about as I don't always love the lime heavy and syrupy margaritas. Hibiscus is such a stunning flower that blooms beautifully into a deep magenta tea.  It blends so well with orange and lime then  joined with a splash of your favorite sweetener + ice + tequila? Refreshing and beautiful. Plus you can make a big batch ahead of time if you are having a get together,  throw it in some pitchers with ice and leave for a self serve bar. Win-win! And if you're like me, a little tequila helps you get your dancing shoes on so be sure you've got a great playlist to make your party extra fantastico!
xo, Kendra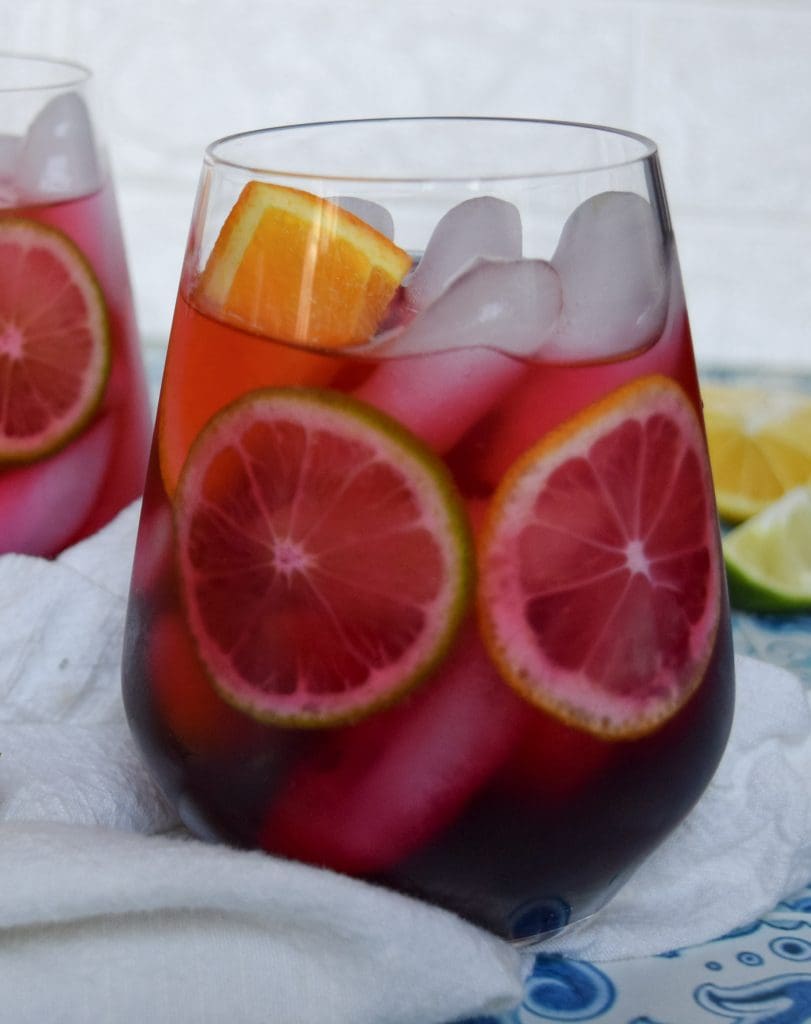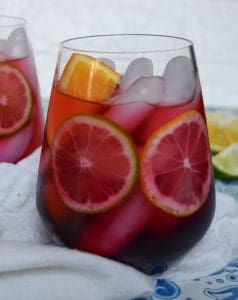 Hibiscus Tequila Cooler
Free From Top-9 Food Allergens, Vegan
Serves 4
Prep Time: 5 minutes plus steeping
1/2 c. hibiscus flowers or 6 hibiscus tea bags
2 oranges
2 limes
sweetener of choices (about 2-3 Tbsp. honey or simple syrup or a few drops liquid monkfruit for SIBO/low sugar)
1/2 c. tequila blanca
ice, for shaking
Directions
Add the hibiscus flowers or tea bags to a heatproof bowl and cover with 1/2 c. boiling water. Steep for 20-30 minutes then discard the flowers/tea bags and cool the liquid.
Cut one of the oranges and one of the limes in half and squeeze the juice into the cooled hibiscus tea.
Slice the remaining oranges and limes for garnishing the glasses.
Add your sweetener of choice and the tequila to the hibiscus mixture and stir to combine, shake with ice and divide between 4 glasses.
Garnish with the remaining sliced orange and lime and enjoy!
Happy Foods are the Best Foods!