This is a recipe I've been making for years. Not because it's crazy nutrient dense, not because it's super healing but because it tastes to darn delicious. Homemade chicken soup is so tasty in its own right but then when you cook it for a crazy long period of time and add just a few little extras to it, holy moly, you are able to turn it into an extraordinary soup with magical nourishing powers.
Bone broth has been around forever and it became really popular with diets such as paleo, Whole 30 and keto becoming more and more mainstream. But bone broth was actually just the way people used to make broth. Now, there are a few bits to it that switch it from just chicken soup to chicken bone broth. It cooks for a very long amount of time (an instant pot or pressure cooker reduce the time substantially) and if you add some acid, I prefer apple cider vinegar, it helps leech more of the nutrients out of the bones to enhance the nutrient density of the soup itself.
Now, this is a two step process to make the chicken soup. You can, of course, just make the bone broth and sip on that. But if you want to make this entire dish then you'll need to first make the bone broth and then finish it up with the ingredients for the soup itself. The beauty is that the broth itself is so tasty you don't have to do too much to the actual soup. And it's flexible enough to add whatever you'd like! Want to just add a boatload of veggies? Delish! Want to add a bunch of shredded turkey and wild rice? Yum! Want it to be more of a classic chicken soup? Perfect! But whatever way you decide to finish it up please do your body a favor and make a big batch of this asap. Freeze half and use half to make yourself soup for the week. And with the way that everyone is getting sick right now I promise this is the kind of meal you'll want to feel better!
xo, Kendra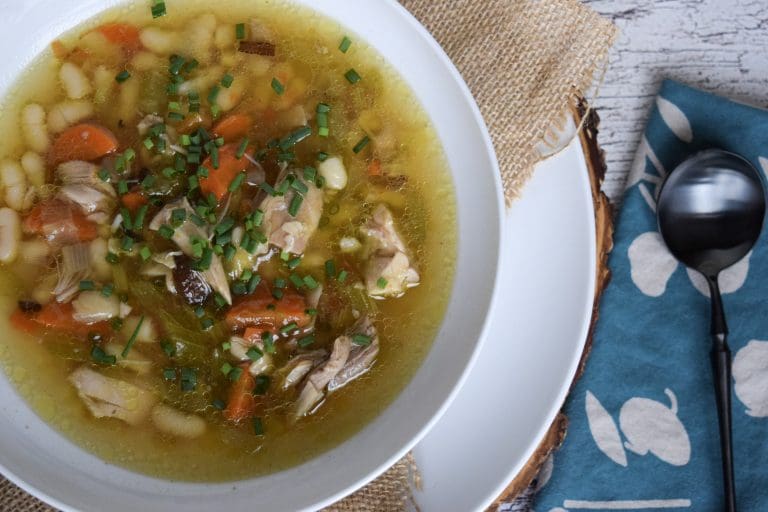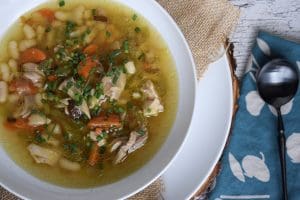 Cozy Chicken Bone Broth Soup
Free From the Top-9 Food Allergens, Broth is AIP compliant
CHICKEN BONE BROTH
Prep Time: 15 minutes plus cooking time (3 1/2 hours in pressure cooker OR 12 hours in slow cooker)
Serves: Makes approximately 8-10 cups
8 organic chicken backs*
4 carrots
4 stalks celery
8-10 sprigs of thyme
4 sprigs of rosemary
1 bunch parsley
2 heads garlic, tops cut off
2 Tbsp. apple cider vinegar
4 bay leaves
1 Tbsp. kosher salt
Directions
Add everything to either the liner of an instant pot or a slow cooker. Fill with water to the top maximum line. For instant pot: Set pressure to high and cook for 3 1/2 hours. Let the steam reduce naturally and then strain out all the solids and keep the broth for either soup or just to sip on. For slow cooker: Set temperature to medium or low and cook for 12-14 hours. Strain out all the solids and keep the broth for either soup or just to sip on.
Store in refrigerator for 5 days or put in the freezer for up to 6 months.
Note, when cool it should look and seem more gelatinous. This is the natural collagen that is helping create the gel appearance of the soup-it's exactly what you want!
*If you can't find chicken backs then use 3 pounds of bone in and skin on organic chicken thighs. Bonus is that you get some amazingly tender meat you can use!
Chicken Bone Broth Soup
Prep Time: 1 hour
Serves: 8
6-8 c. homemade chicken bone broth
2 pounds bone in and skin on chicken thighs
6 carrots, diced
6 stalks celery, diced
1 leek, cleaned well and sliced
2 sweet potatoes, scrubbed well and diced
2 bay leaves
4-6 sprigs of thyme
1 1/2 c. cooked white navy beans or chickpeas (bonus if you steam off your own beans!)
snipped chives to finish
*Optional- if you can have dairy add a parmesan rind to the broth while it cooks!
Directions
Add everything except the beans and chives to a large stockpot. Bring to a boil then turn to a simmer and cover.
Cook for 45-50 minutes until the chicken is tender. Add the beans the last 10 minutes of cooking.
Remove the chicken from the liquid using tongs and place on a cutting board. Remove the skin and shred or dice off the bone. Add back into the broth with the vegetables.
Taste for seasoning adding salt and pepper as needed.
When ready to enjoy ladle into bowls and top with a nice sprinkle of fresh chives.
Happy Foods are the Best Foods!