Doughnuts are fun. Chocolate covered strawberries are fun. Miniature things are fun. So…..a chocolate covered strawberry mini doughnut is the MOST FUN!!!!
This recipe for mini doughnuts came about after I wanted to make one that is different, pretty and of course tastes darn delicious! Lately I've been playing around quite a bit with dehydrated strawberries and there is so much you can do with them. One of my favorite things? Pulverize them and add them to frosting. It's a gorgeous, natural and delicious way to turn your frostings or icings pink!
The base of this doughnut batter is very simple and, if you've ever made a homemade birthday cake, it will remind you of that. You'll cream together the butter or margarine along with sugar and your egg or egg substitute. Then you'll alternate adding flour and dairy free milk. So you'll add 1/3 of the flour, gently mix. Then add 1/2 the milk, gently mix. Continue doing this until you've added the flour 3 times and the milk twice, beginning and ending with flour. Try not to eat all the batter….it's that good even BEFORE you bake it!
I find the easiest way to get the batter into the wells of the mini donut pan is to scoop the batter into a large baggie or in a piping bag and just squeeze into those wells. Don't overfill or else they'll puff quite a bit. I suggest filling the wells until they are full but not overflowing if that makes sense. Bake until golden brown and springy to the touch. Then allow them to cool about 20-30 minutes in the pan before removing. Cool completely before dipping them in the icing and then gobble them up! They're best the day they're made but I ate them the next day and they were pretty tasty, loosely covered with foil. You can also store them in the fridge for about 3-4 days.
Now, grab the ingredients for this recipe for mini doughnuts because it's guaranteed to put a smile on your face, perk you up and get you through the week!
xo,
Kendra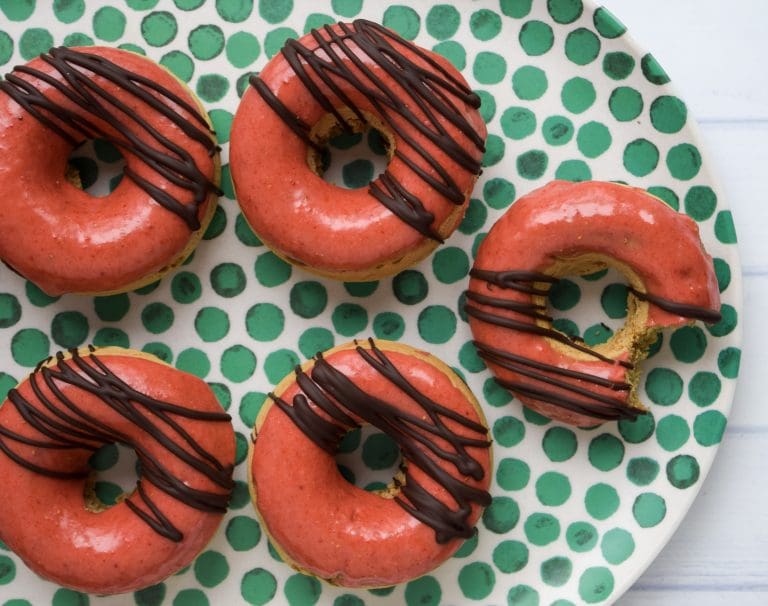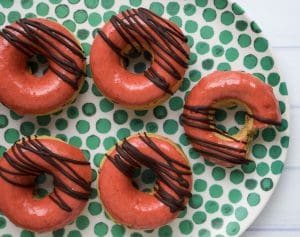 Chocolate Covered Strawberry Donuts
Allergy adaptable to be free from top-9, potato, corn
Adaptable to be vegan
Makes: 10 mini donuts
Prep Time: 40 minutes plus baking
Ingredients
4 Tbsp. butter or vegan margarine, softened
1/4 c. melted coconut oil or safflower oil
1/2 c. granulated sugar
1/2 c. packed brown sugar
1/4 c. aquafaba (liquid from a can of beans) or 1 egg
2 2/3 cup gluten free flour blend (make sure it has xantham or guar gum included)
1 1/2 tsp. baking powder
1/4 tsp. baking soda
1/4 tsp. salt
2 tsp. pure vanilla extract
1 c. milk of choice
1/2 c. mini chocolate chips
Strawberry Icing
1 cup dehydrated strawberries
1 1/2 c. powdered sugar, sifted
3-4 Tbsp. milk of choice
1/2 c. semi-sweet chocolate chips
Directions
Preheat oven to 400.
Cream together the softened butter or margarine with the oil, granulated sugar and brown sugar for 3-4 minutes. Scrape down the sides of the bowl as needed.
Add the aquafaba or egg and blend for another minute until completely combined.
In a small bowl mix together the gluten free flour blend, baking powder, baking soda and salt.
Add the vanilla extract to the milk of choice.
Now begin alternating adding the flour and the milk mixture. Add 1/3 of the flour and gently mix until just combined. Scrape down the sides.
Add 1/2 the milk-vanilla mixture and gently mix again until just combined. Scrape down the sides.
Continue this pattern until you've used all the flour and milk mixture.
Fold in the 1/2 c. mini chocolate chips and scrape some of the batter into a big bag or piping bag.
Lightly spray the wells of the mini donut tin, snip the tip of the bag and fill the donut wells. Bake at 400 for 11-12 minutes until lightly golden and springy to the touch.
Cool for 20 minutes, remove gently from the pan. Spray the wells again and fill with remaining batter.
Let the donuts cool completely before icing.
TO ICE
Add the dehydrated strawberries to a small food processor and grind until it's a fine powder. Sift into a bowl and measure out 1/4 c. Discard the rest or save for a smoothie later in the day.
Whisk together the sifted dehydrated strawberries with the powdered sugar. Add 3 Tbsp. milk of your choice and whisk until no more lumps remain and it's super smooth.
Gently dunk the top of the donuts, one by one, into the strawberry icing and place on a cookie rack that's been set over foil or parchment (to catch the drippings!). Let the icing set, about an hour.
Lastly, melt the chocolate chips and drizzle over the donuts using a fork. Enjoy!
Happy Foods are the Best Foods!