It's a super busy week and today especially I am running around like a chicken with my head cut off! So I'll make this short and sweet, and honestly, do you guys really have time to read all of this on a Monday anyway? Let's get to it!
So, chia pudding in my mind had been sort of meh as of late. My usual is chia pudding, some type of milk, blueberries and a nut or a seed. I was getting tired of that mixture. Sometimes I throw in some pineapple, WHOA. Well, this morning I made it part of my mission to remix this chia pudding into something cooler and something fresher.
Thinking about what I wanted to add, it's mango season right now and they are coming out of my ears so that for sure. I also have a huge bowl of gorgeous oranges and those pair fabulously with mango. I opened the fridge to a random little bit of a green smoothie from last week, this tends to happen frequently. So, I though, how pretty to layer that smoothie in between the chia and the fruit?! Plus it's a way to use it up without wasting, win-win! So, here's a random remix of chia pudding that i think anyone would love. I've thrown some optionals in on the bottom also so you can truly make it yours!
Happy Foods are the Best Foods!
xo, kendra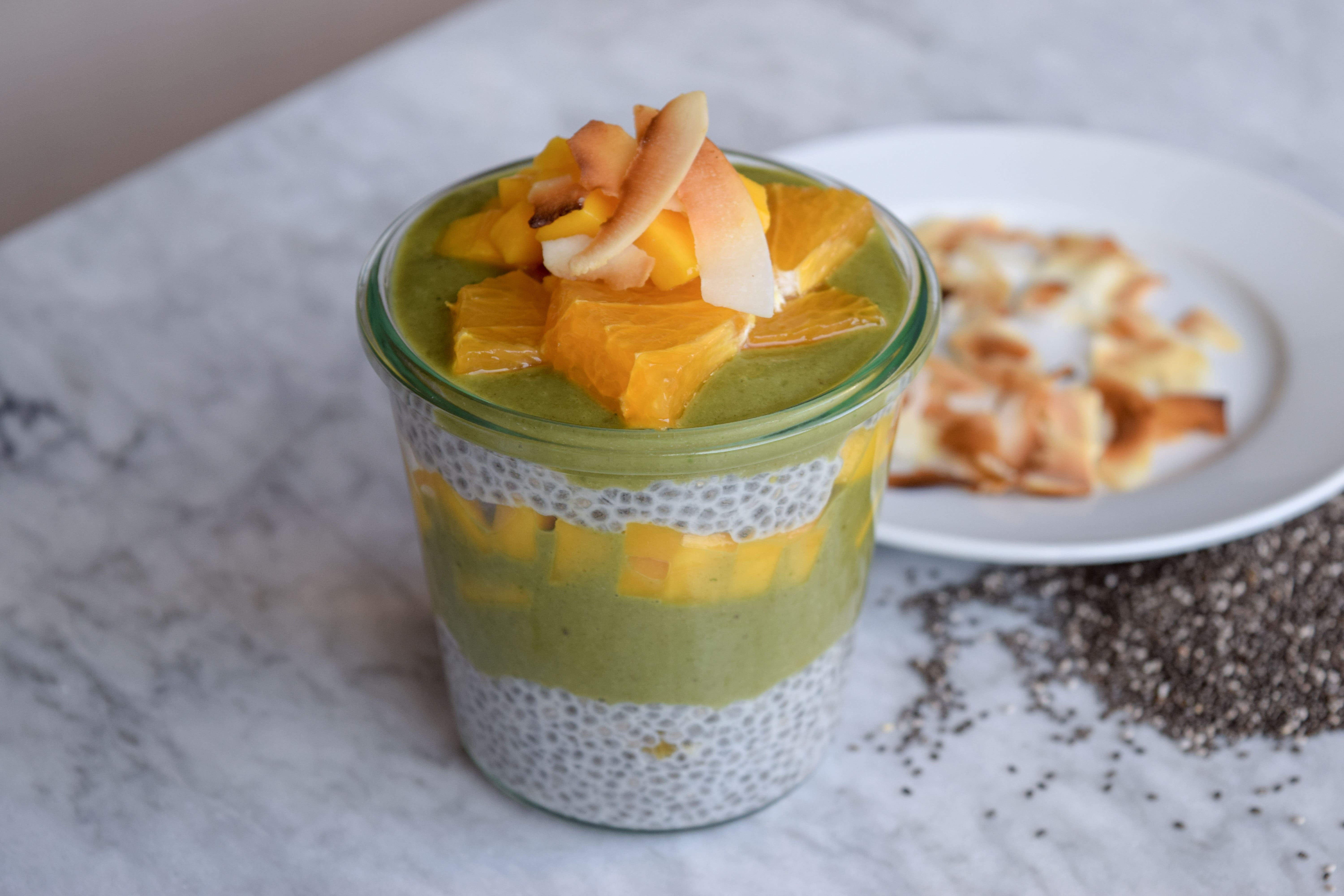 Tropical Layered Chia Pudding
Free from the Top-9 Food Allergens
Serves 2
1 ¼ c. favorite dairy free milk
1 t. pure vanilla extract
4 T. chia seeds
1 mango, peeled and finely diced
1 orange, peeled and chopped
Leftover green smoothie (alternatively you can blend together 1 banana, big handful of spinach, a few pieces of chopped pineapple, lime juice and water just to blend)
Optional: collagen powder to stir into the chia pudding base, toasted coconut flakes for the top, toasted nuts or seeds for the top
Directions
In a medium sized bowl mix together the dairy free milk, vanilla extract and the chia seeds. Whisk until smooth. Let this sit for about 30 minutes to an hour for the chia to fully absorb the milk (or you can do the night before and then assemble in the morning).
Layer the chia pudding, chopped mango, chopped orange and green smoothie into two bowls or mason jars. Top with any optional toppings, if using, and enjoy!
Happy Helps! You can portion these out into mason jars, top with the lid and they'll last nicely in your refrigerator for 3-4 days. Also super easy to bring with you and enjoy for lunch or to help pick you up during the afternoon slump!