Cardamom is one of my absolute favorite spices. And this is my favorite time of the year to infuse it in all things baking. It's a beautiful little pod with a seed inside and the flavor is just magical. It's warm, it's inviting, it wraps you all around with the coziest of blankets and swirls your kitchen with a beautiful aroma, especially when paired with apples!
This recipe was created using an awesome new sugar blend I've been playing with. Most of you know since my SIBO I have been on a much lower sugar journey than I used to live within. I use monkfruit to sweeten my coffee and have been looking for ways to incorporate it into my baked goods. Unfortunately, just like when you are baking with gluten free flours, it takes a little finessing. 1:1 substitutes don't often work.
Well, I have a solution for us all! Miss Jones Baking Co. started making something called "Smart Sugar" and I'm a bit obsessed with it. The first one that I tried was a blend of 50-50 cane sugar and monkfruit. Easy to use since you can simply replace your sugar in your recipe with a 1:1 substitution of this, all with 50% less sugar!! Recently they launched a 50-50 blend of coconut sugar and monkfruit. YESSSSS. It has the lovely caramel notes that coconut sugar brings but with 50% less sugar since it's blended with monkfruit.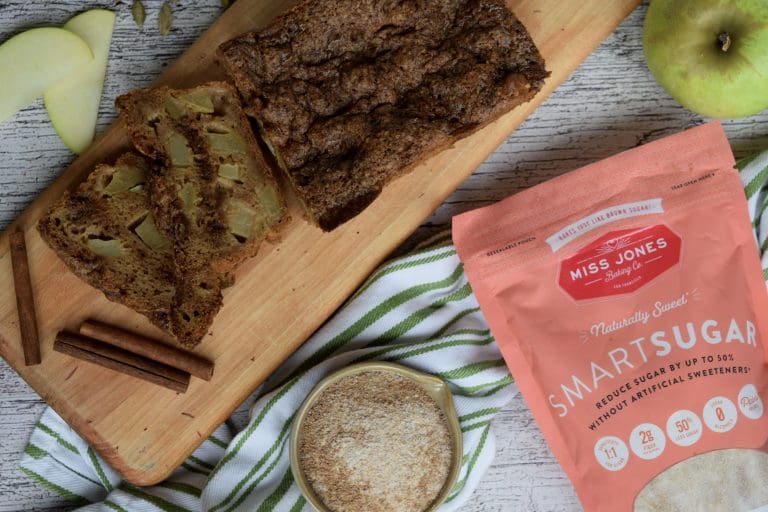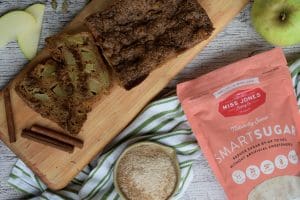 So, if you are looking to just lighten up a bit on your sugar but still want those tasty treats then I suggest you jump on this train! The Smart Sugar is a really fantastic way to easily begin a low sugar journey without any effort. And if you want the perfect recipe to start with? I've got you covered there as well. This apple bread is full of chunks of perfectly ripe apples (it is fall, after all), cardamom and vanilla flecked just sweet enough batter with two layers of cinnamon streusel. It simply cannot be bad. And all this without loading up on fats and calories. I created this bread to be something you could easily incorporate into a day all while enjoying a little sweet treat but nourishing yourself at the same time. Plus your kitchen will smell like a bakery. Who doesn't like to come home to that?
xo, kendra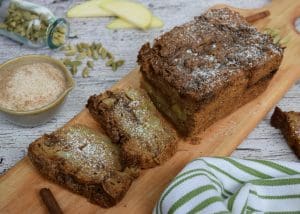 Cardamom-Cinnamon Streusel Apple Bread
Adaptable to be Free From the Top-9 (note: does include coconut)
Adaptable to be Vegan
Prep Time: 20 minutes + baking
Serves:6-8
Streusel Topping
1/2  tsp. cinnamon
3 Tbsp. gluten free flour blend
1-2 Tbsp. melted butter, melted coconut oil or grapeseed oil
Apple Bread Base
3/4 c. favorite milk (I used hemp milk for this recipe but any kind of milk-cow's milk or vegan milk will work)
1 Tbsp. lemon juice or apple cider vinegar
2 c. gluten free flour blend
1/2 tsp. cinnamon
1/4 tsp. ground cardamom
1 tsp. baking powder
1 tsp. baking soda
1/2 tsp. salt
1/4 c. melted butter, melted coconut oil or grapeseed oil
1 tsp. vanilla extract
1 egg or egg substitute (I used 1 1/2 Tbsp. grapeseed oil + 1 1/2 Tbsp. water + 1 tsp. baking powder)
1 c. diced apples
Directions
Preheat oven to 350 and line a 9×5 loaf baking pan with parchment paper. Set aside.
In a small bowl mix together all the ingredients for the streusel topping, using a fork and adding just enough melted or oil to create a sandy consistency. Set aside.
In another small bowl combine the 3/4 c. milk and 1 Tbsp. lemon juice. Set aside while you mix the other ingredients.
In a medium bowl whisk together the 3/4 c. Miss Jones Smart Sugar Coconut Sugar Blend, gluten free flour blend, cinnamon, cardamom, baking powder, baking soda and salt.
In another small bowl gently mix together the milk and lemon juice mixture, melted butter (or coconut oil/grapeseed oil), vanilla extract and the egg (or egg sub).
Add the diced apples into the flour bowl, toss to coat.
Pour the liquid ingredients into the bowl with the flour. Stir just to combine.
Pour half the apple bread base into the prepared loaf pan. Sprinkle half of the streusel mixture on top. Pour the remaining apple bread base on top and finish with the rest of the streusel mixture, pressing it into the apple bread.
Bake at 350 for 55-60 minutes until a toothpick or skewer inserted into the middle comes out clean. Cool before slicing.
happy foods are the best foods!!