Yep, you read that correctly! BASIL seeds!!!! Judging my the photo solely, I'm sure most people will think this cute little jar is filled with chia seeds. They look very similar, they act very similarly and they have an almost identical taste. So what's the difference?
Years ago I read about basil seeds and how much easier they are to digest than chia seeds. And I don't know about you but I, for one, absolutely cannot eat chia seed pudding. It destroys my stomach. And even though those seeds are filled with lots of great nourishment my tummy just can't handle them. However, basil seeds? They've been used in ayurvedic cooking for a long time, typically used as a digestive aid and to help with constipation. They pack a whopping 7 grams of fiber per tablespoon and have a nice little floral note to them. They also stay a little crispier than chia seeds do lending to, what I find, is a less gummy consistency.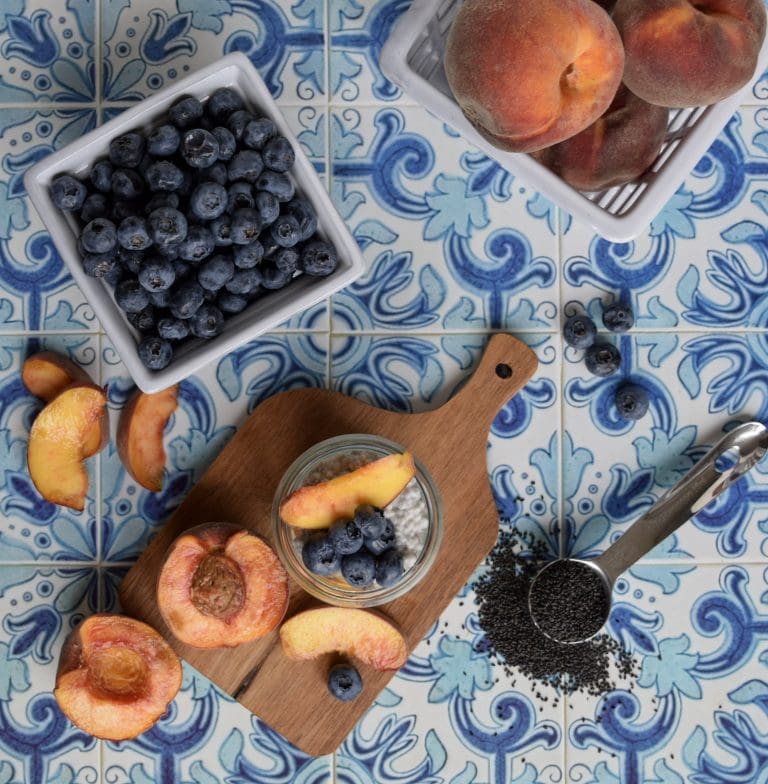 They're fun to add to a lemonade or even iced tea or iced matcha! But my favorite way is to enjoy them as a "pudding" with seasonal fruit and some toasted and salted pumpkin seeds. It's a fun, different and easy way to help prep your mornings to make sure they're off with a bang!
xo, Kendra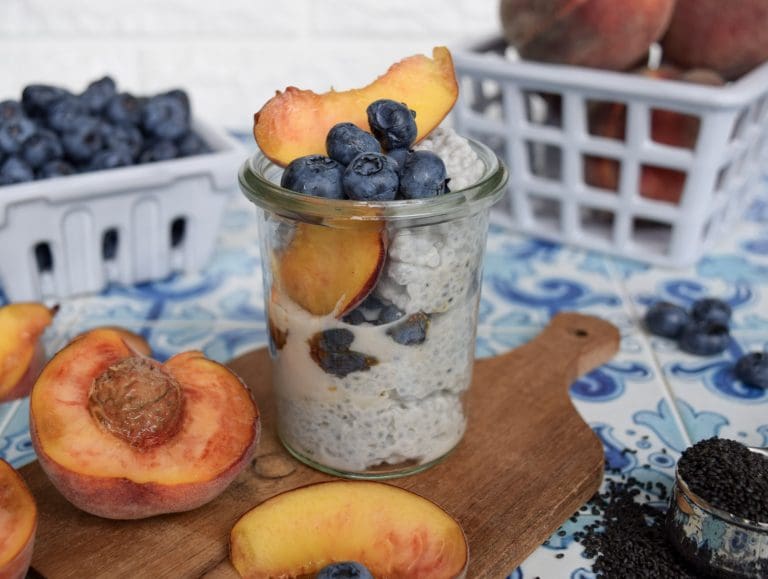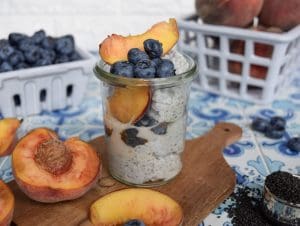 Basil Seed Pudding Jars
Free from Top-14 Food Allergens, Vegan, Low Fodmap
Serves: 4
Prep Time: 10 minutes plus setting
1/2 c. basil seeds
2 1/2 c. dairy free milk of choice
3-4 Tbsp. maple syrup
1 Tbsp. vanilla extract
1 tsp. ground cinnamon
1 c. sliced peaches
1 c. blueberries
Directions
Whisk together the basil seeds, dairy free milk, maple syrup, vanilla extract and cinnamon. Taste to check for sweetness adding more maple syrup as desired.
Let this mixture sit at least 1 hour, whisking occasionally, or overnight.
Pour into 5-6 glass jars, top with the peaches and blueberries and enjoy!
Happy Foods are the Best Foods!