It's the end of summer, alas, and I'm just trying to get in all the produce and simple fresh cooking I can until we move onto meat, squash, roasting, braising and slow cooking galore. In the meantime, give me all the fresh! All the light! All the sauces to spread over grilled things!
And this sauce is no different. It came about after a client asked me for something that could be used as both  a sauce and perhaps a chip/veggie dip. I knew I wanted to do something with zucchini, something crisp and bright but also a smidge creamy. The solution? Finely diced zucchini tossed with loads of lime, cilantro and a mixture of diced and smashed avocado. If you want to throw in some spicy chili….dooooo it! If you want to sub charred and pureed tomatillos for the water…..doooo it! This is another one of those recipes that you can absolutely make your own.
So plan out a grilled platter for this week, fire up that grill and use it all you can until the weather turns to-gulp-sweater, snow, boot, shoveling weather. Until then, zucchini salsa verde.
xo, Kendra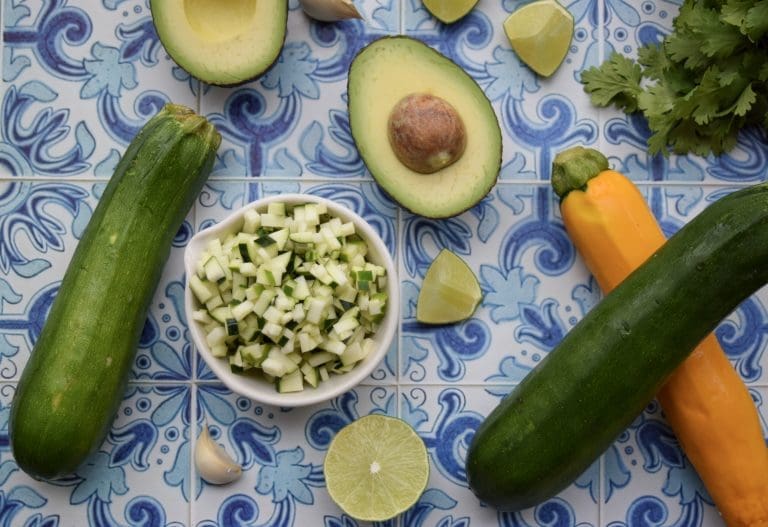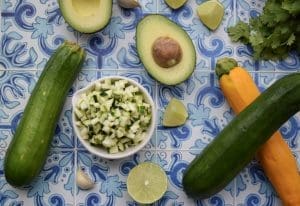 Zucchini Salsa Verde
Free From Top-14 Food Allergens, Vegan, AIP safe
Serves: 4-6
Prep Time: 10 minutes
 2 avocados
 2 limes
2 small-medium zucchini, finely diced
1/2 c. minced cilantro
2 Tbsp. olive or avocado oil
1/4 c. water (or pureed tomatillos)
salt and pepper, to taste
Optional: minced spicy pepper
Directions
Dice one avocado and add to a medium bowl. Mash the other avocado and add to the same bowl.
Zest both limes and add to the avocados. Cut off the skin of the limes and then chop the pulp (you can also add the flesh of the lime to a small food processor and pulse until it's chopped). Add to the avocado bowl.
Add remaining ingredients and gently stir. You can add more water if you'd like it to have a thinner consistency. Season with salt and pepper, to taste.
**Can be prepared up to 3 days in advance and simply stored with plastic wrap pressed onto top surface.
Happy Foods are the Best Foods!