Pizza!!!! Like any good Chicago gal, pizza is in my veins. Not the deep dish insanity packed full of crazy calories and gobs of cheese but a beautiful, light, crisp crust with vegetables and flavorful toppings.
When Wholly Gluten Free Bakehouse reached out and asked if I wanted to play with their ready to roll Top-8 Free Pizza Crust I very quickly said, "yes!" For my allergy followers, their line of gluten free (and top-8 free products) are produced in a dedicated gluten free bakery. And let me tell you, their products are delicious!
This pizza dough was such a cinch to work with. It arrives frozen, you thaw overnight in the fridge and then let it sit out for about 15 minutes before rolling. Easy to roll, easy to bake and then put on your favorite toppings! I am also dreaming up some delicious dinner rolls I could make, focaccia, calzones and even little herbed olive oil knots.
But for today's recipe for you, my Drizzlers, I thought with summer and warm weather approaching why not combine some of my favorite things: pizza-salad-truffles! Roll this easy crust out (I would recommend adding some seasoning to this, at the very least a smidge of salt and if you can tolerate, garlic), brush with olive oil and bake until light and crispy. Cool slightly and top with a gorgeous mixture of arugula, lemon, truffle oil, truffle salt and either sliced avocado or shaved parmigiana. OMG. It's what I'd love to be nibbling on right now!
xo, Kendra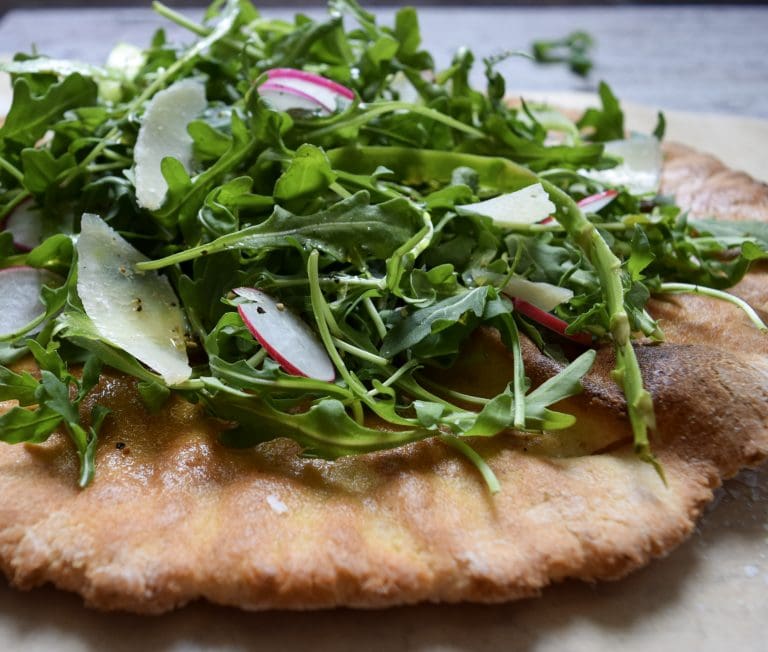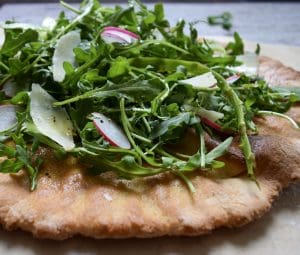 White Truffle Salad Pizza
Free From Top-9 Food Allergens
Vegan
Serves: 6
Prep Time: 15 minutes plus baking
1 Wholly Gluten Free Bag of Pizza Dough
1-2 Tbsp. olive oil
salt and pepper
3-4 c. baby arugula
juice from 1 lemon
1-2 Tbsp. white truffle oil
truffle salt, to taste
1 avocado, sliced OR 1/2 c. shaved parmigiana-if you can have dairy
3 radishes, thinly shaved
Directions
Preheat oven to 400. If using a pizza stone, place in the oven to warm.
Roll the dough out into a round crust on a gluten free flour sprinkled surface (either on parchment or on a silicone rolling mat).
Transfer onto a parchment lined baking sheet or a pizza paddle to transfer to the stone. Brush with the 1-2 Tbsp. olive oil and sprinkle with salt. Bake for 14-16 minutes until light, crispy and golden brown.
Meanwhile, gently toss the arugula with lemon juice, white truffle oil, truffle salt (add a bit and taste).
Place the arugula salad on top of the pizza crust, add either the sliced avocado or the shaved parmigiana and then finish with radishes.
Cut into slices and enjoy!
Happy Foods are the Best Foods!