As I continue on my delivery of the 12 Days of Cookies for this holiday season, I wanted to create something with some spice. I knew I wanted warmth but wasn't sure if I just wanted to test cinnamon or ginger and then-VOILA!-I had a chai latte the other day and started brainstorming.
Chai snickerdoodles sounded delicious but didn't seem fancy enough, I wanted something that had a little more glamour to it to represent the holiday season. And shortbread always seems Christmasy to me, why? I'm not sure. But here we are with this lovely little recipe that is so darn delicious! I had a chai spice mixture that I used in lieu of mixing my own chai spice blend, but fret not! I'll include both ways in the recipe below. I also used butter in my shortbread since I can have dairy but if you can't eat dairy or if you are vegan you can easily swap in vegan margarine. Just be sure that you use stick form as it has less water than tub margarines.
*The best dairy free options: Melt (free from soy, gluten, nuts + Top-8 allergens) or Miyokos (gluten, soy and dairy free and in my opinion the best vegan butter on the market if you can consume cashews!).
You'll notice in the recipe I call for scoring and docking. Those two things are very simple and just proven the dough from puffing up while it bakes. Scoring simply means you'll use a knife or a pastry scrape to basically mark (pressing all the way through) where you want to finally cut the shortbread rectangles. Docking is where you see that classic marking of the holes in the center of the sticks, I like to use the blunt end of a skewer and it works perfectly!
This is a very simple recipe, that's the beauty of shortbread. The base recipe (without the white chocolate dip) has only 5 ingredients! You mix it all together and press into a pan to bake. Add the white chocolate dunk and you increase to only 7 ingredients, nice and easy!
xo, Kendra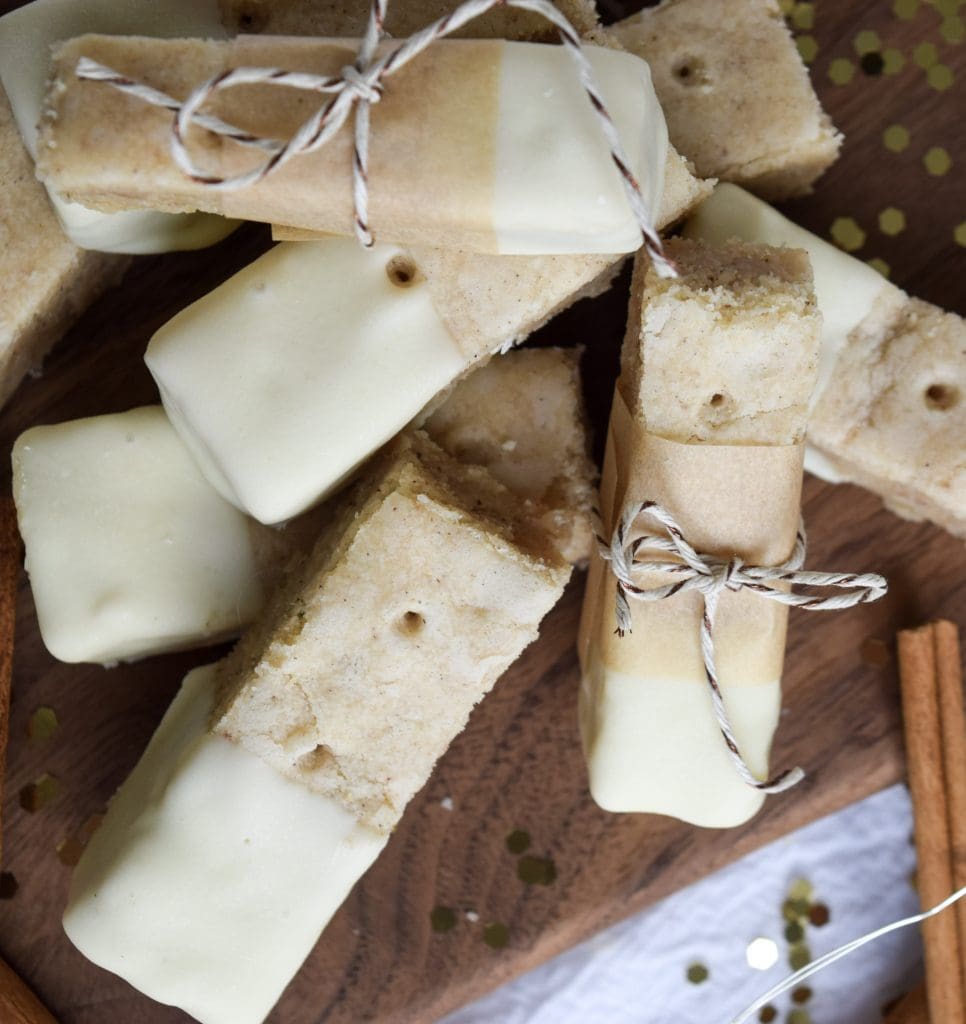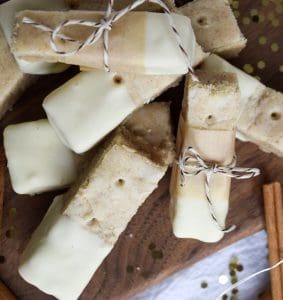 White Chocolate Chai Shortbread
Gluten Free
Allergy Adaptable, Vegan Adaptable
Prep Time: 20 minutes + baking
Makes: 24 shortbread sticks
Ingredients
16 Tbsp. salted butter, somewhat cooler than room temperature (dairy free: *Use vegan margarine, see notes above)
1 c. powdered sugar, sifted
2 tsp. pure vanilla extract
2 c. All Purpose Gluten Free Flour (make sure it has xanthan or guar gum in the mix)
2 tsp. chai spice blend OR mix together: 1 tsp. cinnamon + 1/2 tsp. ginger + 1/4 tsp cardamom + 1/4 tsp. allspice)
1 c. white chocolate morsels (dairy free: Enjoy Life White Chocolate Mini Chips)
1 tsp. coconut oil
Directions
Preheat oven to 300. Grease an 8×8 baking dish and line with parchment paper.
Add the butter, powdered sugar, vanilla extract, gluten free flour and chai spice blend and mix until all blended together about 2-3 minutes.
Scrape into the prepared baking dish and gently pat down.
Score the dough into 3 rows and then make a grid with 8 cookies from each row, you'll have 24 rectangular cookies. Use the back of a skewer to poke 3 holes in each cookie for that classic shortbread look, this also helps air escape so the cookies stay nice and flat.
Place in the oven for 50-53 minute until it all feels set and is no longer shiny.
Let it cool for 5 minutes then cut through the lines you scored before baking to completely separate the cookies (if you wait until it's cooled it's near impossible).
Cool completely.
To dip in the white chocolate: combine the coconut oil and white chocolate morsels. Microwave at 30 second intervals, stirring in between, until melted.
One by one, dip one end of each shortbread into the melted chocolate shaking off any extra and then place on a parchment lined baking sheet. Continue with remaining shortbread and place in the refrigerator to set.
These keep very well at room temperature up to 2 weeks or in the freezer for 2 months.
Happy Foods are the Best Foods!