Summertime is usually known for popsicles….but what about cake pops?? Delicious, fun and very poppable these little buddies are a great way to use up extra cake or extra cupcakes. I love Miss Jones and have been doing some recipe testing with some of their products…they have a monkfruit/coconut sugar sweetener blend that I love! And their frosting mixes are not only delicious but very allergy friendly.
They recently sent me some of their Confetti Pop frosting and I immediately knew I wanted to make cake pops with them. Are you kidding? How fun! Multi colored (and naturally colored might I add) sprinkles with delicious vanilla frosting made it a total snap to make the best cake pops. Prepare your favorite yellow or white cake, let it cool. Then blend with the confetti pop frosting and sprinkles and voila!! You've got a delicious little mix to whip together some of the best cake pops with.
xo, Kendra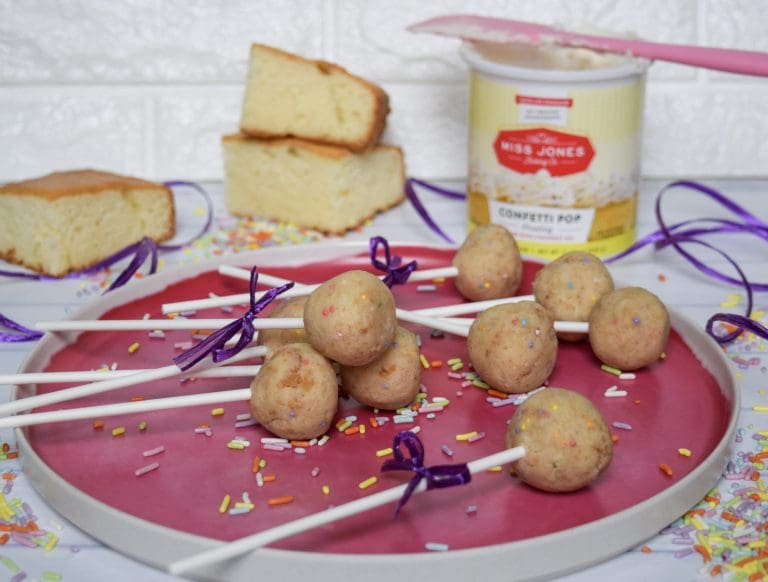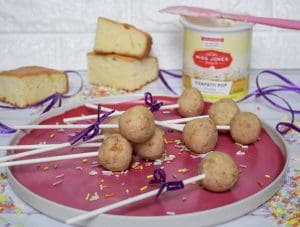 Sunshine Sprinkle Cake Pops
Allergy Adaptable, Vegan adaptable
**contains coconut
Prep Time: 40 minutes plus baking and chilling time
Makes: about 30-36 cake pops
1 prepared 9×13 yellow or white cake mix
1/2 c. allergy friendly white chocolate chips
Other items needed: sucker sticks, ribbon
Directions
Crumble the cake into the bowl of a food processor. Add 1/2 the tub of frosting and all the sprinkles.
Pulse until everything is pretty well combined.
Scoop out into balls that are golf ball sized and roll. Place on a parchment or wax paper lined baking sheet and place in the refrigerator for a couple hours or the freezer for 1-2 hours.
Melt the white chocolate in a small bowl. Dip the end of the sucker stick into the white chocolate and press one of the cake balls onto the end. The chocolate will act like glue and help keep the cake pops on the stick.
Store in the refrigerator until ready to enjoy, these will last in the fridge about 4-5 days well covered and in the freezer about 2-3 weeks.
Happy Foods are the Best Foods!