These are unknown times. These are scary times. We get new news every 2 hours and then the questions: should we leave our house, can we go for a walk, is it safe to go to the store, is it safe to eat from delivery from restaurants, how do we open a package shipped to us, what will we eat for dinner.
And while most people are able to stock up on at least a few pantry staples, whose dinner selection is primarily based on preference there are 32 million Americans whose dinner selection revolves around what is safe for them to have. If you are one of those 32 million these times are terrifying. Food items that are in the free from category, in the category of gluten free, dairy free, nut free, etc. are even more scarce than a gallon of milk right now. And for the Americans that need those items this can truly mean life or death.
So I've been thinking of how I can help people. How can I help my followers, my friends, my family get through these times with safe recipes that can replace some of the staples they aren't able to find at the store right now?
And what's one of the most basic recipes that many food allergic people rely on? White Sandwich Bread. And I'm so excited to pair up with Spokin, the most incredible food allergy app, to share with their followers and you, my Drizzlers, a fantastic recipe for delicious homemade bread.
Once you bake one loaf of bread from this recipe you'll love how it makes your house smell and how delicious it is. So I hope you'll join me in preparing this recipe and if you are available on Saturday, March 21st at 11 am over on instagram as I take over the Spokin feed! I'll be answering all your questions and showing you how to prepare this tasty bread.
Regardless, make this bread. It's delicious, it'll make your home smell wonderful and it'll fill your heart with warmth in a time when our hearts can use all the help they can get.
Stay Safe, Drizzlers
xo, Kendra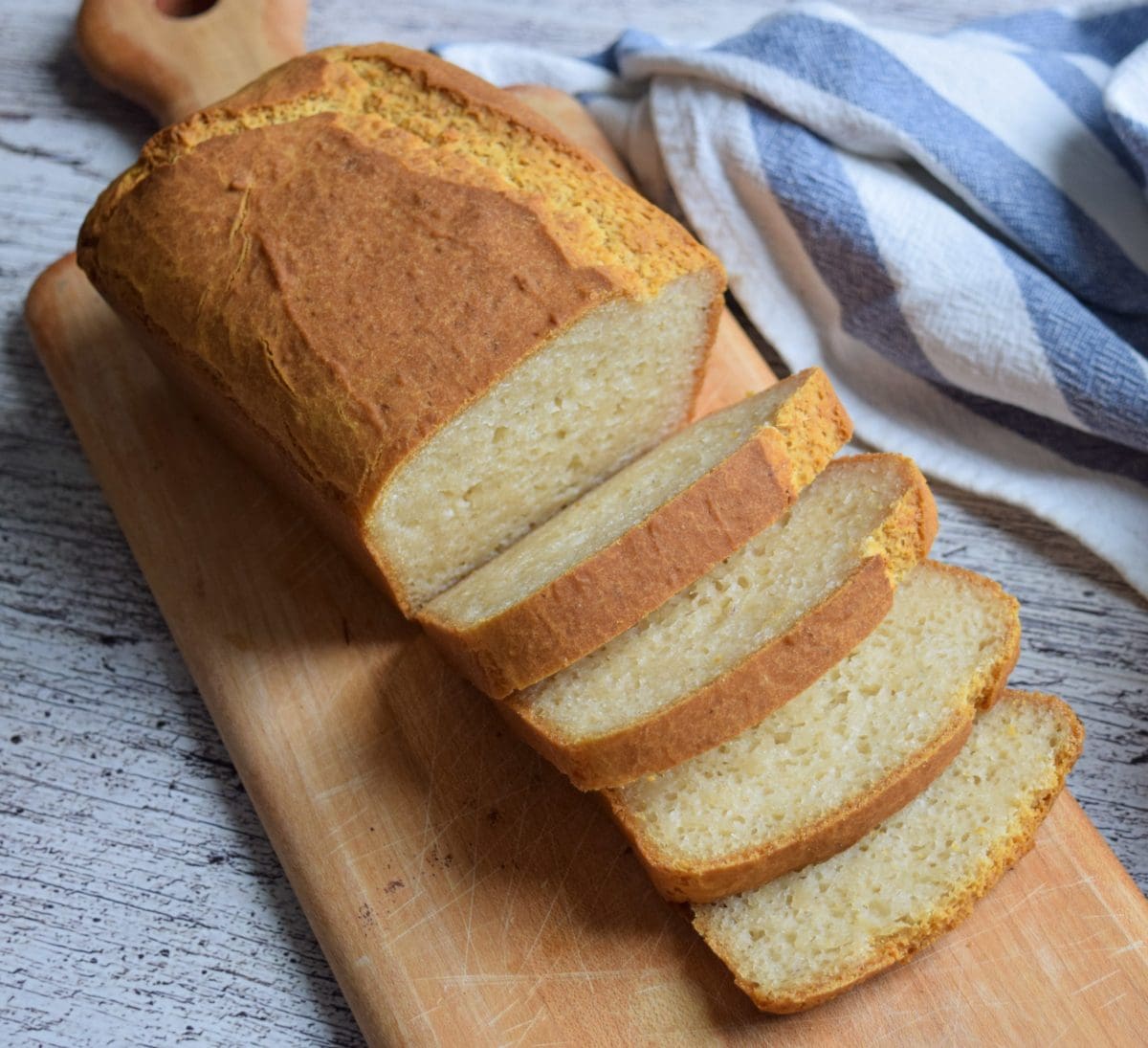 Top-8 Allergy Free Sandwich Bread
Free from the top-9, potato, mustard, corn
INGREDIENTS
Makes 1x  9" standard loaf
1 packet or 2 ¼ t. instant rise, dry yeast
1 T. sugar
1 ½ c. warm water
3 c. all purpose gluten free flour*
1 Tbl. psyllium husk/2 T. guar gum/1 t. xantham gum
1 Tbl. +1 tsp. baking powder
1 t. salt
2 T. sugar
2 tsp. lemon juice/white vinegar/apple cider vinegar
¼ c. flavorless oil/melted coconut oil/vegan margarine OR 1/3 c. melted unsalted butter
1 aquafaba egg (canned chickpea liquid)*/1 chia egg/1 flax egg/1 regular egg
DIRECTIONS
Grease a 9" loaf pan and set aside.
Pour the yeast in a small bowl and sprinkle the sugar on top.
Run tap water until it feels warm on your wrist, not hot, but warm. It should be around 110-115 degrees. Pour this over the yeast and sugar and gently stir. Let is sit for a few minutes, it should be foaming. This just means the yeast is alive and will work (this is called "proofing")!
Meanwhile, in a stand mixer fitted with the bread hook attachment, mix together the gluten free flour, psyllium husk (or sub), baking powder, salt and remaining sugar.
In another bowl whisk together the lemon juice (or sub), flavorless oil (or sub).
Add the proofed yeast mixture to the bowl with the dry ingredients and turn mixer on. Mix until all incorporated.
Add the aquafaba egg (or sub) to thte bowl and gently fold in.**
Add the other bowl of wet ingredients and mix another 2-3 minutes, scraping down sides as needed, until it's all incorporated and well blended. It should be very smooth but also wet and sticky, that's ok!
Scrape into the prepared loaf pan and smooth top with spatula. Set aside to rise for 20-30 minutes. It might not rise a lot, that's ok! Don't over-rise! Gluten free breads can sometimes  bubble quite a bit and will rise and rise and rise and then it's a disaster when you bake. It should barely reach the top of the loaf pan.
Place in a 375 degree oven and bake for 50-60 minutes, checking about halfway through to turn. It should be lightly golden brown.
Remove from oven. Cool 1-2 minutes and then turn onto a cooling rack immediately to prevent the bottom from getting dense and sticky.
Cool to room temperature and enjoy! Store in refrigerator for longer life of the loaf.
*All Purpose Gluten Free Flour Blend: use your favorite gluten free flour or make your own! For this recipe I like to use 1 c. sweet rice flour, 1 c. sorghum flour, ½ c. tapioca starch or arrowroot and ½ c. cassava flour.
**To make an aquafaba egg add ¼ c. liquid from a can of chickpeas to a small bowl and mix with hand mixer until light and fluffy and stiff peaks form. If you are using the chia egg, flax egg or regular egg simply add to the bowl and fold in.