It's the tail end of summer corn season and I am bound and determined to use it in all the ways! This cauliflower-corn soup recipe came about almost by accident, I went to the farmers market the other day and picked up a ton of produce, including loads of corn, some chive, a leek and a gorgeous head of cauliflower.
As I was trying to use it all before it spoiled I wanted to throw a soup together to have during the week, something easy to reheat and sip on and this recipe was born! One of the most amazing things about cauliflower is that, when used in a soup, it lends itself to being the creamiest and dreamiest ingredient without using cream! And then when you add corn in there? Another layer of velvety texture with a note of sweet.
This cauliflower-corn soup is a simple recipe that is filling yet still light. A nutrition powerhouse that will leave your body so happy and your tastebuds overjoyed. Finish with a snip of fresh chives and some toasted pumpkin seeds and you now have my favorite soup to eat at the moment at your fingertips!
xo, Kendra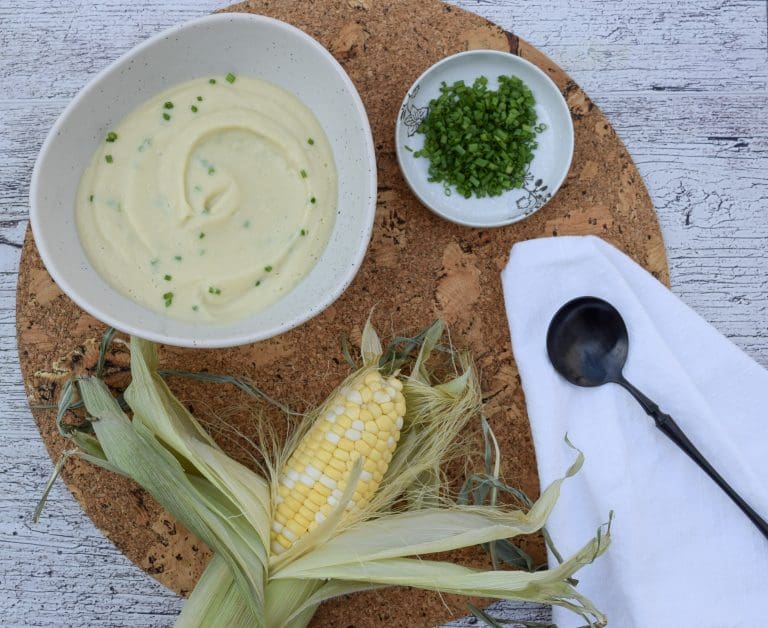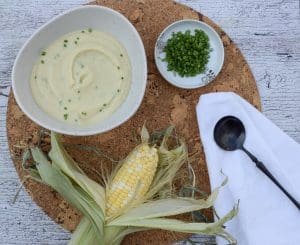 Creamy Cauliflower-Corn Soup
Free From the Top-9, Vegan
Serves: 4
Prep Time: 50 minutes
1 small leek, cleaned and roughly chopped
1/4 c. white wine
1 medium head cauliflower, cut into big chunks
1-2 ears fresh corn, kernels shaved from the cob
1 clove garlic, peeled
2 Tbsp. white rice
4 c. vegetable broth or chicken broth
**2 Tbsp. butter, optional if you can have dairy!
snipped chive, toasted pumpkin seeds, chili flakes-for garnish
Directions
Add 3 Tbsp. olive oil to a heavy bottomed pot.
Add the leeks and cook over low heat, tossing occasionally to prevent from browning, for about 6-7 minutes.
Add the white wine and a big pinch of salt. Continue to cook until the leeks are super soft and the liquid is almost all evaporated, about 5-6 minutes.
Add the cauliflower, corn kernels, garlic and rice and another little glug of olive oil. Stir and cook for 3-4 minutes just to soften slightly. Do not let them brown.
Add the broth and simmer for 20-30 minutes until the rice is cooked and the cauliflower is tender.
Working in batches, puree in a high speed blender until super creamy (this is where you'd add the optional butter). Taste for seasoning adding more salt, as needed. Pour into bowls, garnish and enjoy!
Happy Foods are the Best Foods!