I know there are a million apple bread recipes out there. Yogurt apple bread, streusel apple bread, some made with applesauce, some made with apple cider, some topped with frosting, others tender enough to stand their own right, etc. On my site alone this is the 3rd or 4th recipe! But what could I do to really max it out, while still keeping it nourishing? How can I jazz up this oldie but goodie recipe? Add the flavors of a cinnamon roll, of course.
I think this is the best apple bread I've created to date! Stuffed with a layer of finely diced apples, marinated in brown sugar and cinnamon. The breast itself is dense, delicious, moist and has just enough cinnamon and vanilla to infuse but not take over the apple layer. And then, just because we can, finish it all off with a light drizzle of frosting.
You might have already made some apple bread this season, so maybe tuck this into your file of new recipes to try next time. Or find this as an excuse to make another loaf of apple bread! Because has anyone ever really complained about too much apple bread?
xo, kendra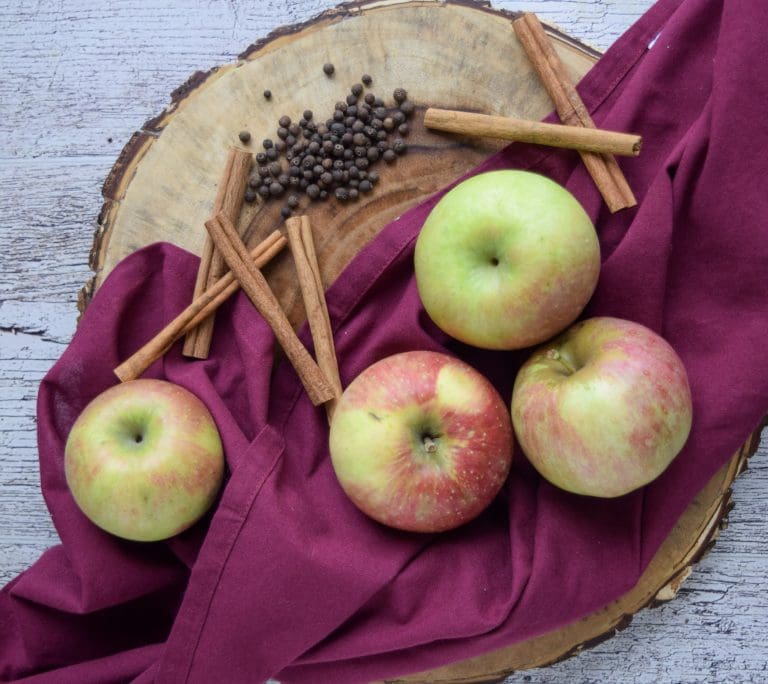 There are so many delicious baking apples. If you're able to get your apples from a farmer they can tell you which ones will work best for baking and which are best for eating. When I'm at the grocery store my easy default is always granny smith for baking!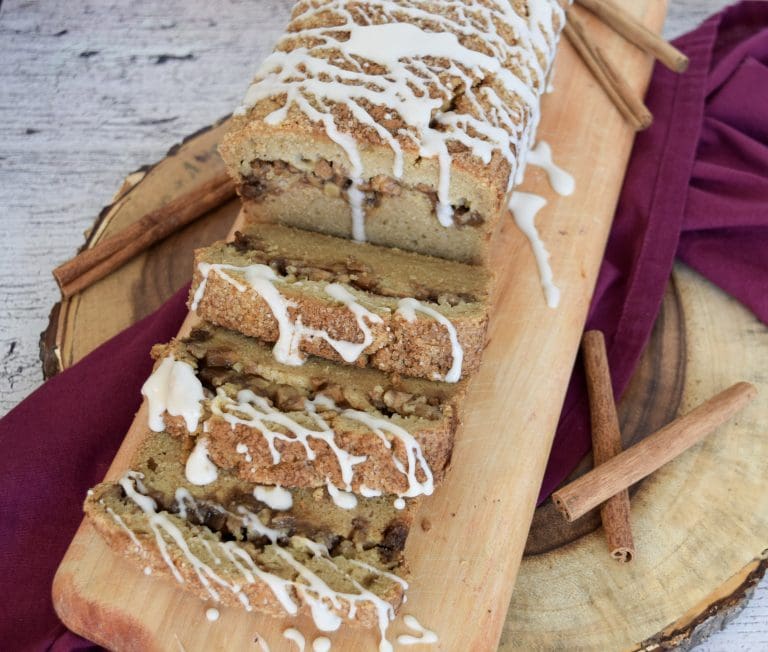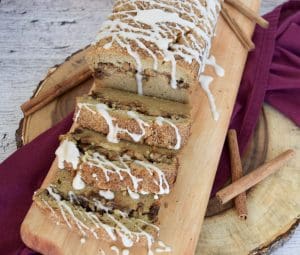 Cinnamon Roll Apple Bread
Vegan, Free From Top-9
Apple Layer:
1 1/2 c. finely diced apples (I like to keep the peel on for nutrition reasons! But if you don't like that texture feel free to peel!)
1/3 c. packed brown sugar
1 1/2 tsp. pumpkin pie spice
Dry Ingredients:
2 c. gluten free flour (make sure it includes xantham, guar gum or psyllium husk*)
1 1/2 tsp. baking powder
1/2 tsp. baking soda
1/2 tsp. salt
1 tsp. ground cinnamon
Wet Ingredients:
1 c. favorite milk (I used coconut milk)
1/3 c. cane sugar
1/4 c. packed brown sugar
1/4 c. melted vegan margarine or butter
2 flax eggs or 2 whole eggs
1 tsp. pure vanilla extract
Icing Drizzle
1 c. sifted powdered sugar
1/2 tsp. pure vanilla extract
1-2 Tbsp. favorite milk
Directions
Preheat oven to 350 and fit a bread pan with parchment paper. Set aside.
Mix together the apples, brown sugar and pumpkin pie spice in a bowl, set aside.
Mix together the dry ingredients in a large bowl.
In another medium bowl whisk together the wet ingredients.
Pour the wet ingredients into the bowl with the dry ingredients and mix until evenly combined.
Pour half the batter into the prepared bread pan. Spoon all the apple mixture over the top, including any liquid that accumulated on the bottom of the bowl. Swirl gently with a knife to press the apples into the batter slightly.
Scrape the remaining half of the batter over the top and place in the oven to bake at 350 for 50-60 minutes until a toothpick inserted into the center comes out clean. Cool completely.
Whisk together the icing ingredients until smooth.
Place the cooled bread on a wire rack with parchment or wax paper underneath (to catch the drippings!) and drizzle the icing over the top. Let set about an hour, or eat immediately and just let the icing drip!
*if you need to add: xantham gum-1/2 tsp., guar gum 1 1/2 tsp., psyllium husk-3 Tbsp.
Happy Foods are the Best Foods!