Hello, Drizzlers!
Well, the holidays are sneaking upon us. Does it feel like this year has gone by in a flash to anyone else? Well, not to worry if you haven't thought about your Thanksgiving menu yet. I have some gorgeous recipes from one of my favorite brands, 88 Acres, that I know you'll want to grace your table with.
These are recipes that might seem more complicated at first glance but are actually very simple to prepare. Most you can make ahead of time, even! And like everything else we do at Drizzle, they are allergy friendly.
As you've seen me post, 88 Acres is one of my favorite nut free brands. Many of you have a sesame allergy and you know I love to use their unsweetened watermelon seed butter as a perfect sub for tahini. But that's just one of their products that I use all the time.
And just for you, my Drizzlers, I have a coupon for you for 15% off your online order!!!
Use code: DRIZZLE15
for 15% off your order!!
Be sure to stock up on everything you need for your pantry and the holidays. And now, let's
check out these delish recipes below and get you started on a stellar Thanksgiving menu!
**All recipes and photos from 88 Acres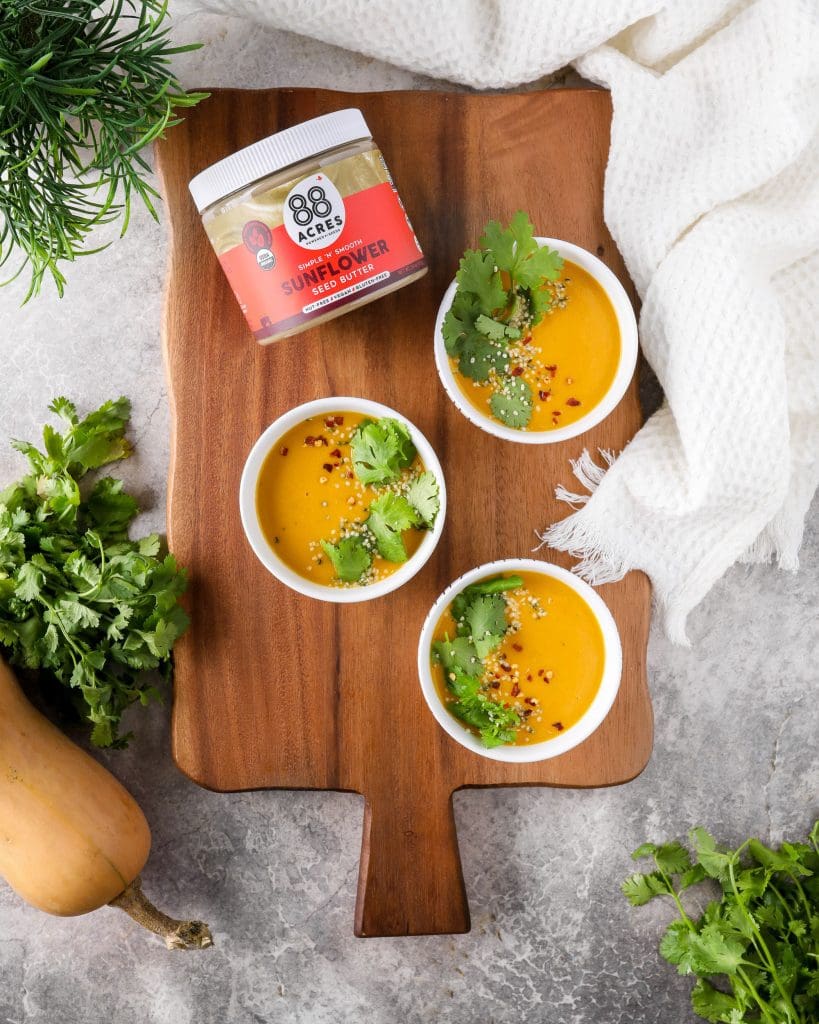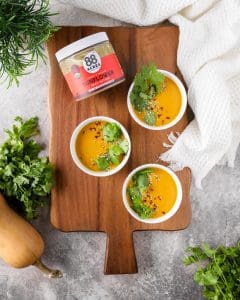 There is something warm and cozy (and a little fancy!) about starting your Thanksgiving meal with soup. Especially when it's thick, creamy and all while being dairy free! This recipe uses the 88 Acres Maple Sunflower Seed Butter in lieu of cream. Not only does it help with dairy free creaminess but it also adds a bit of protein, iron and unsaturated fats. Win-win! Butternut squash is one of my favorite seasonal vegetables and it works beautifully in this easy recipe.
Butternut Squash Soup
Ingredients:
Directions:
In a large stock pot, heat oil over medium-high heat. Add onions, garlic, and ginger and saute until onion is translucent, about 5 minutes.
Add butternut squash, salt, black pepper and red pepper flakes. Stir often for another 5 minutes until squash softens slightly.
Add broth and bring to a boil, stirring to ensure the bottom doesn't burn. Reduce heat to a simmer and allow to cook until squash is fork tender, about 10-15 minutes.
Transfer to a blender or use a hand blender. Add Maple Sunflower Seed Butter and blend until smooth. Taste and adjust for seasoning. Serve topped with toasted seeds, chopped herbs or homemade croutons.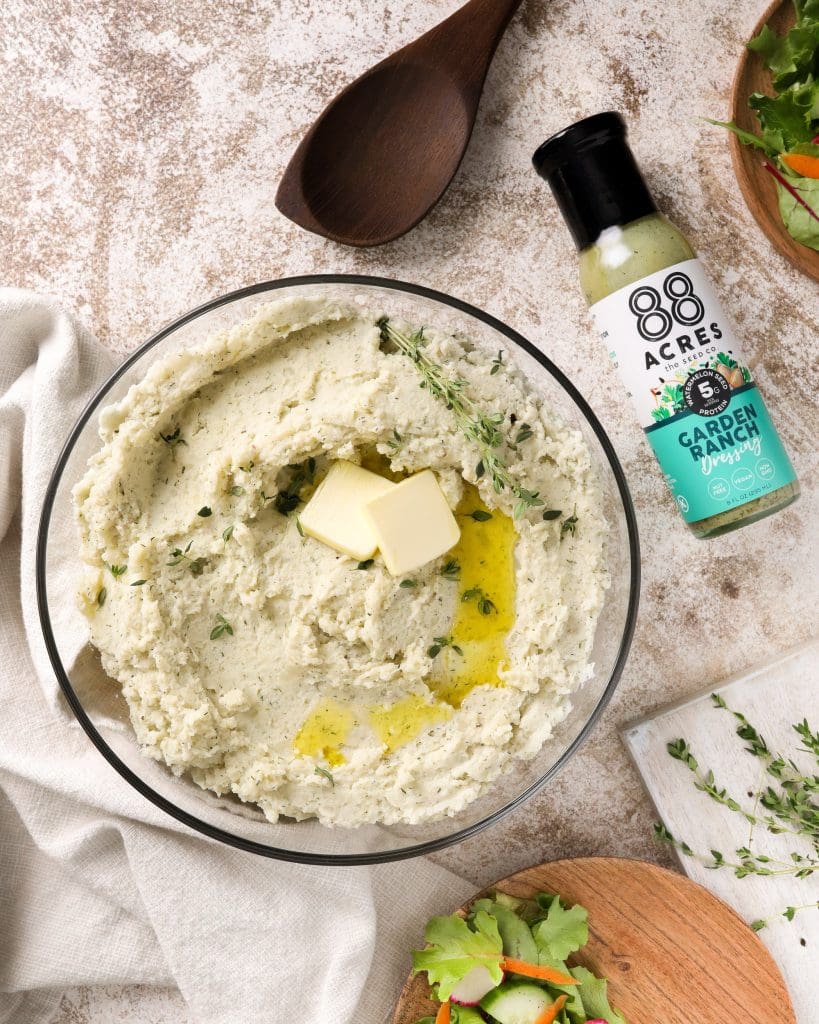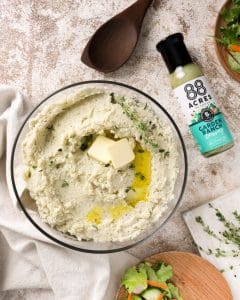 Mashed potatoes are a quintessential part of the Turkey Day table (or really any dinner table, am I right?!). And what do you think happens when you mix vegan ranch dressing with mashed potatoes and vegan butter? MAGIC! If mashed potatoes seem daunting to you this is another recipe that will surprise you. The 88 Acres Garden Ranch dressing has basically done the work for you with all of the dairy free creaminess and herbs tucked in there. I promise once you make these you'll always make mashed potatoes from scratch!


 
Garden Ranch Mashed Potatoes

Ingredients:
Directions:
Fill a large pot with water, add the potatoes and a large pinch of salt and bring to a boil. Cook until fork-tender. Remove from heat, drain potatoes and return to pot.
Use a fine grater or microplane to grate garlic into the potatoes, then mash potatoes with potato masher. Toss in butter, if using.
Pour in Garden Ranch Dressing and mix with a spoon. Stir in oat milk slowly, adding enough milk until you've reached your desired mashed potato consistency. Taste and season with salt and pepper.
Serve warm with more Garden Ranch Dressing drizzled on top if desired!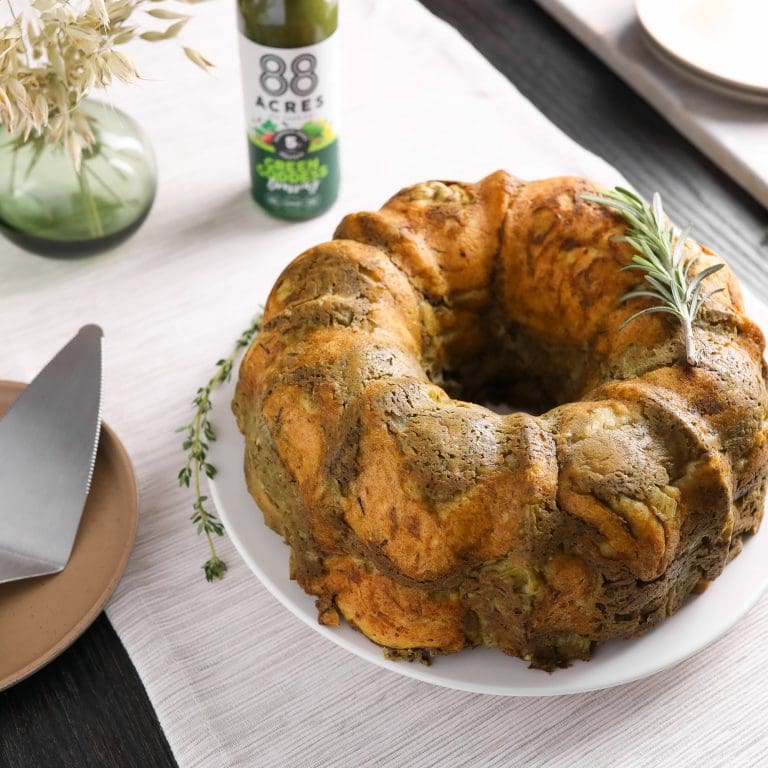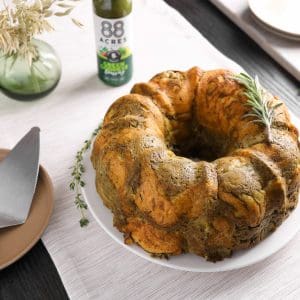 Next up is a super fun riff on stuffing. Being gluten free, stuffing has never really excited me. BUT bake it and then serve it warm and snuggled inside some gluten free rolls? Oh, yes. Plus it's filled with nutritious vegetables and it has a fancy *drizzle* incorporated in it with extra herby flavor! 88 Acres Green Goddess dressing is the surprise stunner in this recipe. It's actually my favorite flavor of their delicious dressings and turns out it's a ridiculously awesome addition to stuffing!


Pull Apart Stuffing Wreath
Ingredients:
Directions:
Preheat oven to 350°F and grease a 12-cup bundt pan.
Heat butter over medium-high heat in a large skillet until fully melted.
Add in the diced onion, celery, and apples and cook until onions are soft and translucent, about 5-7 minutes.
Add in the lemon juice, garlic, herbs, cayenne, salt and pepper and stir to combine. Cook for 1 minute, then stir in the vegetable broth.
Begin to add in the Green Goddess Dressing, 2 tbsp. at a time, stirring continuously. Once all the dressing has been incorporated, immediately remove from heat.
Drop 6-8 dough/biscuit pieces into the skillet, carefully turning with tongs to evenly coat with the filling.
Add each of the coated dough pieces to the bundt pan, then repeat until all have been coated. Pour any remaining filling over top of the biscuits.
Use tongs to gently press down on the dough, then transfer to oven to bake for 45-50 minutes, or until biscuits are golden brown.
Allow to cool slightly, then serve warm with a pat of vegan butter or an extra drizzle of 88 Acres Green Goddess Dressing!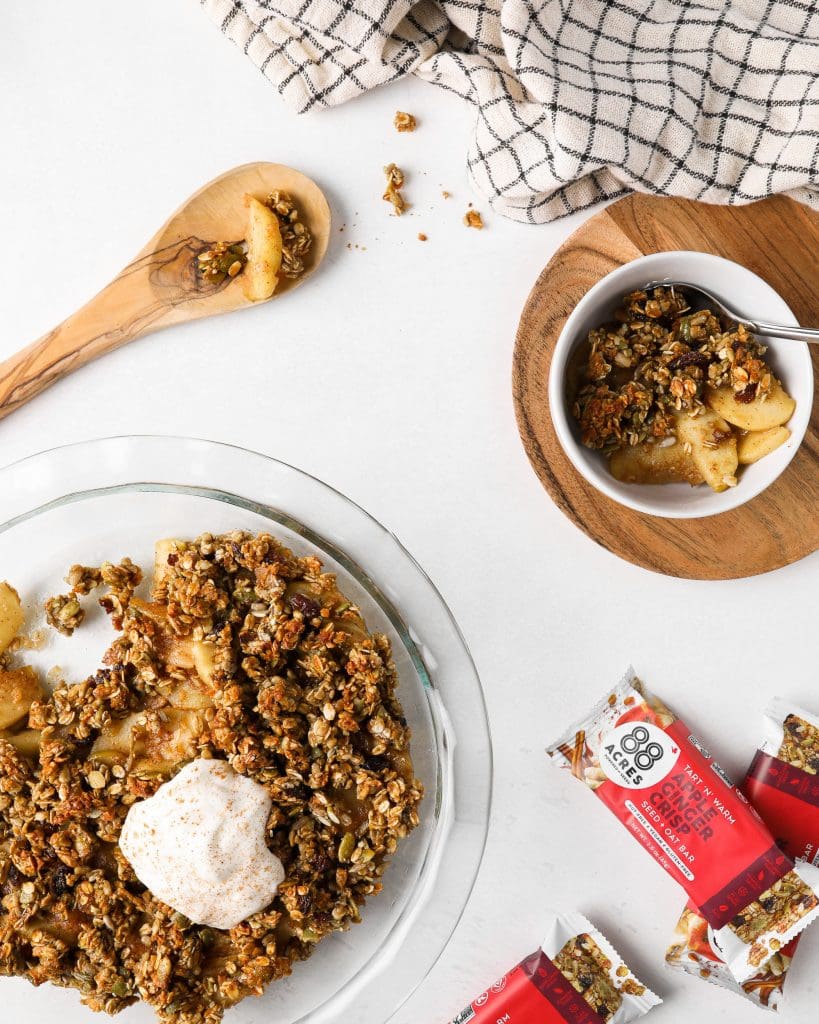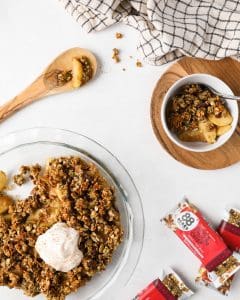 Last but not least, dessert!!! Pie has never really been a big part of our family Thanksgiving table. But saute some apples with delicious spices, maple syrup and then top them with a ginger and cinnamon spiced crumble? That wins over pumpkin pie any day for me! I love to keep 88 Acres Seed'nola on hand to sprinkle into oatmeal or on my chia pudding but as part of this delicious dessert topper it makes for fast preparation. And mixed with the Apple Ginger Crisp Seed and Oat Bar half the recipe is already assembled for you! It's a fun riff on nostalgic apple pie that's sure to be on your menu for years to come. Serve this with a little vanilla bean coconut ice cream and you'll be a happy little turkey.


Apple Ginger Crumble
Ingredients:
Directions:
Preheat the oven to 350 degrees and prepare a 9-inch pie plate by greasing the bottom and sides with butter.
Peel the apples and slice thin. Add butter and apples to a large skillet and saute over medium for 5 to 6 minutes or until apples begin to soften. Add cinnamon, ginger, nutmeg, and sea salt and cook 3 to 4 minutes. Add lemon juice and maple syrup and stir. Then add flour and cook for 2 to 3 more minutes until sauce has thickened and apples are soft.
Add apples to the pie plate.
Unwrap the 5-6 apple ginger bars and break into pieces or measure out 9oz of Apple Ginger Seed'nola. Evenly distribute bars over apple filling.
Place on a baking sheet and bake in a preheated oven for 15 minutes or until crumble is golden brown and crisp.
Cool for 10 to 15 minutes before serving.
Holidays can be daunting and seem overwhelming when you are not only cooking for a crowd but also trying to make sure it's safe for those with food allergies. Hopefully these delicious recipes will help you feel confident in knowing you are serving beautiful dishes that are allergy friendly. And sure to be part of your holiday table for years to come. Don't forget to use your 15% off online code, just for Drizzlers!
DRIZZLE15
Happy Thanksgiving, Drizzlers. Gobble Gobble!
Happy Foods are the Best Foods!!!