The Super Bowl is right around the corner and I keep thinking about what I want to make for our menu. Football and Futbol are both big sports for my boyfriend so that means they're big sports for me to prep fun food for!
Now, there are plenty of recipes that are already on the website that I make all the time for sports parties. There is a caramelized shallot spinach dip, asian inspired drumettes, chicken parm burgers and texas sheet cake cookies. But there's always room for more fun things!!
Enter in sweet potato tots. I love tater tots. If we are at brunch and they're on a menu? Order them. If we are at a casual dinner and I order a burger with an option for tots? Order them. But sometimes I want to make a lighter and more nutritious version at home. Plus they're just fun to dunk!
I like this recipe because you can roast the sweet potatoes a few days ahead of time and let them hang out in the fridge until you're ready to assemble. It's an easy recipe and you can also form them and freeze them before baking. I'll be sure to include those instructions below. I also love to switch up the seasonings I add. Sometimes I want them sweet and I'll add cinnamon and a bit of coconut sugar. Sometimes I want them super garlicky and I add garlic powder and dehydrated chives. But my favorite method is below, with Old Bay seasoning! Whichever way you decide I know you'll love having these totally poppable sweet potato bites around.
xo, kendra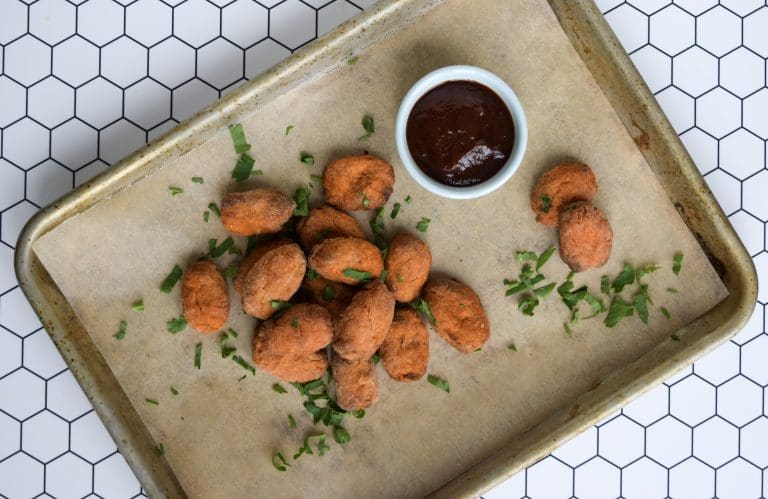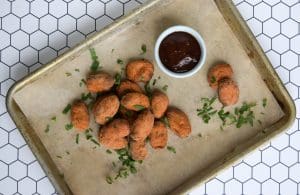 Sweet Potato Tots
vegan, Free From the Top-9, AIP, Low-Fodmap (small serving size)
Prep Time: 30 minutes for assembling, 35 minutes for baking
Serves: 4-6 people
Ingredients
2 c. packed roasted sweet potatoes*
1/4 c. gluten free flour, divided OR arrowroot starch for AIP
1 Tbsp. old bay seasoning
olive oil
Directions
Preheat oven to 375 and line two baking sheets with parchment paper.
Add the roasted sweet potatoes to a bowl, sprinkle 1 Tbsp. of the gluten free flour or arrowroot starch for AIP along with the 1 Tbsp. of old bay seasoning and gently mix. Avoid overmixing as you do still want some chunks of the potato.
Scoop out all the tot mixture using a tablespoon. Sprinkle the remaining 3 Tbsp. of gluten free flour or arrowroot starch over the tots and form them into tater tot shape.
Drizzle lightly with olive oil and place in the oven at 375 for 20 minutes. Flip over and bake for another 10-15 until golden brown.
Serve with your favorite dipping sauce and enjoy!
*to roast the sweet potatoes, rinse them and pierce a few times with a fork or knife. Place in a 350 degree oven on parchment paper for 45 minutes-1 hour. Cool completely before using in this recipe, preferably refrigerate overnight.
How to Freeze: Prepare the sweet potato tots through step #3. Place in the freezer in a single layer for 2 hours until pretty frozen through then pop them into a resealable bag and freeze up to 2 months. When ready to bake place them on a parchment lined baking sheet and let them thaw for 1 hour on the counter then follow instructions 4 and 5.
Happy Foods are the Best Foods!