I have a client who recently requested some sweet potato falafel. And, yes!! How delicious!  This client has loads of food allergies but this recipe was the perfect addition to her birthday picnic. And, honestly, it's much easier than you would think especially if you have a food processor on hand.
This is not at all the same way you would make a classic, authentic falafel recipe. But it's delicious, it fits into the food lifestyle of my clients and I think it's a fun riff on a beautiful recipe. Delicious served with butter lettuce and some shaved veggies as a lettuce wrap, on top of rice and some wilted greens with a creamy avocado and cumin crema or as an appetizer served with a dip on the side this is one tasty little guy.
Plus you can make them ahead of time and simply reheat them or serve them at room temperature. It's such a fun recipe you'll want to make all summer long.
xo, Kendra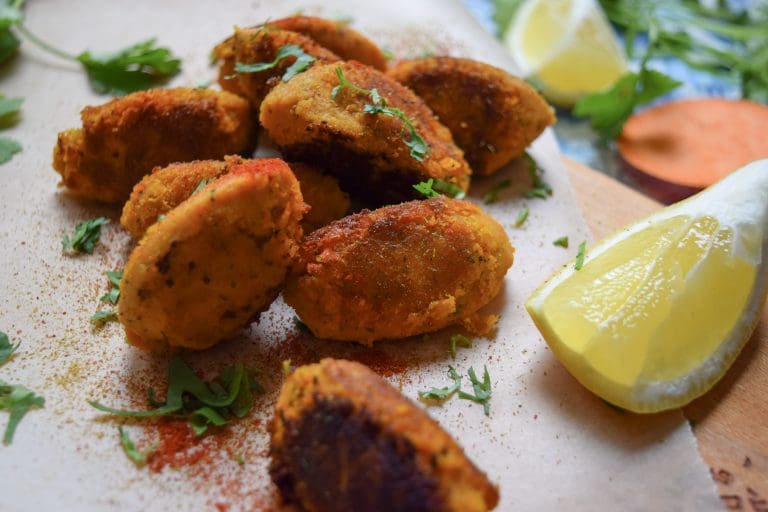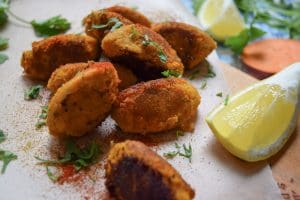 Sweet Potato Falafel
Free From Top-9 Food Allergens
Vegan, SIBO phase 2 friendly, Low Fodmap, AIP
Prep Time: 30 minutes plus roasting + cooking
Serves: 4-5 as an appetizer, 2-3 as a main
2 sweet potatoes
1 can chickpeas, rinsed
3-4 Tbsp. chickpea flour (depending on how wet your sweet potatoes are)
3 Tbsp. minced cilantro
1 tsp. coriander
2 Tbsp. lemon juice
1 Tbsp. lemon zest
salt
Additional chickpea flour for coating
Optional sauce: Blend together in a food processor-1/4 c. 88 Acres Watermelon Seed Butter OR tahini, if you can have sesame + 1 Tbs. olive oil + 2 Tbsp. chopped cilantro + pinch lemon zest + pinch salt + water to thin to your desired consistency
Optional additional spices if you do NOT need to be AIP: cumin, smoky paprika, cracked pepper
Directions
Preheat oven to 350 and prick the sweet potatoes all over. Place them on a parchment lined baking sheet and roast until soft and oozing out a bit, about 45 minutes.
Scrape the inside of the sweet potatoes into a food processor bowl and add the rinsed chickpeas, 3 Tbsp. chickpea flour, minced cilantro, coriander, lemon juice and lemon zest. Blend until all combined and the chickpeas are slightly chopped and mixed into the sweet potato.
Depending on how big or how sweet your potatoes are, you might need to add more chickpea flour to help them bind. The mixture shouldn't be too wet or stick to your hands. You should be able to pick it up and roll into a ball without it sticking to your hands.
Scoop out the mixture and roll into slightly-smaller-than-a-golf-ball size balls. Lightly coat in additional chickpea flour and set aside.
Preheat oven to 375. Line a rimmed sheet with parchment paper and set aside.
Preheat a nonstick pan over medium and add a drizzle of oil to lightly coat the bottom. Place a couple of the sweet potato falafels in the pan and lightly brown all over. Place on the prepared parchment lined sheet tray.
Continue lightly browning the falafels until they are all done. Place the tray in the oven and cook another 12-14 minutes until they are cooked through.
Serve with lettuce, steamed rice and the optional dipping sauce if you'd like!
Happy Foods are the Best Foods!