Anyone who knows me understands that there are always multiple bags of Harvest Snaps Snack Crisps in my pantry. I LOVE THEM. First of all, it's a snack made from a whole vegetable. Second of all, it's freaking delicious. Third, it's naturally gluten and dairy free. Fourth, per serving there is 5 g. of fiber and 5 g. of protein.  I don't know how you could not love these!
Now, summer salads are also one of my favorite things. A ton of grilled veggies with some greens and a light dressing? Yes. The challenge about being gluten free, though, is that sometimes you want something like a crouton. Sometimes you want something crunchy, aside from a seed or a nut.
Enter Harvest Snaps Snack Crisps.
These babies are PERFECT! They're crunchy and light like a crouton would be but not heavy and actually filled with good stuff. Tossed with some toasted sunflower and pumpkin seeds they make the perfect finish for a summer salad.
That is, if you don't eat the entire bag first…..
Happy Foods are the Best Foods!
xo, Kendra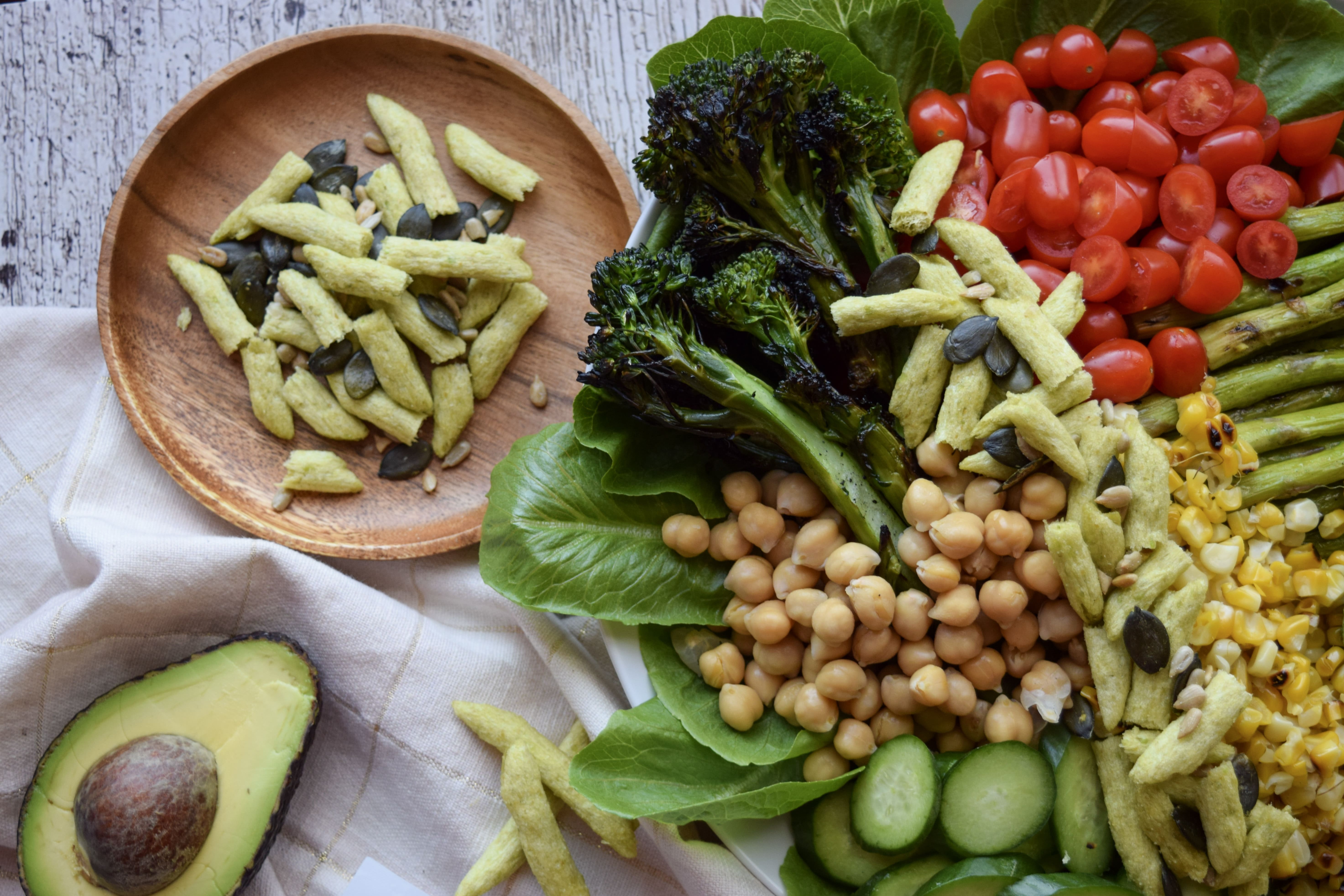 Harvest Snaps Snack Crisps Summer Salad
Serves 4-6
1 head broccoli, quartered
2 ears corn, shucked
1 bunch asparagus, trimmed
1 head romaine
1 cup grape tomatoes
2 baby cucumbers
1 avocado
1 can chickpeas, drained and rinsed
1 bag Harvest Snaps Snack Crisps
¼ c. toasted pumpkin seeds
¼ c. toasted sunflower seeds
Smashed Raspberry Dressing
1/3 c. olive oil
Juice and zest from 2 lemons
¼ c. raspberries, lightly smashed
Small spoon whole grain Dijon mustard
Small swirl of honey
1 t. salt
½ t. pepper
DIRECTIONS
Preheat a grill or a broiler. Drizzle the broccoli, corn and asparagus with a little olive oil and sprinkle lightly with salt. Grill 3-4 minutes until slightly charred. Set aside to cool.
While the grilled vegetables are cooling, prepare the rest of the salad. Rinse and tear the romaine, halve the grape tomatoes, slice the cucumbers and avocado.
Shave the charred corn off the cob, cut the broccoli into smaller pieces and chop the asparagus.
Arrange everything including the chickpeas in a large, shallow bowl.
Make the dressing by whisking together all the ingredients, check for seasoning and add more salt or pepper as needed. Drizzle over the salad.
Crumble up some Harvest Snaps Snack Crisps and sprinkle over the salad along with the toasted pumpkin seeds and sunflower seeds.
Enjoy!