It's sweet potato season!!! Although, for me, sweet potatoes are on my menu 365 days per year. I love them so much. And fun fact, did you know a sweet potato isn't actually a potato?! Sweet potatoes are considered a tuberous root whereas white potatoes are considered a starchy root. Technicalities, I know, but still interesting!
Now, I love sweet potatoes for a myriad of reasons…..you can dice them and quickly saute. You can shave them and make chips. You can slice them and roast. You can keep them whole and roast. They are a great addition to a breakfast bowl, a salad and are an awesome base to stuff full of goodies and enjoy for a filling meal. They have a crazy amount of Vitamin A (400% of your daily value!) and super high in antioxidants. They also contain almost 1/3 of your daily needs for B6 (yay, energy!) and almost 2/3 of your daily needs for Vitamin C (yay immunity help and collagen builder!). Many people think of sweet potatoes as just being full of sugar but they also contain protein (average of 4 g.) and fiber (average of 6 g.) which helps slow down how quickly your body metabolizes the sugar and helps balance that out.
What are a few of my favorite ways to cook sweet potatoes?
Roast them whole, 375 for about 40-45 minutes. Slice them open and stuff with a mixture of finely chopped and sauteed broccoli, shredded chicken, chickpeas and pesto.
Slice them lengthwise into 1-2″ planks and roast for just about 10-12 minutes at 350. Use as "toast" for avocado toast.
Dice them and roast. Keep in the fridge as a great add on to scrambled eggs, a quinoa and kale bowl with olive oil and balsamic vinegar, an easy dinner add on.
And most recently, this new cooking technique below…..read on to find out!
One of my chefs and I recently discussed, "What if we cut sweet potatoes apart, score them and roast them?" And holy hell. It's become my new favorite way of cooking sweet potatoes. They get all soft, gooey and delicious in the middle and then perfectly caramelized on the top. Even just with salt, pepper and olive oil this method is fantastic. But what the scoring also does is allow the sweet potato more surface area to soak in any type of glaze or spice you pop on there for the last few minutes of cooking. So why not sass up your Thanksgiving menu with this new recipe? And if you're still making marshmallow topped sweet potatoes for the love of EVERYTHING HOLY please stop and make this recipe. I'm sure your family, and your stomach, will thank you! (plus you can make these ahead of time…..win-win for holiday prep!).
xo, Kendra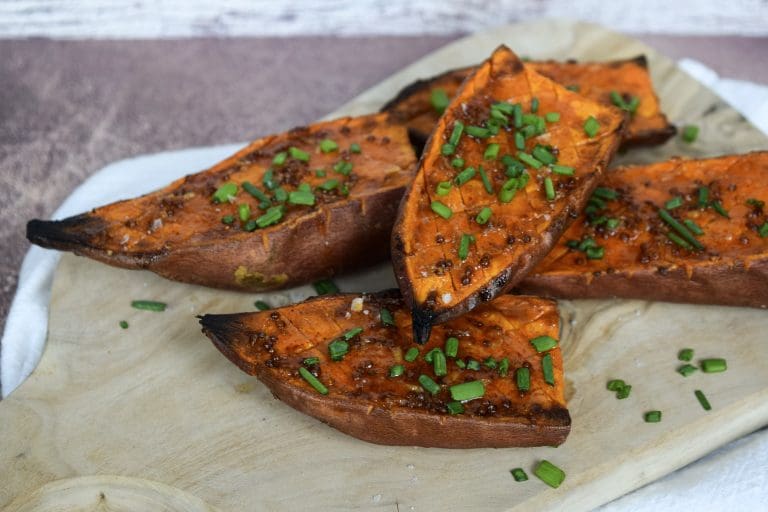 Spice Slathered Sweet Potatoes
Free From the Top-9 Food Allergens, Vegan, Low Fodmap (without the garlic)
Serves: 4
Prep time: 15 minutes plus 25 minutes roasting
2 medium sized sweet potatoes
1 Tbsp. whole grain dijon mustard
1 tsp. smoked paprika
1 tsp. ground cumin
1 Tbsp. maple syrup or honey
1 clove garlic, grated (remove for low fodmap)
1/2 lemon, zested
1 tsp. olive oil
salt and pepper
snipped chive, for garnish
Directions
Preheat oven to 375, preferably convection.
Cut the sweet potatoes in half. Then cut each of those halves down the middle, lengthwise so you end up with the potato quartered.
Use a small knife to make a criss cross hatch pattern lightly on the potatoes.
Drizzle with a bit of olive oil and place cut side down on a parchment lined baking sheet. Roast at 375 about 20-25 minutes until soft.
Meanwhile, mix together the dijon, smoked paprika, ground cumin, maple syrup, grated garlic, lemon zest and olive oil.
Remove potatoes from the oven and turn cut side up. Brush the glaze all over the top. Sprinkle with salt and pepper and place back in the oven, under the broiler, carefully watching for 1-2 minutes. Just until the top is bubbling. (watch the parchment! If it's hanging over too much it can burn!)
Remove from the oven, place on a platter and sprinkle with the snipped chive. Enjoy!
***To make ahead of time! Follow the recipe through step 4. Let the potatoes cool and refrigerate 1-3 days. When ready to finish: Rewarm the potatoes, cut side up, in the oven at 350 for 15 minutes until warm through. Remove from the oven and continue on to step #6.
Happy Foods are the Best Foods!