Oh pumpkin bread. I mean, it's that time of the year right? And as much as I try to convince myself I don't need to keep any sort of sweet breads around the house…..pumpkin bread always comes along and reminds me that I need it. Toasted with a crisp edge, tender, sweet, spicy from cinnamon and cardamom this is such a delicious little treat.
I grew up eating warm pumpkin bread with a slather of salty butter on top. Can't have butter? Use your favorite vegan buttery spread and you'll thank me later. Not to mention the glorious smell in your house of the spices swirling around while this beautiful bread bakes. And dare I say it reminds me of the Starbucks pumpkin bread? GASP. But it does.
I might just have to make another loaf once I finish typing this recipe up for you, Drizzlers! So enjoy this season, enjoy the spices and be sure to enjoy this bread (I know you will!).
xo, Kendra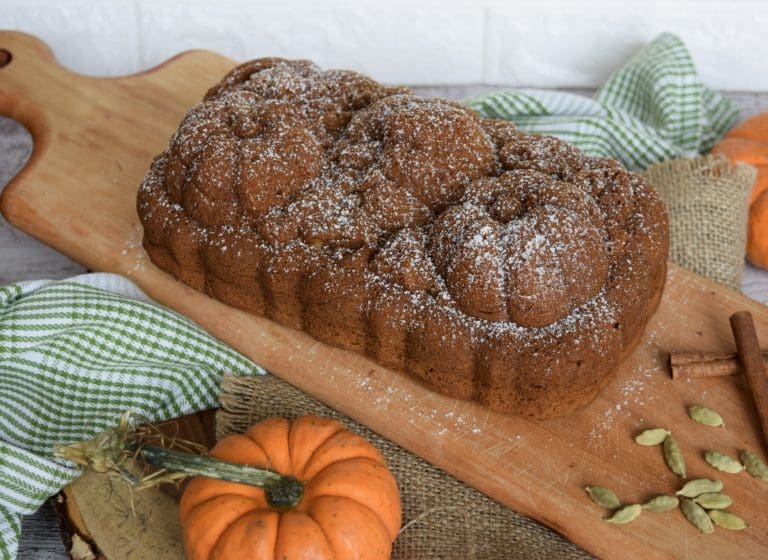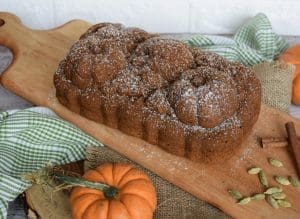 Spice Flecked Pumpkin Bread
Allergy Adaptable to be Free From the Top-9 Food Allergens and Vegan
Serves: 8
Prep Time: 20 minutes plus baking
1 3/4 c. all purpose gluten free flour*
1 Tbsp. cinnamon
1/4 tsp. ground cardamom
1 Tbsp. baking powder
1/4 tsp. salt
1-15 oz. can pumpkin puree
2 eggs/flax eggs
1/2 c. melted butter/coconut oil/vegan margarine
1/4 c. vegan milk
1 c. coconut sugar + 1 Tbs. molasses**
1 Tbs. vanilla extract
Directions
Preheat oven to 350. Lightly grease a 9″ loaf pan and sprinkle with a bit of gluten free flour. Set aside.
In a medium bowl whisk together the gluten free flour, cinnamon, ground cardamom, baking powder and salt.
In another medium bowl whisk together the pumpkin puree, eggs (or flax eggs), melted butter (or melted coconut oil or melted vegan margarine), vegan milk, coconut sugar-molasses mixture and vanilla extract.
Add the gluten free flour mixture into the pumpkin bowl and whisk until well blended. Pour into the prepared loaf pan.
Bake at 350 for 50-60 minutes, turning halfway through, until a toothpick inserted into the middle of the bread comes out clean.
Cool for 20 minutes then invert onto a cooling rack.
Enjoy!
*If your gluten free flour blend doesn't have xantham gum or guar gum please add one of the following:
1/2 tsp. xantham gum OR 1 tsp. guar gum OR 1 Tbsp. psyllium husk.
**If you don't have coconut sugar or molasses you can sub:
1/2 c. cane sugar + 1/2 c. brown sugar
Happy Foods are the Best Foods!