Since starting to limit my diet to foods that are basically low fodmap and don't make me swell up, one thing I keep coming back to is spaghetti squash. I have always loved it, but my adoration for the deliciousness of this squash has grown so much in these past few weeks!
Spaghetti squash creates, just as the name alludes, strands of squash that look like spaghetti! It's delicious simply steamed and then used as the base in substitution for classic noodles. But it's also reeeeaaaaal tasty sautéed in some olive or coconut oil and used as the base for a buddha bowl, almost like hash browns!
First things first, let's talk through how to even tackle this little football of a squash and then we'll get into the recipe. So go grab yourself a spaghetti squash and read through the recipe, you can also head over to my instagram feed or my IGTV where I shot a short little video on how to cook it and scrape it out. I know you'll just love this vegetable and hope you start to use it on a regular basis as well!
Mangia!
Stay Safe out there, Drizzlers!
xo, Kendra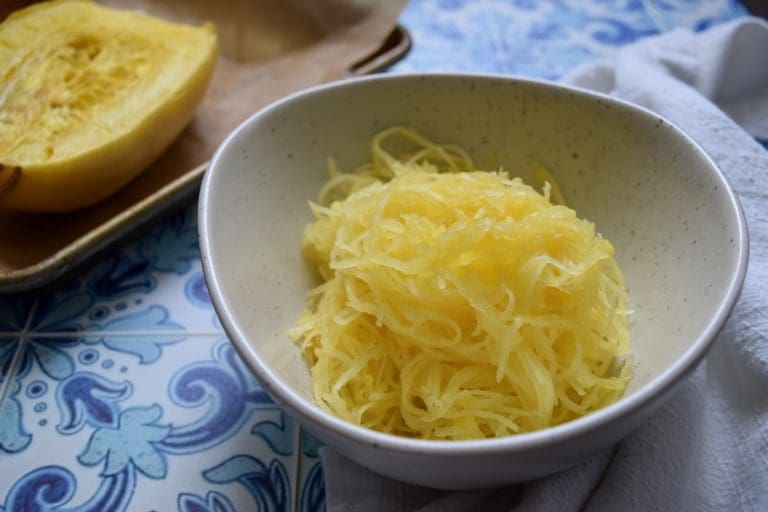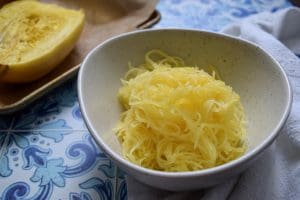 How to Cook Spaghetti Squash
Prep time: 25-35 minutes, depending on size
1- 2lb. spaghetti squash
1 Tbs. olive oil or melted coconut oil
Directions
Preheat oven to 375 and line a small baking sheet with parchment paper.
Prick the spaghetti squash a few times with the tines of a fork and place in the microwave for 3 minutes, this softens it just enough to help cut through without it being a danger!
Remove from microwave, cut off the stem end of the squash. Lay flat and cut through the middle pole so you end up with 2 long halves.
Lightly drizzle the olive oil evenly over each half, spread to cover and place cut side down. Bake for 15 minutes. Flip over and continue to bake another 10-15 minutes (or longer if your squash is bigger!) until a knife inserted goes through pretty easily. It shouldn't slip super easy in and out, if so then it has cooked too long.
Remove, scoop out seeds with spoon and use a fork to scrape the "spaghetti." Use as is or let it cool a bit and then saute in some olive oil.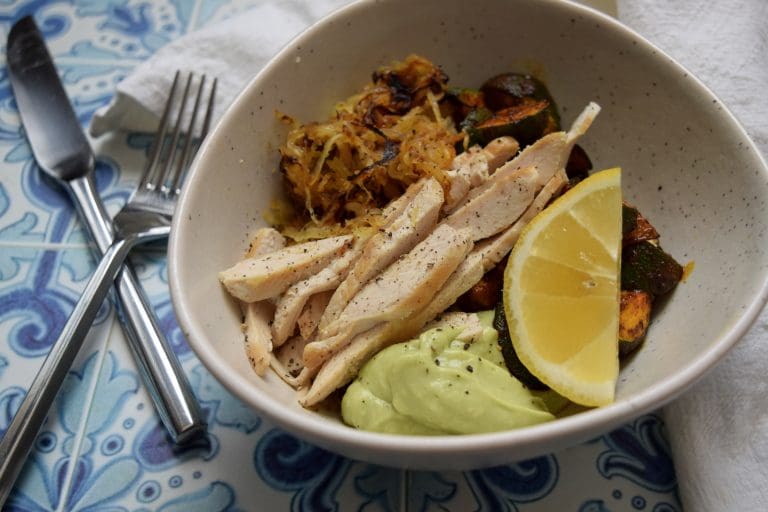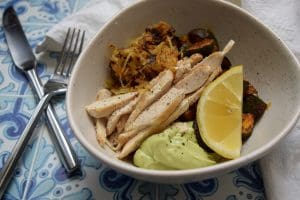 Spaghetti Squash Buddha Bowl with Spice Sauteed Zucchini, Sliced Chicken and Avocado Cream
Free From Top-9 Food Allergens
Suitable for: Low Fodmap, Candida Protocol, SIBO protocol
Serves: 2
Prep time: 45 minutes
1 avocado
juice from 1/2 lemon
2 Tbs. olive oil
2 Tbs. water
salt and pepper
noodles from 1 smallish cooked spaghetti squash
2 zucchinis, sliced
1 tsp. cumin
1 tsp. smoky paprika
1/4 tsp. turmeric
salt and pepper
2 small chicken breasts, cooked and sliced
Directions
Make the avocado cream: scrape out the avocado into a small food processor, add the lemon juice, olive oil and water and puree until silky smooth. Add salt and pepper to taste. Set aside.
Preheat a medium nonstick pan. Add a drizzle of olive oil and place the spaghetti squash in a single layer, let cook for a couple minutes over medium heat.
Saute the squash until it's starting to turn golden brown, season with salt and pepper and remove from heat.
Add the zucchini and chicken to the pan and saute for 2-3 minutes with another glug of olive oil.
Add the spices and saute another minute. Remove from pan.
Assemble bowl with base of the sauteed spaghetti squash then layer on the spiced zucchini and chicken and finish with the avocado cream. Enjoy!
Happy Foods are the Best Foods!