Potato Salad. The quintessential American BBQ dish. But why does it have to be limited to white potatoes, gloppy mayonnaise and a few bits of celery tossed in? I thought the same thing. Let's switch this jazz up!
Now, if you have an allegiance to the classic flavors of celery, egg, potato and mayo that's cool! But, I'm sure once you move on to bigger and bolder flavors you'll realize what you were missing all these years. Enter my southwest sweet potato salad. It's spicy, creamy, cool and hot all at the same time. Mellow heat from hot smoked paprika, cool crunch from arugula and radishes, creaminess from an avocado-herb dressing plus slices of avocado and it's just a dream to have on your plate!
Plus you can make all the components the day or two before you plan to serve it and simply combine together when ready to share it's deliciousness with your guests! I know you're going to love this and am sure it will be on your summer menu rotation from here on out!
xo, Kendra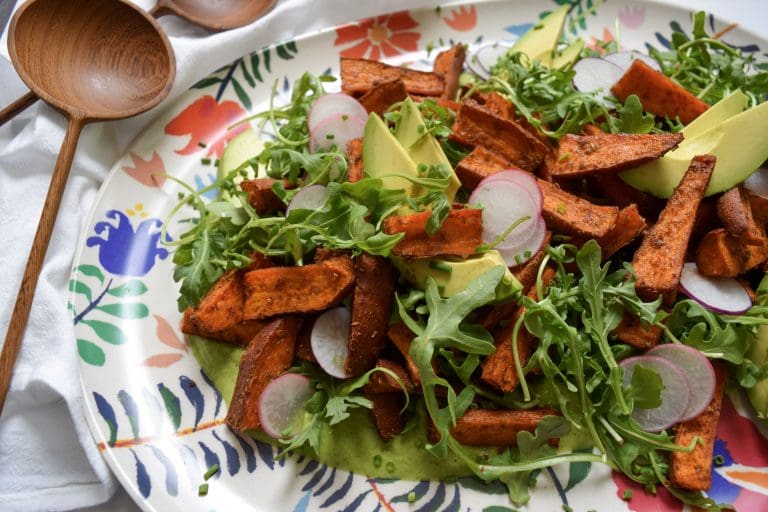 Southwest Sweet Potato Salad
Free From Top-9 Food Allergens
Vegan, Sibo Phase 2 friendly, Low-Fodmap Adaptable
Serves: 6
Prep Time: 30 minutes + 30 minutes roasting
5 medium sweet potatoes, scrubbed well and cut into wedges
2 Tbsp. olive oil
1 Tbsp. ground cumin
2 tsp. hot smoky paprika (or sweet if you don't like spice!)
2 tsp. dried oregano
salt and pepper, to taste
Dressing
1 avocado
3 Tbsp. olive oil
3 Tbsp. lemon juice (about 1 lemon)
1/4 c. chopped cilantro
1/4 c. sliced basil
1/3 c. water
2 Tbsp. chopped chive
salt, to taste
Assembly
4-6 c. arugula
6 radishes, thinly sliced
1 avocado, sliced (*for low-fodmap, eliminate this additional avocado)
Optional; additional herbs such as mint, basil, cilantro, minced chive
Directions
Preheat oven to 375. Line a rimmed baking sheet with parchment paper and set aside.
Toss the sweet potato wedges with the olive oil, cumin, paprika, dried oregano and some salt and pepper. Pour onto the prepared sheet tray and spread into a single layer.
Bake for 30 minutes, rotating the sheet halfway through. Let cool at least one hour.
In the meantime, prepare the avocado dressing by scooping out the avocado and adding to a blender base along with the olive oil, lemon juice, cilantro, basil and water. Blend until silky smooth, season with salt and pulse to combine. Sprinkle in the chives and pulse just to gently mix. Set aside.
When ready to assemble, pour the avocado dressing on the bottom of a platter. Layer the arugula and potatoes, alternating.
Finish with the sliced radishes sprinkled about, avocado slices and any optional herbs.
Happy Foods are the Best Foods!