'Tis the season for s'mores! It always brings me back to my childhood. Hair and clothes smelling like campfire from a bundle of logs that are ablaze with plenty of collected sticks twirling around the flames with marshmallows. Some burnt, some golden, some melted off….but all perfect for s'mores!
There's something nostalgic about the combination of marshmallow, chocolate and graham crackers. Now, unfortunately, being gluten free means a classic graham cracker is out of the questions as graham flour-used to make that special flavor-is a wheat based flour. However, plenty of companies have developed gorgeous substitutes! Enjoy Life Foods makes a delicious Top-9 Free Vanilla Honey Graham Cracker Cookie (that I like to use in my allergy friendly buckeyes, also!) and Pamela's Products makes a certified gluten free classic shaped graham cracker (note-Pamela's Products does contain: milk. And is also processed on equipment that handles Peanuts, Treenuts, Wheat, Coconut, Eggs, Soy and Milk).
And what about marshmallows? They are usually full of soy, egg, wheat and all sorts of gunk. There are a handful of incredible companies who are committed to making safe marshmallows for a variety of allergies including:
Campfire Marshmallows: Free From the Top-8 and processed in a facility free from the Top-8.
Dandies Marshmallows: Free From Wheat, Treenuts, Peanuts, Fish, Shellfish, Dairy, Eggs. Contains Soy. (certified peanut and treenut free processing facility)
Trader Joe's Mini Marshmallows: Free From Wheat, Treenuts, Peanuts, Fish, Shellfish, Dairy, Eggs. Contains Soy. (no information about processing facility)
For the holiday weekend if a campfire isn't in your deck of cards you can still get this favorite combination of flavors in the form of a cookie bar! Gooey marshmallow, chocolate, crunchy pieces of graham all atop of delicious chocolate chip cookie bar. YESSSSSSS.
Happy 4th of July, Drizzlers!
xo, Kendra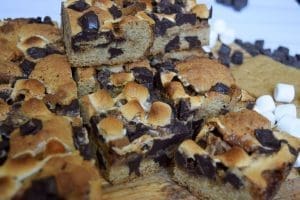 S'mores Bars
Serves: 16
Prep Time: 20 minutes plus baking
2 sticks vegan margarine (or if you can have dairy-unsalted butter), softened
2/3 c. granulated sugar
2/3 c. brown sugar
1 Tbsp. vanilla extract
2 flax eggs (or if you can have eggs-2 whole chicken eggs)
2 3/4 c. gluten free flour blend (including xantham gum or guar gum)
2 tsp. baking soda
1 tsp. salt
1 tsp. cinnamon
1 bag chocolate chips or chunks, divided in half
1/2 bag mini marshmallows
10-12 graham crackers, lightly crushed
Directions
Preheat oven to 350 and line a 9×13 baking pan with parchment paper.
Using a hand mixer or stand mixer whip together the softened vegan margarine/butter, granulated sugar and brown sugar until light and fluffy.
Add the vanilla extract and the flax eggs/eggs and mix another 1 minute until well blended.
In a small bowl mix together the whole wheat pastry flour, baking soda, salt and cinnamon.
Add to the margarine and sugar mixture and combine until well blended.
Add half the chocolate chips.
Divide dough into thirds.
Using damp hands, press 2/3 of the dough into the bottom of the lined 9×13 pan. Top with the marshmallows, remaining chocolate chips and crushed graham crackers.
Break up the remaining 1/3 of dough and plop all over the top.
Bake at 350 for 25-30 minutes until cooked through.
Cool fully before cutting and enjoy!
Happy Foods are the Best Foods!