Moving on to the vegetable side dishes for Thanksgiving  I give you yet another super simple, short ingredient list dish. Brussels Sprouts are little tiny vegetables that get a bad wrap! I think a lot of us remember them as disgusting little boiled baby cabbages that are mushy and even lightly grey from being  overcooked!
But if you get just enough of a light char from roasting or caramelization on them from a good saute it completely changes their texture and their flavor. It turns them into an entirely different vegetable! In this version of shaved brussels I added some sliced shiitakes for that awesome umami flavor, umami is the savory flavor you get typically from things like meat, pork, but also from mushrooms!
You have the crispy edges from the brussels sprouts, the savory and umami flavor from the mushrooms and then the bright finish from the chives. And if you have extra this is delicious the next day with a scrambled egg or some sautéed beans or stuffed inside a roasted sweet potato!
Happy Foods are the Best Foods!
xo, Kendra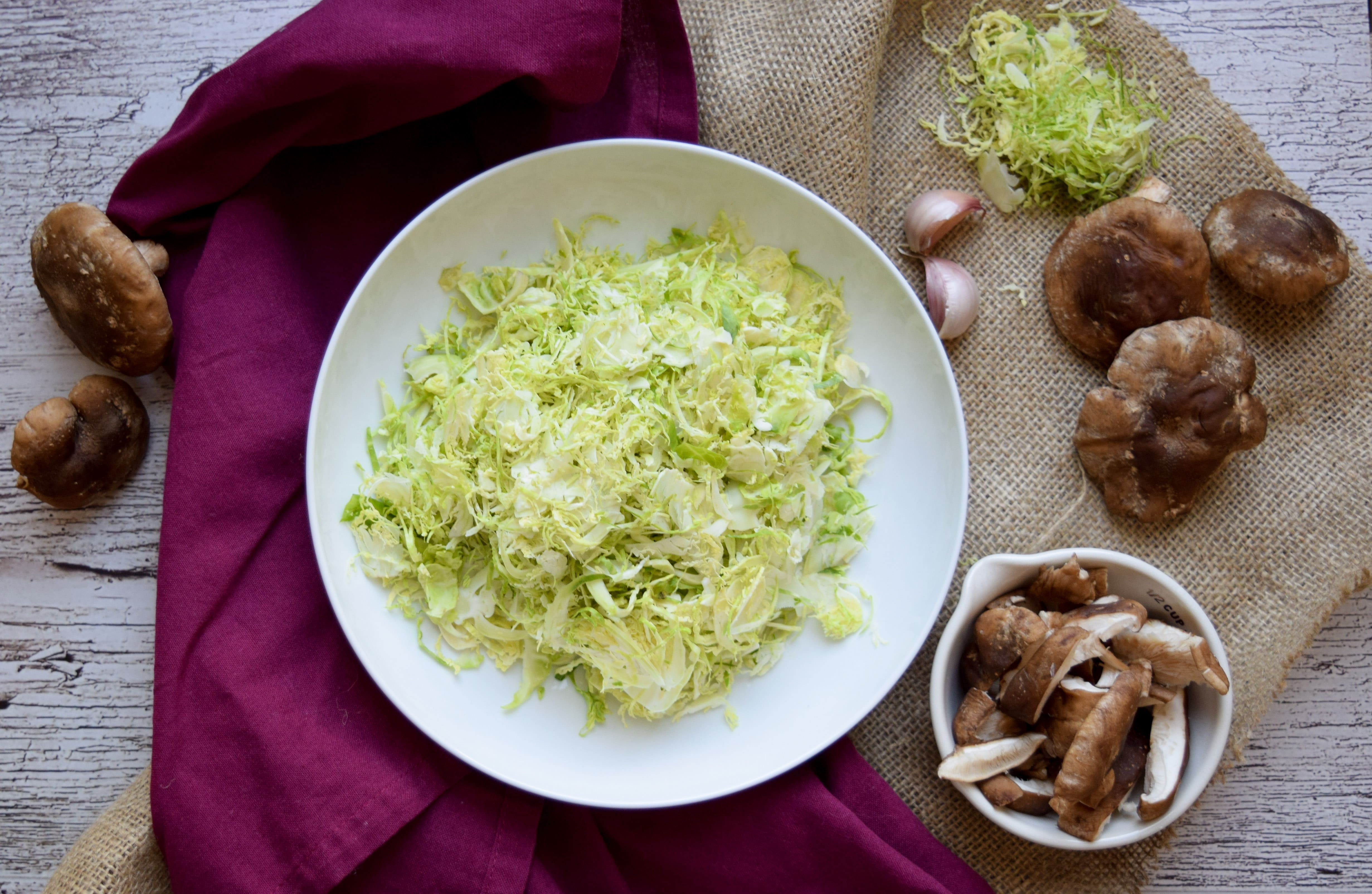 Shiitake Sauteed Brussels Sprouts
Free from the Top-8, mustard, sesame, potato
Ingredients
1 pound Brussels sprouts
1/2 pound sliced shiitake mushrooms
3 cloves garlic, sliced
1/4 c. minced chives
Olive oil
Salt
Optional: minced shallots, toasted pumpkin seeds, smoked olive oil*
Directions
Thinly slice Brussels sprouts either by pushing through the slicing shoot of a food processor or thinly with a knife. Set to the side.
Preheat a medium-large pan over medium heat for 30 seconds. Add a good swirl of olive oil and add the sliced shiitakes. Saute for 7-8 minutes until they release some of their liquid and start to get lightly browned.
Add the sliced brussels and saute another 5-6 minutes until bright green and starting to brown.
Add the sliced garlic and a good pinch of salt. Cook another 2-3 minutes until fragrant.
Remove from the heat and finish with the minced chives.
*If you are adding minced shallots, add them with the brussels in step #3. If you are adding the toasted pumpkin seeds or the smoked olive oil add those in set #5 along with the chives.