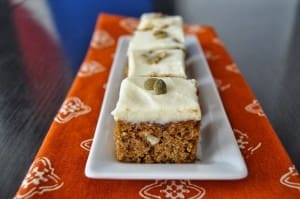 It's been a busy fall season and this weekend proves to be another busy time! So, today's post won't be long but I just HAD to get this recipe to you lovelies before the weekend. I love anything pumpkin, and as the weather has decided to stay cold (I will welcome any random warm days that Mother Nature wants to throw our way!) it makes me so happy when the house smells like yummy pumpkin baked anything!
Now, go gather these ingredients and make these tasty treats. They are, of course, ridiculously tasty with the (optional) cream cheese frosting (but you know that's not really optional….). Enjoy and happy pumpkin baking!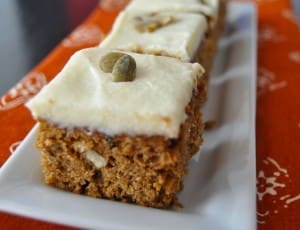 Seeded Pumpkin Bars
Makes a 9×13 pan
·
1/2 c. melted butter, coconut oil or safflower oil
·
2 t. gluten free vanilla extract
DIRECTIONS
1.
Preheat oven to 350 and brush a 9×13 pan with melted butter or coconut oil, then line with parchment paper.
2.
In a large bowl mix together the sorghum flour, coconut flour, teff flour, quinoa flakes, almond flour, hemp seeds, pumpkin seeds, chia seeds and tapioca starch.
3.
In another medium bowl mix together the brown sugar, coconut sugar, eggs, pumpkin puree, melted butter and vanilla extract.
4.
Mix the two bowls together until blended. Pour into the greased 9×13 and bake for 25-30 minutes. Remove and cool *
optional-frost with cream cheese frosting
cream cheese frosting* Using a hand blender mix together 8 oz. cream cheese (or your favorite dairy free cream cheese), ¼ c. softened butter and add in enough powdered sugar to make a spreadable frosting (about 1 ½ c.-2 c.)
happy healthy eating! ~Giggles