If I can ask you of one thing, Drizzlers, it would be to please stop purchasing salad dressing from the grocery store! You likely have everything you need to make a delicious salad dressing in your own kitchen right now. Really!
The very base of a simple dressing is-
acid (lemon juice, lime juice, any vinegar)
oil (I prefer a really nice olive oil but you can use avocado oil as well!)
pinch of salt
That's it! Can you believe how easy that is? Now, where you might start to get stuck is when wondering which kind of vinegar, can we add spices to it? What if we are doing an ethnic type salad, how can we switch it up? Here are my variations for you as well as a video demonstrating how to make a creamy avocado dressing as well as a lemon vinaigrette.
DIJON-LEMON VINAIGRETTE
Whisk together:
1 Tbs. whole grain dijon mustard
juice from 1 lemon
1 Tbs. honey/agave/maple syrup
1/3 to 1/2 c. olive oil or avocado oil
CREAMY AVOCADO DRESSING
Add to a small food processor and puree:
inside of 1 avocado
juice of 1 lemon
1/4 c. chopped green onion or minced chive
1-2 Tbs. water
1-2 Tbs. olive oil
pinch of salt
Homemade salad dressing will definitely change up your salad game. So if you are someone who thinks they don't love salad, I beg you to try some of the recipes I've posted recently and toss together your own dressing. It's an absolute game changer!
Stay safe out there, Drizzlers!
xo, Kendra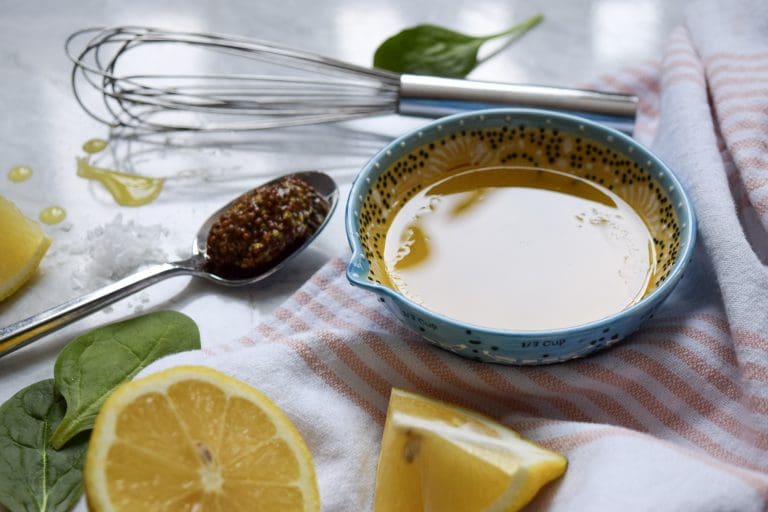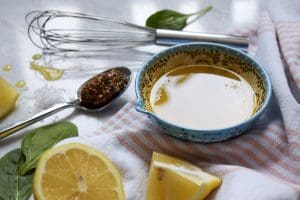 Simple Vinaigrette
Free from The Top-9 Food Allergens
Vegan, Low Fodmap Friendly, 
3 Tbs. vinegar of choice
1/2 c. olive oil
pinch salt
crack of pepper
Whisk all together and enjoy with your favorite salads!
Here are some other varieties and how to switch it up:
(eliminate garlic and honey to make these low fodmap and AIP compliant)
Italian: use balsamic vinegar, olive oil and add 1 clove of garlic grated on a microplane. Finish with 1 Tbs. dried oregano.
French: use white wine or sherry vinegar, olive oil and add 2 Tbs. very finely minced shallot.
Fall Harvest: use apple cider vinegar, olive oil and add 1 Tbs. honey.
Sweet Kale Dressing: use red wine vinegar, olive oil, 1 tsp. dijon mustard, 1 Tbs. honey and 1 tsp. poppy seeds.
Middle Eastern: use lemon juice, 2 tsp. ground cumin, 1 tsp. smoky paprika, add 1 clove of grated garlic on a microplane. (NOT AIP COMPLIANT)
Happy Foods are the Best Foods!