It's Valentines Weekend! And some of us just don't have time to spend in the kitchen making fancy desserts, rolling truffles, baking cakes and whatnot. So what to do if you want something homemade to give to your loves but need it to be simple and quick?
Chocolate Bark! It's the best answer. At the base of it all you need is chocolate and a little bit of oil. Then you can top it with whatever you'd like! In this recipe I used cacao nibs, dried rose petals and flaky Maldon sea salt. It's truly a blank canvas for your favorite toppings. Seeds, dried fruit, seed butters, nut butters, toasted coconut, candy, go crazy!
I love to keep it in the fridge for that extra "snap" when you bite into it. Enjoy making this with your loved ones or for your loved ones. Get the kiddos involved and make your very own edible Jackson Pollock this Valentines Day or really any day!
Stay Safe Out there, Drizzlers. And Happy Valentine's Day!
xo, Kendra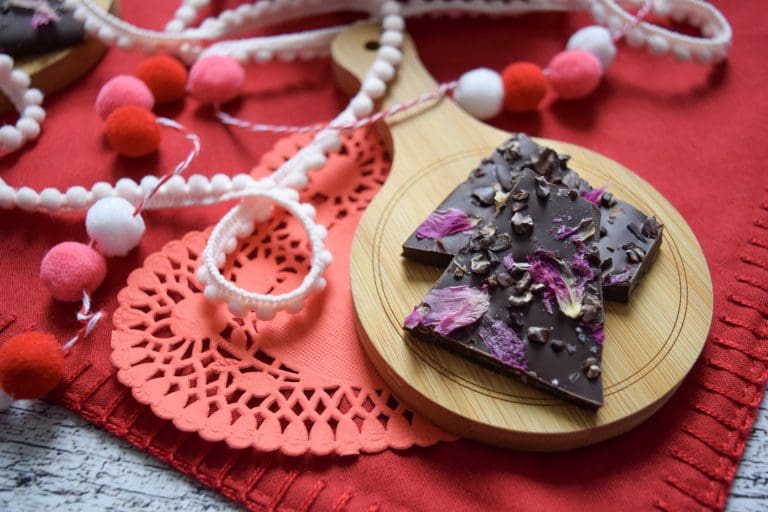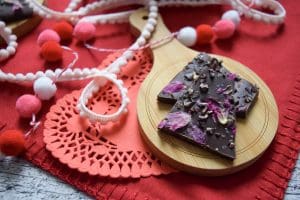 Rose Petal Dark Chocolate Bark
Allergy Adaptable to be Free From Top-9, Low FODMAP and AIP,
SIBO diet friendly, Candida diet friendly
Makes 10 servings
12 oz. favorite chocolate, chopped bar or chocolate chips either is fine*
1 tsp. grapeseed oil or coconut oil (if you can have tree nuts)
3 Tbs. dried rose petals**
1/4 c. unsweetened cacao nibs
1-2 Tbs. flaky sea salt, my favorite is Maldon
Directions
Line a small rimmed tray or an 8×8 glass dish with parchment paper.
Add the chocolate and the oil to a microwave safe bowl. Microwave on 30 second intervals until almost melted through, stirring between each interval. Should take about 2 minutes.
Pour onto the prepared parchment paper and spread to desired thickness.
Sprinkle toppings on and pop in the fridge to set for about 30 minutes.
Remove, cut into pieces and enjoy!
*SIBO + Candida Diet Friendly: Use stevia or monk fruit sweetened chocolate chips
*Auto-Immune Protocol: Use Enjoy Life Foods Dark Chocolate Morsels or HU Kitchen Chocolate Gems and the melted coconut oil
Happy Foods are the Best Foods!