Delicata squash is one of the fall vegetables that is so underutilized. Pumpkin, butternut and acorn seem to get all the attention! But I'm here to share my love of delicata squash in all it's glory! It's easy to clean, easy to roast, you can eat the outside and just delicious.
Often I will roast it simply with olive oil and salt and enjoy with some sautéed kale and salmon or chicken for dinner. Also lovely added into a quinoa salad. Want it to look bedazzled? Serve with some minced parsley and finish with pomegranate seeds!
Below is a recipe that I love to serve for dinner parties, holidays or even just when I want to elevate my delicata recipes for my own dinners. The sauce itself is an herbed sauce with a base that is creamy, without dairy! Tahini is such a versatile base for vegetable sauces and if you are allergic to sesame then you can easily sub 88 Acres unsweetened watermelon seed butter for the same flavor and texture, it's amazing!
So next time you're at the store or the farmer's market give delicata a try. Even Nutmeg the Frenchie likes it!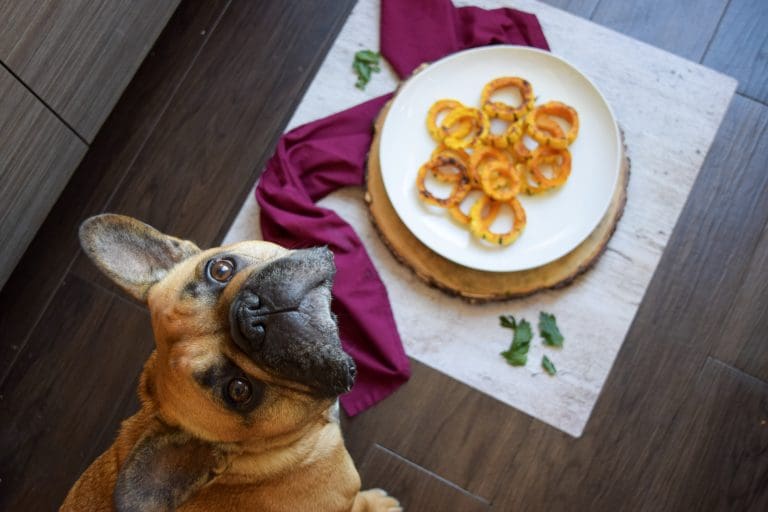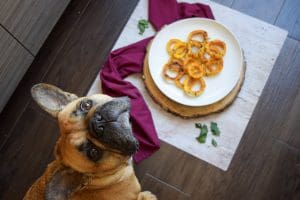 xo, Kendra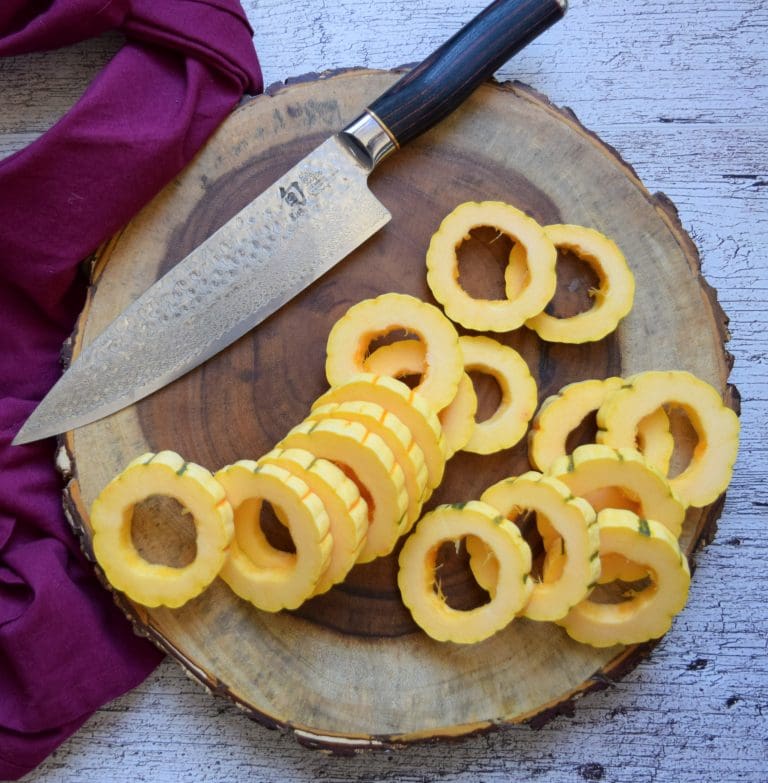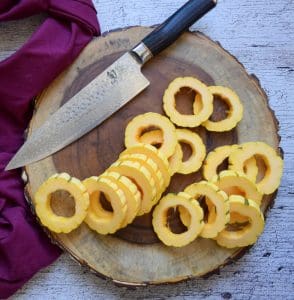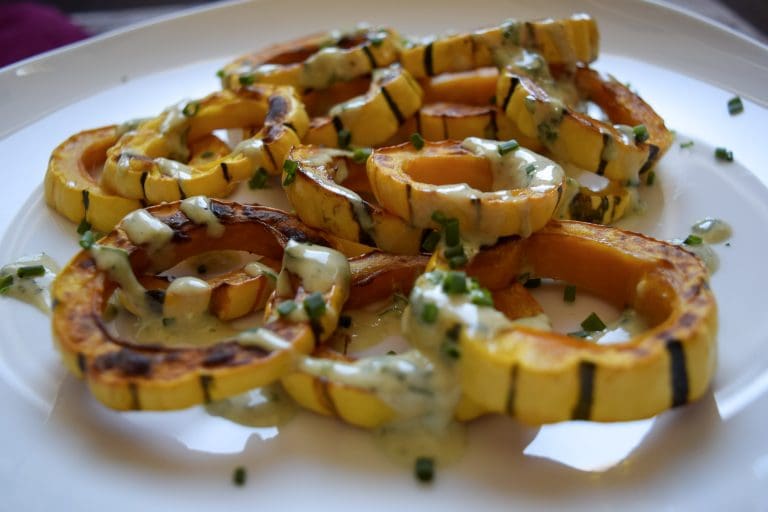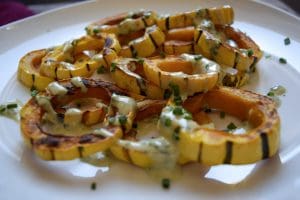 Roasted Delicata Squash
with Tarragon Chive Cream
Free From the Top-8, *Adaptable to be sesame free/Top-9 Free
Vegan, SIBO reintroduction phase
Serves: 4 as a side
Prep Time: 25 minutes plus roasting
Ingredients
2-3 medium sized delicata squash
4 Tbs. tahini or 88 Acres Unsweetened Watermelon Butter
juice from 1 lemon, about 2 Tbsp.
2 Tbsp. good quality olive oil
1 Tbsp. finely sliced tarragon
2 Tbsp. parsley leaves
2 Tbsp. minced chive, divided
3-4 Tbsp. water
1 tsp. honey or maple syrup
salt and cracked pepper, to taste
Directions
Preheat oven to 375, convection if you have it. Line 2 rimmed baking sheets with parchment paper and set aside.
Prepare the delicate squash: slice off the top and bottom of the squash. Use a narrow knife or an offset spatula  to scoop out the seeds, discard.
Slice the squash into rings, lay in an even layer on the parchment sheets. Drizzle lightly with olive oil and sprinkle with sea salt and pepper. Roast for 20-25 minutes until golden brown.
Meanwhile, prepare the tarragon-chive sauce by adding the tahini or watermelon butter, lemon juice, olive oil, tarragon, parsley leaves, 1 Tbsp. minced chive to the bowl of a food processor. Whip for about 30 seconds until as smooth as you can get it and then add water until you reach a fairly thin consistency with the sauce.
Add the honey or maple syrup, sprinkle of salt and then puree again. Taste for seasoning.
Lay the roasted delicata on a platter or wood board. Drizzle liberally with the tarragon-chive sauce, sprinkle with the remaining chive and enjoy!
Happy Foods are the Best Foods!