As a gluten free person, risotto is one of my most favorite comfort dishes and one of the best things? It's naturally gluten free. It's not trying to be something else. It's not trying to be pizza. It's not trying to be bread. It's risotto in all it's natural deliciousness. Creamy but still a bite from the rice, flavorful from the stock, layered with the perfume of herbs and this recipe has a bit of nutty sweetness from roasted butternut squash.
Another reason why I love risotto is that it's so flexible. You can add a myriad of different ingredients to change the flavor. It can be vegan, it can have sausage, it can have leftover roasted chicken, it can have almost any vegetable in the world and it also lovvvvves herbs. I also find it a super satisfying recipe to cook. Pour yourself a glass of wine, prep all your ingredients ("mis en place") and enjoy the time in front of the stove coaxing the creamy starch out of the arborio rice grains.
Now one last thing I'd like to mention. One of my favorite parts about making risotto either for a catering party or my own dinner parties is that you can prep it ahead of time! YESSSS. Essentially, you cook the risotto about halfway through. Then pour it into a rimmed baking sheet and allow it to cool. Refrigerate overnight and then put it back in the exact same pan and continue with the exact same process of gradually adding warm stock until it's cooked al dente. So with just a little preparation the day or two before you can then essentially "cook" your risotto in about 15 minutes right before you are ready to serve!
I hope you enjoy one of my most favorite dishes as much as I do. It's lovely all winter long and such a special addition to a holiday table.
xo, kendra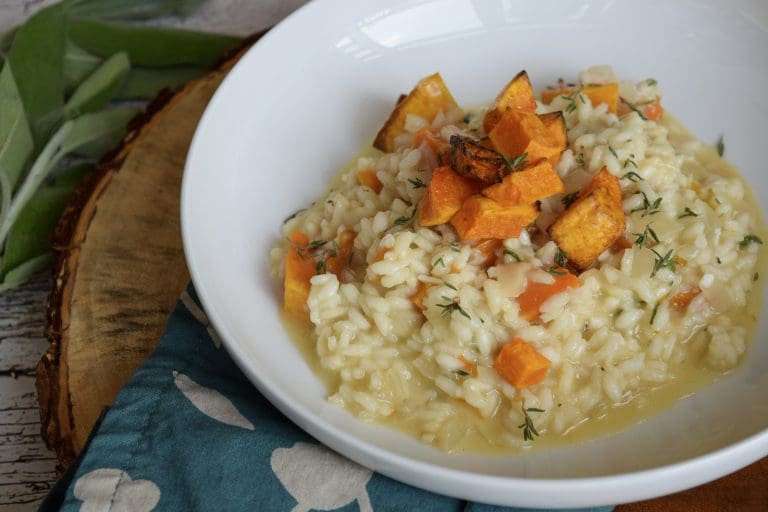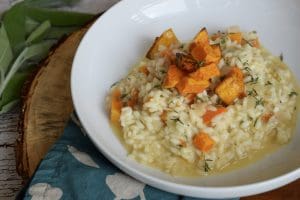 Roasted Butternut Squash Risotto
Adaptable to be Free From Top-9, Vegan
Prep Time: 50 minutes
Serves: 7-8
Ingredients
1 butternut squash, peeled and diced
1 small-medium onion, finely diced
3 cloves garlic, minced
2 c. arborio or carnaroli rice
1/2 c. dry white wine
8-9 c. chicken or vegetable broth, warmed
3-4 Tbsp. assorted chopped herbs such as sage, thyme, rosemary
olive oil or butter (if you can have dairy) to finish
1 c. vegan parmesan or classic parmigiana-reggiano if you can eat dairy
salt, to taste
Directions
Preheat oven to 400 and line a rimmed sheet tray with parchment paper. Toss the diced butternut squash with olive oil and roast for 25 minutes until golden brown.
Meanwhile heat a large dutch oven over medium heat and add a few tablespoons of olive oil (or butter if you can eat dairy).
Add the diced onion and cook over medium low heat until translucent, about 7-8 minutes.
Add the garlic and cook another minute.
Add the rice, another small swirl of olive oil and stir to coat the grains.
Now begin adding the warmed broth (I like to keep this in a saucepan over low heat near the dutch oven for easy access) 1-2 ladles at a time, stirring constantly until the broth is almost fully absorbed before adding the next ladle.
Continue this until the rice is slightly puffier and somewhat translucent, it should take about 20-30 minutes.
The risotto is ready when there is still some liquid left in the pan and the rice has a little texture to it, it shouldn't be mushy but shouldn't be hard.
Finish by gently stirring in the roasted butternut squash, chopped herbs and if you can eat butter a couple tablespoons of butter.
Lastly, add vegan parmesan or parmigiana, if you are able to, stir and enjoy!
Happy Foods are the Best Foods!