This recipe makes one of my all time favorite, come together quickly, taste like it took all day to make, crowd pleasing type of meal. Plus, did you know red peppers are a better source of Vitamin C than oranges?
Pasta often gets a bad wrap as "unhealthy" or as being full of "empty calories" but all you have to do is add a load of veggies and a delicious sauce made with heart and brain healthy olive oil to change that tune entirely! This recipe is chock full of nourishment: fiber from the leek, Vitamin C and antioxidants from the bell peppers, shiitakes have one of the best sources of natural copper (!!) and selenium, healthy fats from the olive oil and just pure deliciousness.
And even if you don't like mushrooms, no worries-just leave them out! It's part of what I love about this recipe is that you can totally make it your own. Don't have leek? Use yellow onion. Don't like shiitakes? Leave them out! Have some asparagus that's on it's last leg? Chop it up and add it in!
This is also just a delicious sauce, even if it's enjoyed on the side of a grilled steak or poured on top of pan seared chicken. No matter how you make it and serve it, I know you'll love it.
Stay safe out there, Drizzlers!
xo, Kendra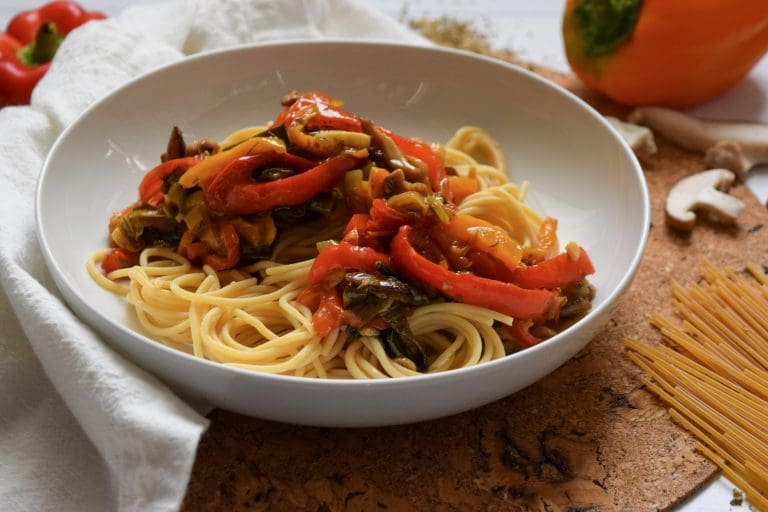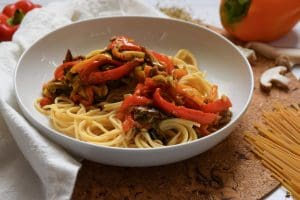 Quick Braised Sweet Pepper Pasta
Free From the Top-9 Food Allergens
Serves: 4
Prep Time: 45 minutes
3-4 Tbs. olive oil
1 leek, sliced
3 sweet bell peppers, cored and sliced into 1-2″ slices
1 c. sliced shiitakes
5 cloves garlic, peeled and chopped
1 bouillon cube or 1 c. chicken/vegetable broth
1/3 c. white wine
2 Tbs. dried oregano
4 servings favorite gluten free pasta, cooked until al dente
*Optional: sliced and sauteed chicken sausage, shredded cooked chicken, poached shrimp, sauteed chickpeas
Directions
Preheat a medium pot for a minute. Add half the olive oil and then the leeks, bell peppers, and shiitakes.
Saute for 6-7 minutes over medium/medium low heat until softened. Add the chopped garlic and saute for 1 minute, until fragrant.
Add the bouillon cube + 1 c. water or the broth along with the white wine and simmer over low heat for 15-20 minutes.
Finish with the dried oregano and taste for seasoning, adding salt as needed.
Add the cooked pasta to the pot, toss to combine and divide onto 4 plates. Enjoy!
Happy Foods are the Best Foods!