This recipe request was overwhelming from you all, my Drizzlers. And it made me soooo happy! I LOVE SWEET POTATOES. And what preparation method do I love with sweet potatoes?
OVEN FRIES!!!!
Not to mention, it's super duper easy. But what I've realized is that there are a few little tricks many of you are missing. (1) If you have convection, use that baby! It will help circulate the air around the fries better yielding a crispier fry. (2) Line your trays with parchment paper. Unlike foil or even just using a greased glass dish or metal baking tray parchment paper actually absorbs a little bit of water and prevents it from steaming like the others mentioned tend to do. Result? Crispier fry. (3) Toss your fries with a little bit of starch (see recipe). It absorbs a tiny bit of water as well and creates that crispy coating that makes sweet potato fries so special.
**And, btw, if you have celiac/gluten sensitivity/wheat allergy you should 100% double check about sweet potato fries when you are ordering takeout or at a restaurant. Most often they are coated in flour!**
Enough blabbing, lets get you the recipe for this easy and freaking delicious tuber!
Stay safe out there, Drizzlers
xo, Kendra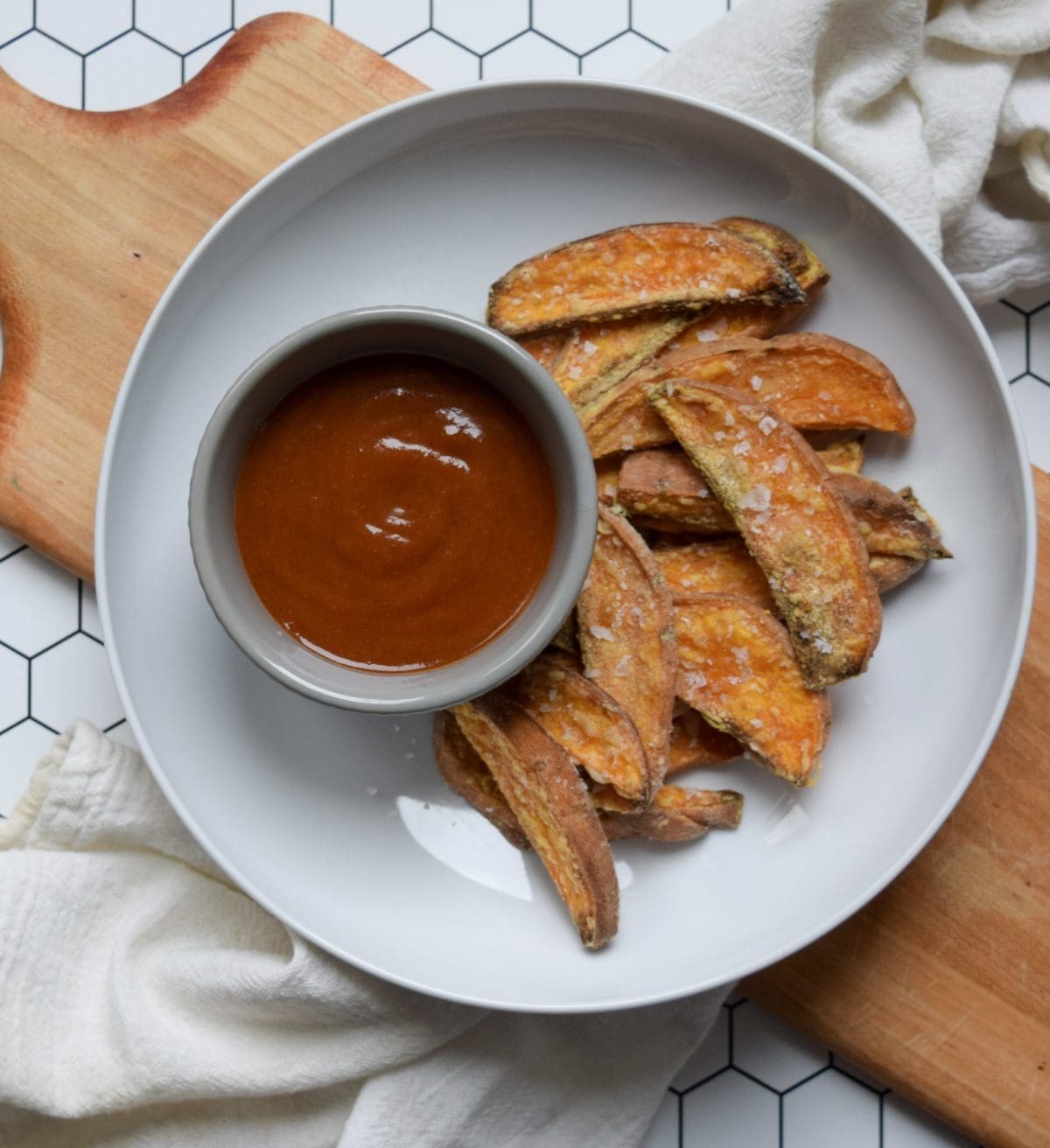 Crispy Sweet Potato Oven Fries
Vegan and Free from Top-9, corn, mustard
Serves 4
4 medium sweet potatoes, scrubbed but peel kept on
1/3 c. starch (any of these will work: tapioca starch, arrowroot, potato starch)
olive oil
salt
Optional flavor additions: ground cumin, smoky paprika, garlic powder, truffle salt, truffle oil (to finish)
Directions
Preheat oven for convection: 375, traditional: 400. Line 2 rimmed baking sheets with parchment paper and set aside.
Cut the sweet potatoes in half then in thin wedges.
Add the sweet potatoes to a large bowl and sprinkle the starch over the top. Toss with your hands until each fry is lightly coated. Divide equally between the 2 baking sheets and spread out.
Spray liberally with olive oil or drizzle to lightly coat. Sprinkle with sea salt and bake for 20-25 minutes, turning trays halfway throughout.
Serve with your favorite dipping sauce!
Happy Foods are the Best Foods!