Grain salads are, to say the least, a staple in every Drizzle Kitchen weekly menu. Our clients love them. I love them. The internet loves them. Why are they so darn good?
Well, they keep beautifully and don't get soggy. They continue absorbing flavors and actually get better as they sit. They are hearty but still light, full of nutrient dense and heart healthy whole grains but also light greens. They are the most flexible salad, being open to any kind of protein, any kind of green, and they LOVE leftover roasted vegetables.
Grain salads are awesome. But I've found, and I've heard from many of you, that you have issues getting it just right. So here are some tips on how to build that bowl!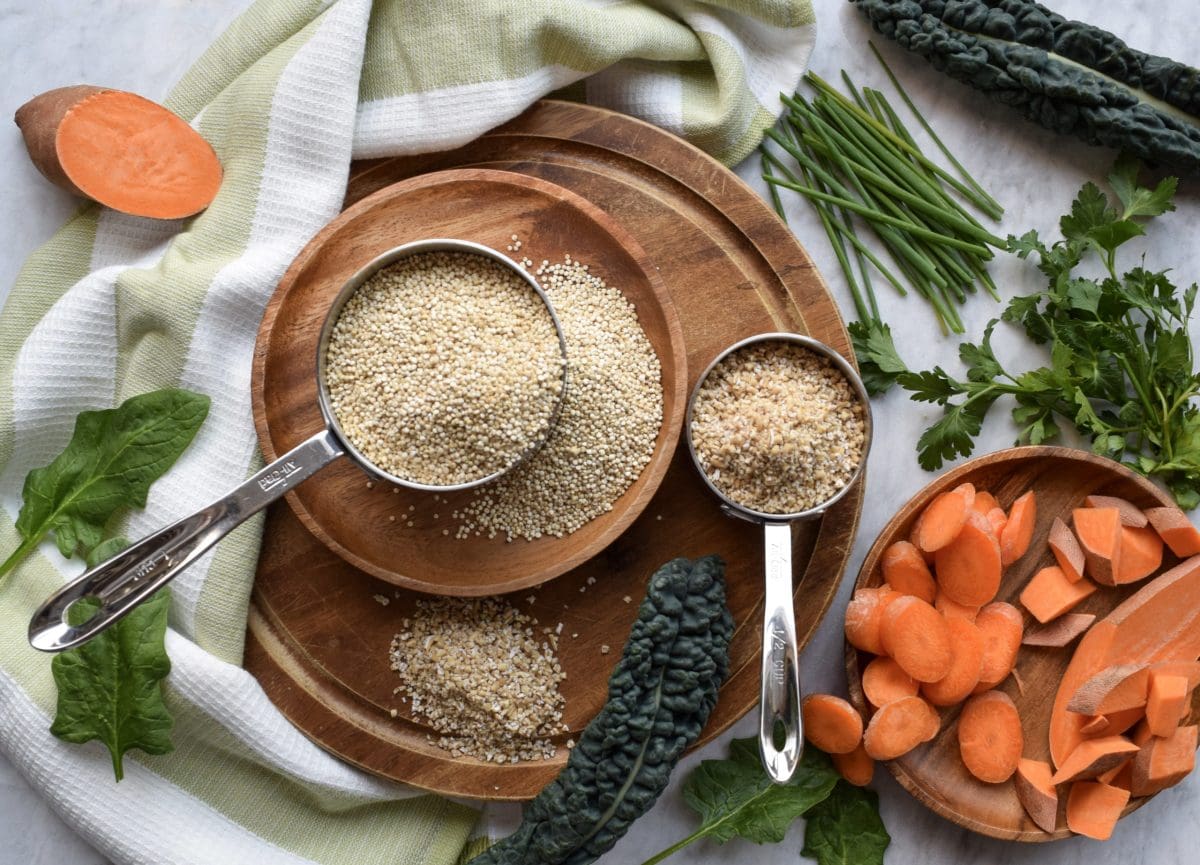 How to Build a Grain Salad
Start with a whole grain. This can be anything: quinoa, millet, rice, oat groats, sorghum. If you can eat gluten then these grains are great: farro, freekeh, barley, wheat berries. *tip-when I'm cooking grains I usually make about twice as much as I need. I cool half and then freeze.
Add your greens! Keep them raw if you can. I love using kale because it gets perfectly soft and not wilted and mushy. But arugula works well, swiss chard, spinach. Any green you like. Slice it thinly and toss it with the grains!
Add more veggies! The flavor that roasted vegetables bring to a grain salad is just a way of "layering," that is to say bringing another component of taste into the salad. Lightly caramelized, but also softer texture than the raw greens. Plus this is a great way to use up any extra veggies hanging out in that crisper or leftovers from earlier in the week!
Add your protein! Beans, tofu, tempeh, leftover steak or salmon or chicken. Any of these work beautifully and just depends on what you have and what is safe for your diet and lifestyle.
Toss in some herbs for goodness sake. Fresh herbs really elevate the salad. They had a level of brightness that you can't get with anything else! Chive is my absolute favorite but even something as simple as chopped parsley will be delicious. Think outside the box if you want: tarragon, sliced fresh basil, fresh oregano.
Add some dairy free cheese (or traditional cheese if you aren't allergic)! My favorite is either feta or queso fresco.
Finish with olive oil and acid. Remember, acid is just a fancy word for something like vinegar/lemon juice/lime juice. So think about the flavors you have in your salad and pick what will match best. Are you making a greek inspired grain salad? Red wine vinegar or lemon juice will be best. Using just fresh herbs and veggies, no specific flavor? Fresh lemon, sea salt and a good olive oil is perfect. Mexican flavors? Try some lime and orange zest and juice along with your olive oil.
Finally, mix together and store for up to 5-6 days.
Stay safe out there, Drizzlers!
xo, Kendra
Oat Groat Salad with Kale, Roasted Sweet Potatoes, Roasted Carrots and Lemon Vinaigrette
Free From Top-9 Food Allergens, Corn, Mustard
Serves 6
2 sweet potatoes, scrubbed and diced
6 carrots, scrubbed and sliced
1 bunch lacinato kale, rinsed and dried
3 cups cooked oat groats*
1 can white beans, rinsed or about 1 1/2 cups cooked homemade
1/4 c. olive oil
zest and juice from 2 lemons
handful fresh chives, thinly sliced
Optional: crumbled queso fresco
Directions
Preheat oven to 400 and line a tray with parchment. Toss the sweet potatoes and carrots with olive oil and spread on tray. Roast at 400 for 20-25 minutes until lightly golden.
While the vegetables are roasting, de-stem the kale and thinly slice. Add to a large bowl.
Add the oat groats and the white beans to the bowl.
Add the roasted vegetables to the bowl and toss to combine.
Drizzle the olive oil over the top and mix in the lemon zest and juice plus the minced chives.
Taste for seasoning and add salt and pepper as needed. Also add any other optional ingredients here.
Happy Foods are the Best Foods!