Quarantine Kitchen Series: Ginger-Scallion Noodles
---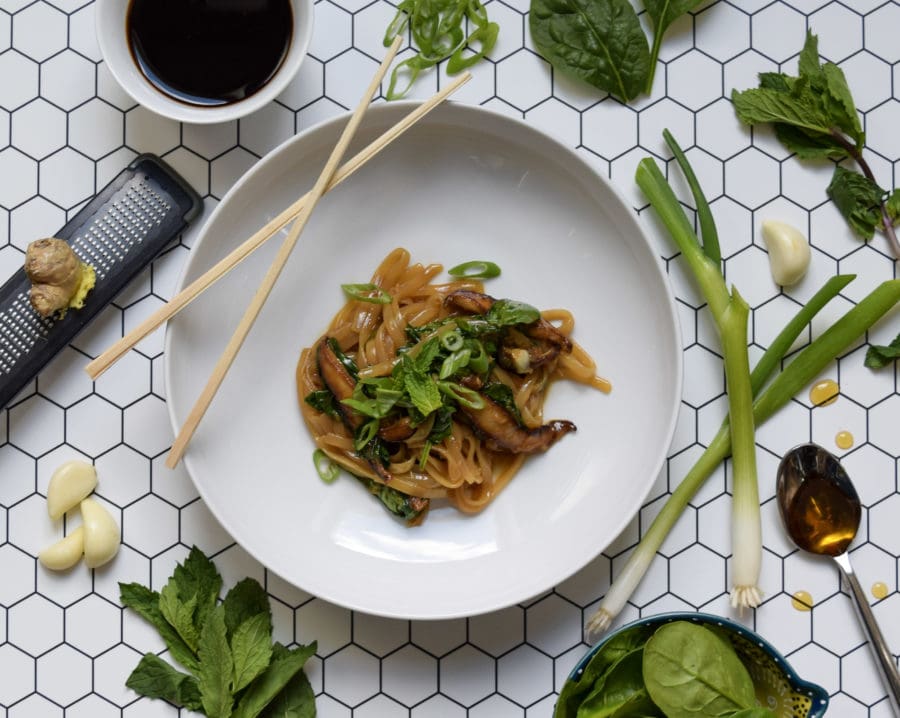 Ahhh, coming across the long lost recipes I created years ago (almost a decade!) and have completely forgotten about is the best feeling! I forgot all about these saucy asian noodles until last night. I was looking through the fridge and pantry trying to conjure up recipes for the week to show you all on my daily live cooking classes.
And like a lightening bolt I remembered this recipe! I has just a few simple ingredients but they really shine through separately but at the same time swim together in a delicious sauce to make your mouth and belly so happy. The ginger is fresh, the butter/vegan margarine gives a super smooth mouthfeel and the chewy rice noodles are just perfection.
The fun thing about this is you can make it a DIY bowl as well! Have a bunch of different steamed or sauteed veggies and proteins for the side and then let everyone jazz up their noodles and sauce. Those DIY bowl nights seem to always be a hit with my clients and they really allow your kids to (surprisingly) try new things since they feel like they are in charge!
Now, this comes together pretty quickly so make sure you have all of your ingredients prepped and ready to go. Then just have fun. And get ready to stuff your face with chewy, saucy noodles!
Stay safe out there, Drizzlers!
xo, Kendra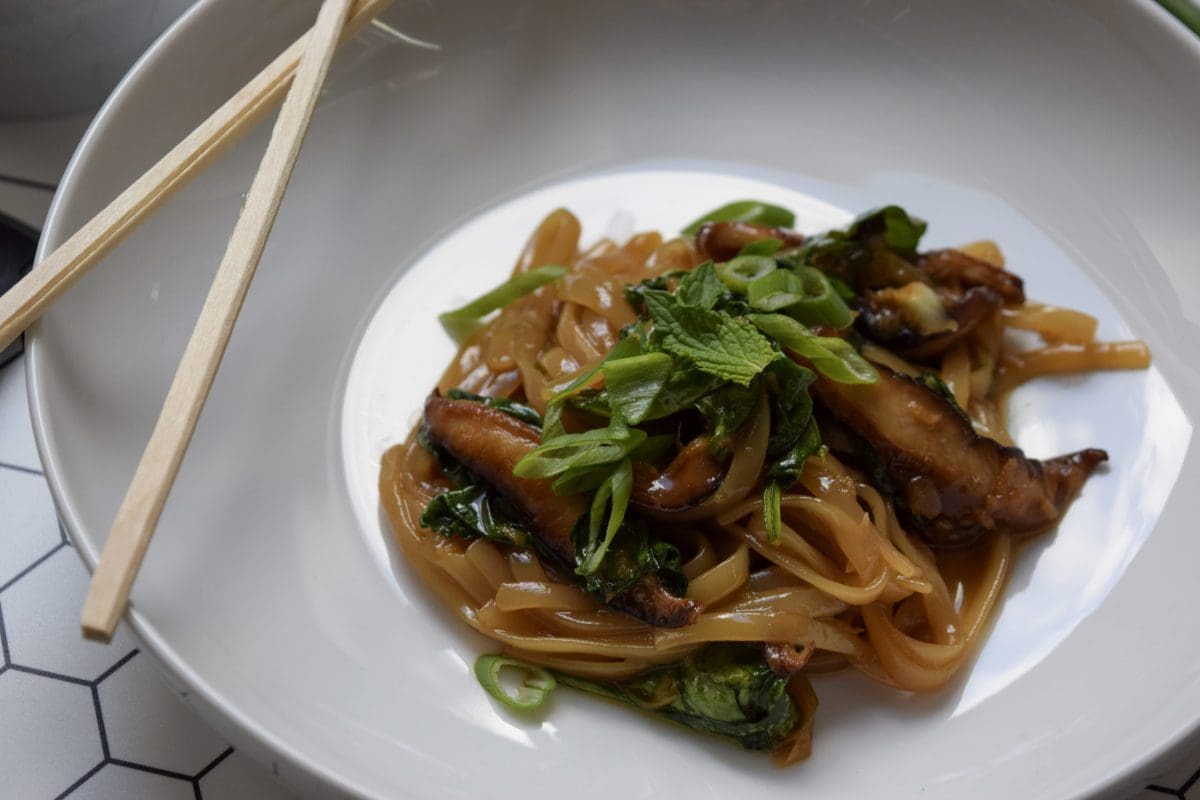 Ginger Scallion Noodles
Allergy Adaptable to be Free From Top-8, Mustard, Potato, Sesame, Corn
Serves 4
1 bunch scallions, ends and tops trimmed
4″ knob fresh ginger, peeled
6 cloves garlic, peeled
4 Tbsp. butter/vegan margarine/coconut oil
3 Tbsp. maple syrup OR 4 Tbl. brown sugar
4 Tbsp. No Soy-Soy Sauce/coconut aminos/reduced sodium tamari
1 package rice noodles
Optional: raw spinach or sauteed vegetables such as shiitake mushrooms, baby boy choy, napa cabbage, red bell peppers, broccoli florets, zucchini matchsticks, sliced steak, shrimp, chicken, tofu
Directions
Bring a medium pot of water to boil.
Meanwhile, prep all the sauce ingredients: thinly slice the scallions keeping the green and the white separate. Grate the ginger and garlic over a microplane, or chop finely, and add to the green onions.
Heat a medium fry or sauce pan for 1 minute. Add the butter/vegan margarine/coconut oil and then add the green onions, ginger and garlic.
Saute for 2-3 minutes over very low heat until fragrant and then add the maple syrup/brown sugar. Let this bubble up and simmer gently for a few minutes.
Add the No Soy-Soy Sauce/coconut aminos/reduced sodium tamari and simmer for about 5-6 minutes.
Meanwhile, cook the rice noodles. By the time they're done the sauce should be perfectly reduced.
Add the noodles to the sauce and toss to coat. Add your optional ingredients and enjoy!