Yes, it IS that time of year. Where literally everything turns into pumpkin. PSL, pumpkin soup, pumpkin muffins, pumpkin cupcakes, orange sweaters, orange turtlenecks and finally-pumpkin bread.
I am not a pumpkin person. I adamantly refuse to consume any sort of pumpkin spice lattes, I don't want pumpkin cereal, I don't want pumpkin spiced popcorn but what I DO want is pumpkin bread. I love pumpkin bread! But not necessarily because of the pumpkin flavor, because of what the pumpkin does to the bread itself. It makes it crazy tender and (dare I use the word….) moist. Plus you can add a whole slew of stuff into the mixture and it always works. Love chocolate in your pumpkin bread? Add it! Love nuts or seeds in your pumpkin bread? Add it! Love toasted coconut flakes? Add 'em!
This recipe I created is definitely for a more dense, less sweet pumpkin bread. If you'd like it sweeter amp up the brown sugar a little. If you'd like it a little more tender use less of the oat flour and more of the cassava flour. If you are able to eat eggs, eliminate the flax meal and use real eggs! If you are able to eat butter eliminate the olive oil and use melted butter. This is what I mean by allergy adaptable recipes! Customize them to what you are able to consume and take charge of your own delicious cooking and your own health!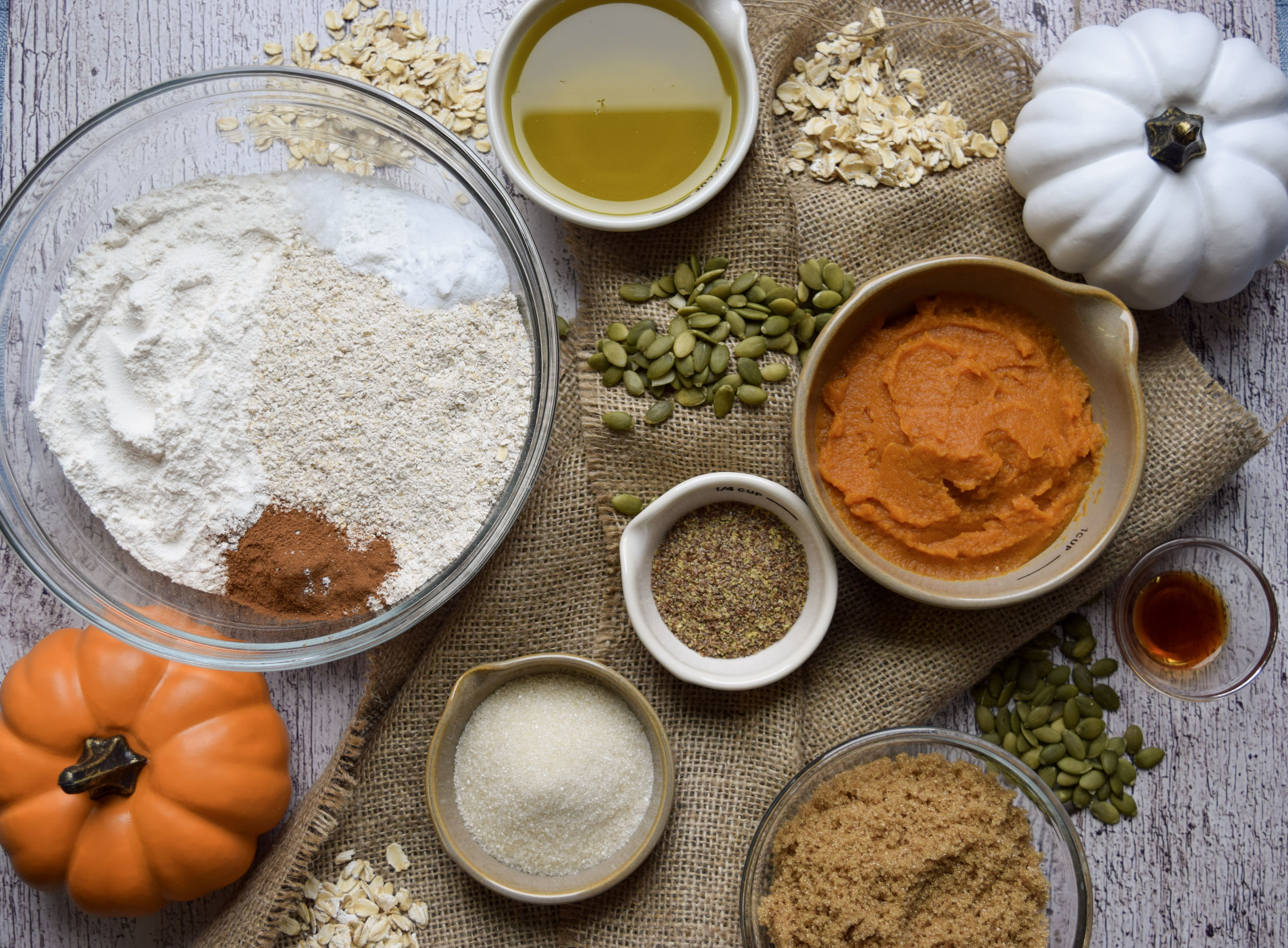 Pumpkin Bread
Vegan, Free From the Top-8 + corn + potato +sesame 
1 1/4 cup oat flour
1 1/4 cup cassava flour
1 tsp. baking soda
1/2 tsp. baking powder
1/2 tsp. salt
2 tsp. cinnamon
1 cup pumpkin puree
2 flax eggs (2 Tbl. flax meal + 6 Tbl. warm water) or 2 eggs
1/2 cup olive oil, melted coconut oil or butter
3/4 cup brown sugar
1/4 cup granulated sugar
1 tsp. vanilla
Optional Add Ins: 1 cup mini chocolate chips, 1/2 cup pumpkin seeds, 1/2 cup toasted crushed pecans, sprinkling of chia seeds
Directions
Preheat your oven to 350. Grease a loaf pan and sprinkle with gluten free flour, tap out excess and set aside.
In a large bowl whisk together the oat flour, cassava flour, baking soda, baking powder, salt and cinnamon.
In another medium bowl whisk together the pumpkin puree, flax eggs, olive oil, brown sugar, granulated sugar and vanilla.
Add the dry mixture to the wet and whisk until well blended. Pour into the prepared loaf pan.
Bake at 350 for 45-55 minutes until a toothpick inserted into the middle comes out clean.
Happy Foods are the Best Foods!
xo, Kendra