Once December hits I'm the "all things peppermint and chocolate all the time" kinda gal. Peppermint mocha in my coffee? Check. Peppermint cookies? Check. They even have peppermint mocha collagen powder now! But IMO the best way to enjoy peppermint and chocolate is in brownie form. Put icing on that and it's even better. Add some chocolate dipped marshmallows and a candy cane to the top? How could it get better????!!
Drizzlers, that's exactly what we've got for you today. A super delish, peppermint and chocolate explosion that is not only festive but darn delicious. It came about because Dandies, my favorite marshmallow company, and Miss Jones sent me some super fun stuff to play with and asked me to put a recipe together for the holidays. Challenge, accepted! I had been seeing the new Peppermint Frosting from Miss Jones at the grocery store and was super pumped to find an excuse to use it. I love the frostings because, aside from coconut, they are free from the Top-9 food allergens. It's hard to find a delicious ready made icing that is allergen friendly, made with clean ingredients (even the peppermint candies are colored with cabbage juice rather than food dye!!) and actually tastes good. Here you go, ladies and gents.
And their mixes are also super tasty and easy to put together! They're a great thing to have around, especially with the busy time of the holidays.
And I've always been a big fan of Dandies. While they do contain soy they are free from the other 7 food allergens and don't use gelatin as their base and don't contain corn syrup-two things that are hard to pull off with a marshmallow! Talk about a better marshmallow! Plus they're darn delicious, have fun holiday flavors (like Peppermint!) and the little marshmallow guy on the bag is so cute and happy.
I hope you enjoy this recipe and that it makes you just as happy as it makes me, full of holiday fun and peppermint mocha love.
xo, Kendra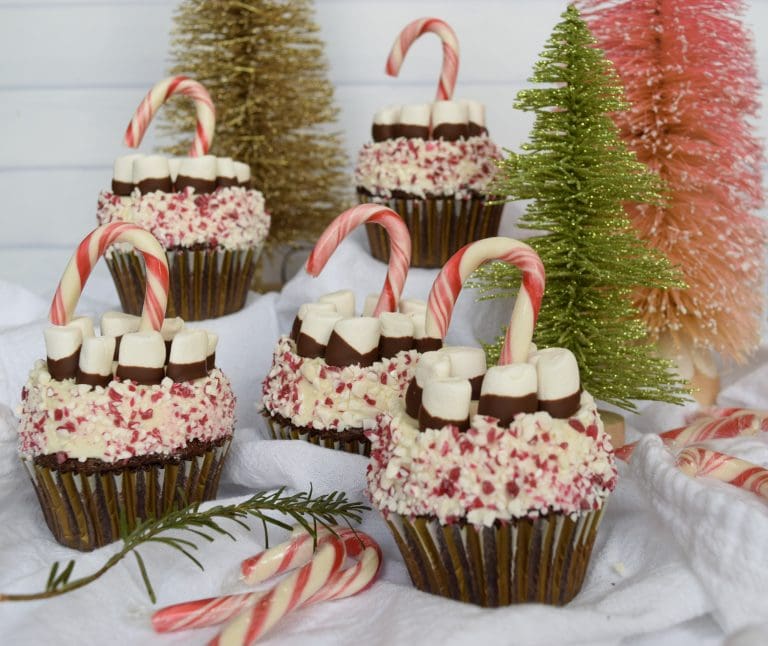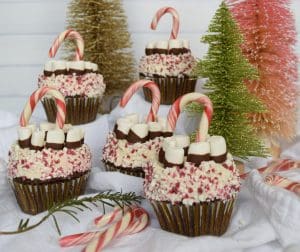 Peppermint Mocha Brownie Cupcakes
Vegan. Allergy adaptable to be free from: dairy, egg, tree nut, peanut, fish, shellfish, gluten
*Mix contains gluten
*Marshmallows contain soy
Serves: Makes 10 cupcakes
Prep Time: 25 minutes plus baking time
Directions
Line a muffin tin with 10 festive paper liners and set aside.
Follow the instructions on the brownie mix and scoop out into the 10 lined wells of the muffin tin.
Bake for 20 minutes, remove from the oven and cool completely.
Meanwhile, melt the 1 c. chocolate chips along with the 1 tsp. coconut or grapeseed oil. In a double boiler on the stove or at 30 second intervals in the microwave until melted.
Place a piece of wax paper or parchment on the counter and dip the bottom of the mini marshmallows into the melted chocolate, place on the wax or parchment paper and let sit until chocolate is hardened.
To assemble the cupcakes: frost the brownie cupcakes with a hearty amount of the peppermint frosting, pushing it to the sides and then frosting it so you have a ledge around the outside. Roll in the crushed peppermint candy that comes with the frosting and set aside. Continue with all the brownie cupcakes.
Place the chocolate coated marshmallows around the top of the brownie cupcake in a circle and then pop the mini candy cane in the middle.
Enjoy with plenty of giggles and Christmas cheer!
Happy Foods are the Best Foods!