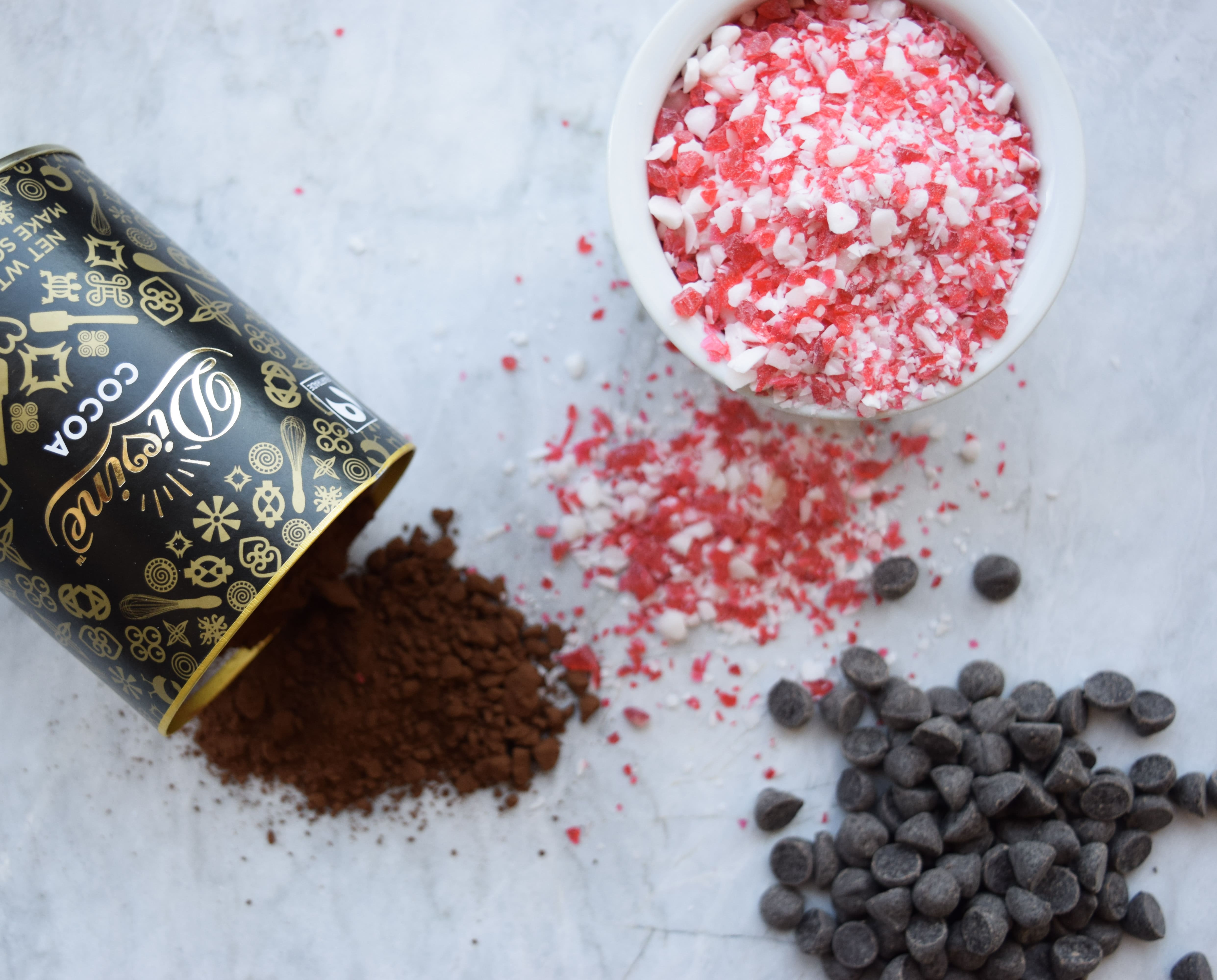 The mister and I held our holiday party over the weekend and it was so much fun. Lots of friends and family all thrown together with the loft decorated in twinkling lights, our tree shimmering, holiday music in the background and plenty of festive food strewn about.
Now when I say festive food I mean, mainly COOKIES!!!! I love the holidays and everything that comes with it-snow, twinkle lights wrapped around trees outside, Christmas trees, carolers, poinsettias, wrapped gifts, friends gathering for dinners, cookie exchanges but most of all the holiday baking that everyone really loves to receive. I find there are few gifts that touch people more than homemade treats.
So to kick off this holiday season, here is my first of many cookie recipes for you to enjoy! Peppermint Cocoa Brownies (well, technically not a cookie but close enough). These came about as I was trying to get a leg up on preparation for our holiday party but I had only a very small amount of chocolate around the house. However I had plenty of cocoa! Now, the thing about brownies is that I am at heart a fudge brownie girl. Don't serve me a CAKE brownie. If you do then just serve me cake for goodness sake. So typically I shy away from a cocoa based brownie. However, if you add enough egg (or flax meal), plenty of cocoa, the molasses hit of brown sugar and then stir in a smidge of melted chocolate at the end it all whirs together to become a fabulous non-cake like brownie. Win-win! You can, of course, add more chocolate chips to the batter if you'd like and then you'll really win the prize for chocolate brownie lover. And then we can be friends 😉
*Quick note-I made these brownies and left them un-glazed. Wrapped the whole block well in foil and then plastic wrap and froze them for a week. They were perfect! Simply thaw on the counter for 2-3 hours and you're all set to drizzle with chocolate and sprinkle with crushed candy canes.
Happy, Festive Eating!
~xo, Kendra

Peppermint Cocoa Brownies
Allergy Adaptable
1/2 c. butter*
1 c. granulated sugar
1 c. packed brown sugar
1/2 c. chocolate chips
4 eggs **
1 T. vanilla
1/2 t. peppermint oil
1 1/2 c. gluten free flour blend
1 c. unsweetened cocoa powder
1 t. baking soda
1 t. fine salt
chocolate peppermint drizzle
1 c. chocolate chips
1/4 t. peppermint oil
2 t. vegetable oil
1/2 c. crushed candy canes
Directions
Preheat oven to 350. Line a 9×13 baking dish with parchment paper so it lines the whole pan and up the sides (you'll need it to use like handles to pull the brownies out).
In a medium saucepan melt the butter/margarine with the sugars and the chocolate chips, whisking occasionally, for about 6-7 minutes. Remove from heat.
Crack the eggs into the pan and whisk in one by one until well blended or add your flax eggs, all at once, if using those. Add in the vanilla extract and the peppermint oil.
In a small bowl mix together the gluten free flour, cocoa powder, baking soda and salt. Pour into the saucepan and whisk until combined.
Pour into the prepared baking sheet and bake at 350 for 20 minutes, rotate pan and bake an additional 10-15 minutes until toothpick inserted into the middle comes out clean.
Cool and when you are ready to glaze simply melt together the chocolate chips, peppermint oil and vegetable oil either over the stove in a double boiler or in the microwave at 30 second intervals.
Drizzle over the brownies and sprinkle with crushed candy canes. Let set an hour (you can throw in the fridge to set faster) and then cut into squares.
*substitute vegan margarine for the butter
**substitute flax eggs for the chicken eggs (1/4 c. flax meal + 3/4 c. hot water). Alternatively if you want fluffier brownies you can whisk up aquafaba (the liquid from a can of chickpeas) and fold into the mixture.