Oat groats are one of my most favorite grains. I first had them years ago at a wellness retreat and I was confident it was Farro, I sent it back to the kitchen to make sure I had a gluten free safe meal and the chef came out and assured me these were certified gluten free oat groats!
I was so pleasantly surprised. They were chewy, nutty and honestly tasted just like Farro. They're a wonderful base for a hearty risotto, a pilaf or better yet a grain salad that lasts days in the fridge! So what exactly is an oat groat? It's the whole kernel of the oat before it is prepared into the different forms we are more commonly used to: first they are halved into steel cut oats, then they're steamed and pressed into slow cooking oats, quick cooking oats and finally instant oats. You have the entire outside on the oat groats so you get a much nuttier and chewier grain, you get all the amazing fiber that comes along with it plus the food that your gut microbiome loves.
Another reason why I love oat groats is that they truly take on the flavor of whatever you toss them with. In this case, we are mixing them with a simple lemon juice and olive oil. They basically marinate and become even better as they sit in the fridge making them the perfect base for a salad you can make once and then eat through the week!
Check your local store for these tasty little guys and if you can't find them there I typically order from Vitacost or Thrive Market. Just be sure to check and verify that they are gluten free using Purity Protocol for verifying they are truly gluten free.
Stay Safe out there, Drizzlers!
xo, Kendra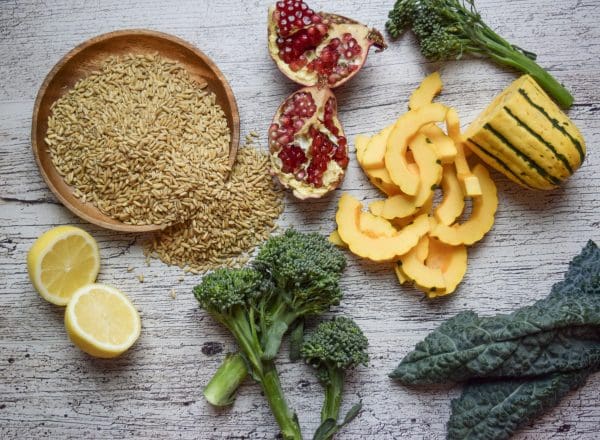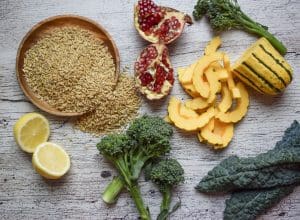 Oat Groat and Delicata Squash Salad
Free From the Top-9 Food Allergens
Serves 4 as entree, 6 as side
Prep Time: 35 minutes plus cooking time
2 delicata squash
1 pound baby broccoli, steamed
1 c. finely chopped kale
1/2 c. pomegranate seeds
juice and zest from 2 lemons
1/2 c. olive oil
2 c. cooked oat groats
salt, to taste
Optional: sliced castelvetrano olives. drained capers, crumbled feta (if you can have dairy)
Directions
Preheat oven to 375 and line a rimmed baking sheet with parchment paper.
Trim the ends off the delicata squash. Cut in half lengthwise, scoop out the seeds and cut into half moons about 1″ thick. Toss with olive oil and lay in a single layer on the prepared baking sheet.
Roast at 375 for 20-25 minutes until lightly golden around the edges.
Meanwhile, chop the steamed broccoli into bite size pieces and add to a large mixing bowl.
Add the kale, pomegranate seeds, juice and zest from 2 lemons, 1/2 c. olive oil, the cooked oat groats and a big pinch of salt. Mix together.
Add the delicata squash and gently toss to combine. Taste for seasoning, adjusting with more salt, lemon or olive oil as needed.
Add optional ingredients as desired and enjoy!
This will last in your fridge up to 5 days.
Happy Foods are the Best Foods!