You read that correctly, POTATO CHIP COOKIES! This is a classic recipe from the 50s. A simple little cookie with just a handful of ingredients and the surprise of a bit of crunchy and salty yumminess in the form of crushed potato chips! We grew up with these cookies always being made around the holidays, stored in tins in a cool spot in the basement, ready to be set out on the cookie tray on Christmas Eve. Of course, we also snuck into this stash leading up to Christmas depleting the pile and leaving just enough 🙂
If you want a simple but delicious cookie to add to your repertoire, covered in a mountain of powdered sugar, then this is the one for you! 7 ingredients is all you need and it's fun to crush up those potato chips, give that job to the kids! I always remember my job being to press the cookies down with a fork to make the tine marking on top of the cookie. Baking gives us such memories! So go create some new ones with this recipe!
xo, kendra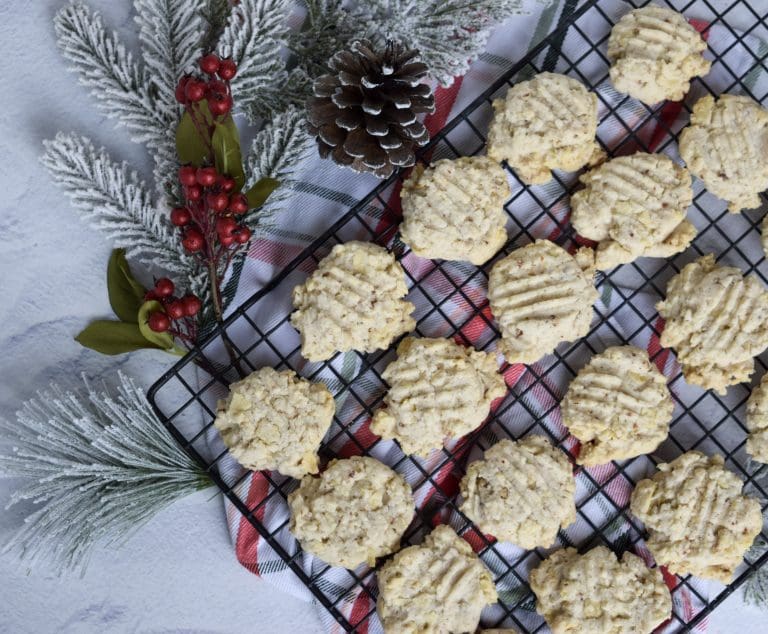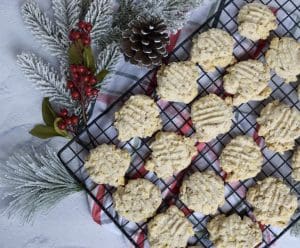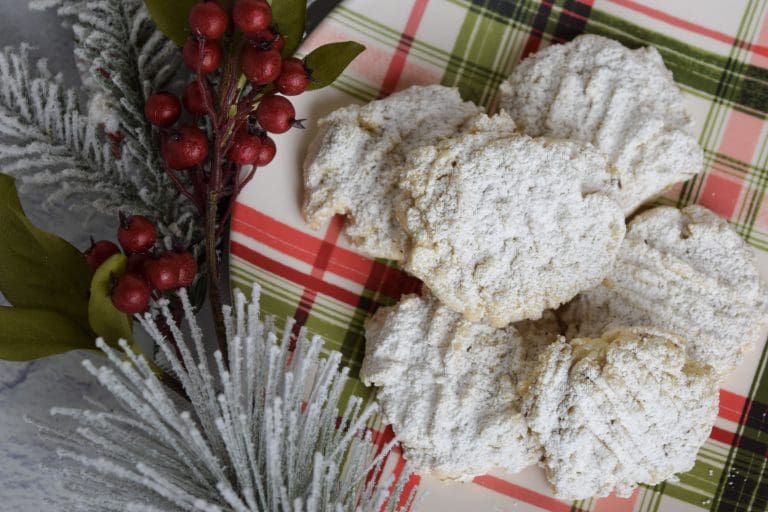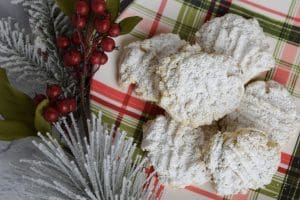 Great Aunt Mart's Potato Chip Cookies
Gluten Free, Allergy Adaptable to be Free From Top-9, Vegan adaptable
Prep Time: 10 minutes plus baking
Makes: 38 cookies
Ingredients
1 c. unsalted butter, softened (dairy free: use vegan margarine)
1/2 c. granulated sugar
2 c. gluten free all purpose flour
1/2 c. crushed potato chips (thin chips work best)
1/2 c. chopped pecans (nut free: use chopped pumpkin seeds or sunflower seeds)
1 tsp. vanilla extract
powdered sugar, for topping
Directions
Preheat oven to 350 and line a few cookie trays with parchment paper. Set aside.
Mix all ingredients together using a stand mixer or a hand mixer for 2-3 minutes until well blended.
Scoop out with a tablespoon, roll into a ball and flatten gently with a fork.
Bake for 10-11 minutes until lightly golden.
Cool completely and then sprinkle with plenty of sifted powdered sugar before serving.
Happy Foods are the Best Foods!