Happy weekend after Thanksgiving! And with everyone pretty sick of cooking, we are looking for simple meals that won't leave us feeling heavy. Plus most of us have leftover turkey, so what to do with the leftover turkey? Fried rice! Do you know anyone who doesn't like fried rice? I mean, it's rice + veggies + umami flavors galore all wrapped up in garlic and ginger situation. Plus there are so many different ways to make it, there is no one right way!
When I am through with a day of cooking for my clients, often I want to be able to just whip something together. I want it to be a short prep and a short cook time, but of course it must also taste delicious! Enter Kitchen Sink Fried Rice. I always have all the basic things to make fried rice: rice, some sort of onion (yellow, white, green, leek), garlic, ginger, gluten free tamari/soy free soy sauce. That's the base. Now the rest of it comes from whatever random veggies you have in your freezer or fridge. You can also add an animal protein if you'd like (enter that leftover Thanksgiving turkey!) but it's not necessary!
And if you think you can't eat fried rice because you can't have soy sauce, fret not! I created a recipe for you this past year for a No Soy Soy Sauce! It's packed with all the umami flavors of soy but with no soy ingredients. Just search for it and reference when making this recipe!
I call this "Kitchen Sink" fried rice because I really add whatever random bits of things are left in our fridge. Kale, spinach, carrots, collard greens, peas, green beans, the list goes on and on. And the point of this recipe is for it to be stress free. Use this as your platform to start cooking by feel and taste rather than specific measurements and exact ingredients from a recipe! That freedom from a rigid recipe will help YOU be able to prepare dinner in a short period of time also!
Stay Safe out there, Drizzlers!
xo, Kendra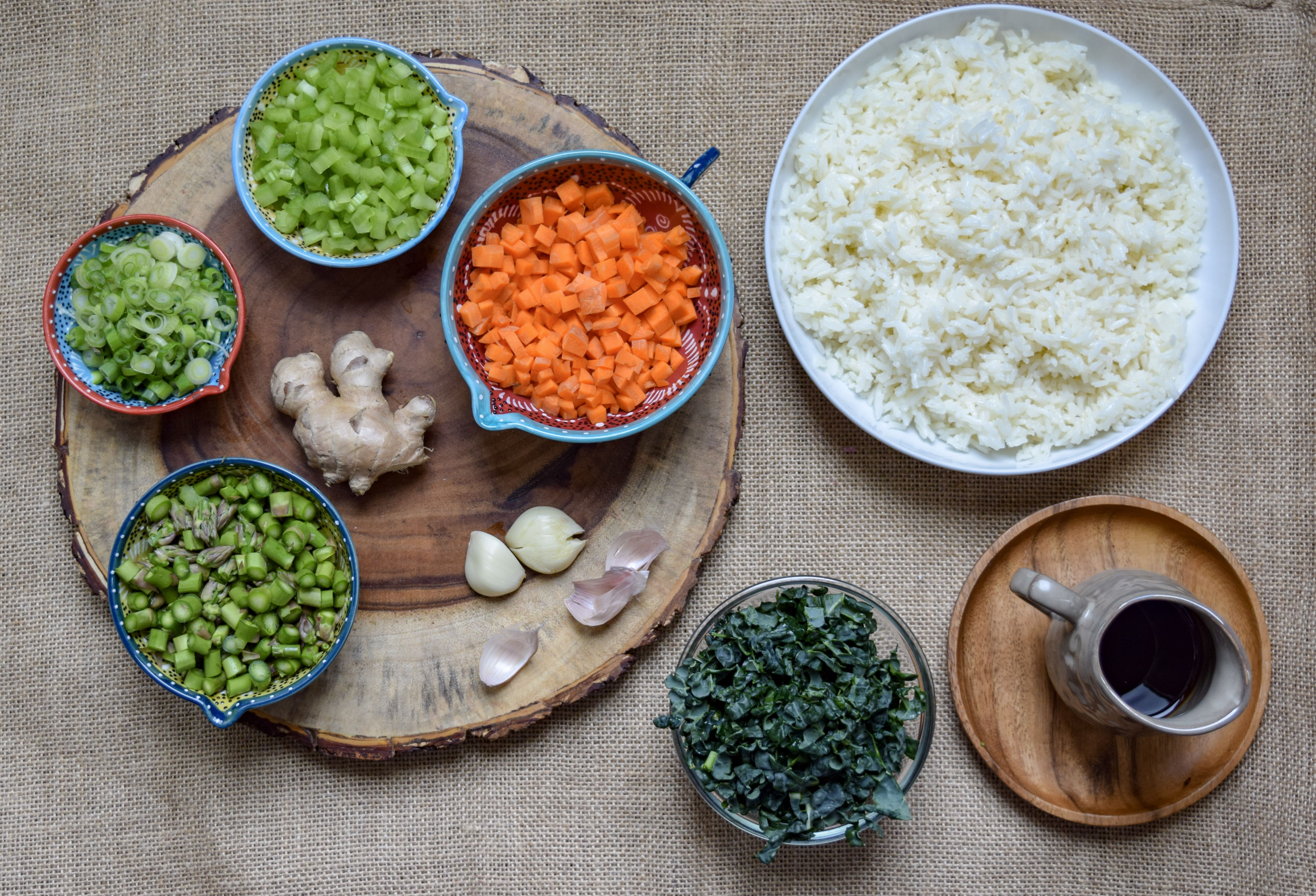 Kitchen Sink Fried Rice
Free from: gluten, dairy, eggs, tree nuts, peanuts, corn, sesame, potato
Soy free adaptable
Serves 4 as an entree
1-2 cups diced hard vegetables (I like asparagus, carrots, celery)
2″ chunk ginger, peeled and grated
3 cloves garlic, minced
1 bunch green onions or 1 small yellow onion, diced
1 c. sliced leafy greens (I love sliced kale)
2 cups cooked and cooled rice
1/4 c.- 1/2 c. reduced sodium tamari/Drizzle Kitchen No Soy Soy Sauce
Directions
Preheat saute pan over medium for about a minute. Add a glug of olive oil and then your diced hard vegetables. Saute for 4-5 minutes until soft.
Add the ginger-garlic-onions. Saute for a minute until fragrant.
Add your sliced leafy greens (you also might need a little more oil!) and saute for another minute or two until softened.
Add the rice into your pan, along with some more oil, and saute for 4-5 minutes until it's all incorporated and smells delicious!
Finally, pour in the tamari/No Soy sauce to taste and stir until it's all mixed up. Taste and add salt as needed and enjoy!
Happy Foods are the Best Foods!
Happy Foods are the Best Foods!