Being gluten free for ten years has shown me the things I really do and really don't miss. I don't miss eating crappy pizza because someone ordered it and "well, its there." I don't miss filling up on bread at restaurants (remember those times?? thanks Covid) before my meal arrives.
But what I do miss is baking good bread at home. Really good bread. Not "filler" bread that is a mediocre substitute for its gluten containing counterpart. The smell of the yeast rising, the gorgeous crust, the chewy pull apart texture it's all what I love and tend to miss about my gluten-filled life of younger years.
The other weekend I was with my sister and her family and we all wanted to do homemade pizzas. So I put together a focaccia base for my pizza and, man, it was tasty. And easy. And vegan. I truly couldn't believe it. It's an awesome base for a chewy pizza crust or for a beautiful focaccia.
This is one of those recipes that I implore you to make your own. Because it's squash season I topped mine with some fall herbs and a thinly shaved delicata. But here are some other ways I'm envisioning adorning this beautiful bread:
halved grape tomatoes and vegan, nut free pesto
thinly shaved fingerling potatoes, garlic oil and fresh rosemary leaves
Thinly shaved shallots, fresh oregano leaves, sliced garlic
Sauteed shiitakes and sliced sautéed shallots- Finish with a drizzle of truffle oil and fresh parsley
But the possibilities are endless. If you are able to have dairy then throw some gorgeous chunks of mozzarella on there with some pre-roasted tomatoes. Finish with torn basil and you've got a beautiful, rustic pizza. Have some extra roasted vegetables from the holidays? Throw those on there before baking! Looking for an appetizer? Prepare the focaccia with the herbs, bake and cool. Cut into small squares and then top with sliced figs and some prosciutto.
However you prepare it I know you'll love it. And if you need to you can let the dough hang in the fridge for up to 3 days. Just remove it and let it sit at room temperature for 30 minutes before using. Let's all make our lives a little more wholesome but also a little easier, am I right?
Stay Safe out there, Drizzlers!
xo, Kendra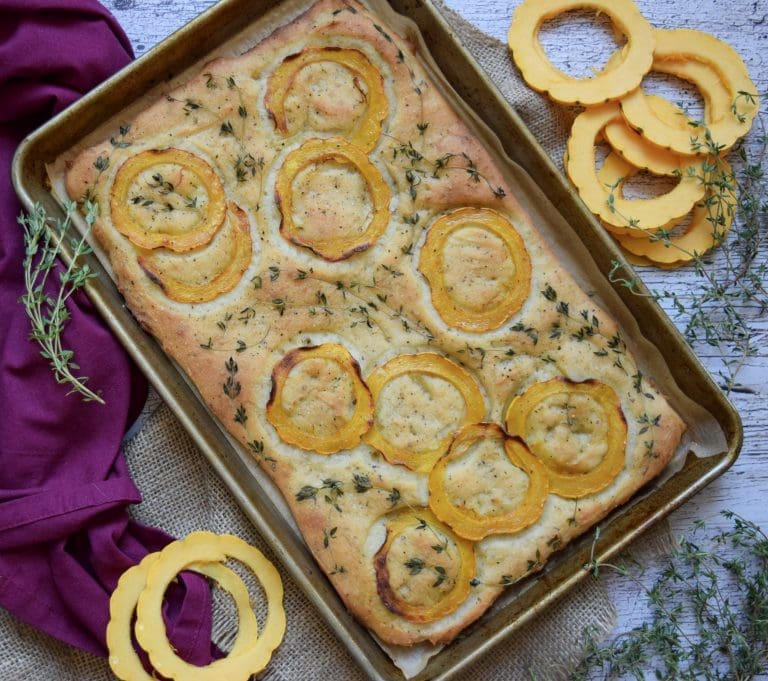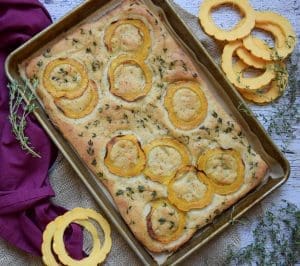 Herbed Focaccia
Vegan, Free From the Top-14 Food Allergens
Serves 8
1 Tbs. instant rise yeast
1 1/2 tsp. sugar
1 c. + 2 Tbs. warm water (it should feel warm on your wrist, but not hot!)
2 3/4 c. All Purpose Flour Blend (make sure yours has xanthan gum or guar gum. If not add 1/2 tsp. xanthan gum or 1 tsp. guar gum)
1/4 c. tapioca starch
1 1/2 tsp. salt
1/3 c. olive oil
2 Tbs. dried oregano
1 Tbs. granulated garlic
1/2 delicata squash, cored and thinly sliced
handful of thyme sprigs
additional olive oil for the top
coarse sea salt for the top
Directions
Add the yeast, sugar and warm water to a small bowl and whisk to combine. Let it sit a few minutes, the yeast should get a little "puffier." This indicates it is alive and working!
Add the flour, tapioca starch and salt to the bowl of a stand mixer. Pour in the water, sugar, yeast mixture along with the 1/3 c. olive oil, dried oregano and granulated garlic.
Use the paddle to mix the dough together, it should be a little fluffy and appear somewhat whipped.
Scoop into a lightly greased bowl and place in a draft free, warm-ish area, lightly covered with plastic for about an hour. The dough should rise about 1.5 times the original height.* Alternatively you can place the bowl in the refrigerator for up to 3 days and remove 45 minutes to come to room temperature before moving onto step 5.
Preheat oven to 400. Line a quarter sheet tray or a 9×13 baking dish with parchment paper. Lightly drizzle olive oil over the parchment.
Scoop the dough onto the prepared baking sheet in small dollops, covering as much as you can of the tray. Then use damp fingers or a silicone spatula to gently spread evenly.
Lay the sliced delicata on top in a fun pattern and gently press down. Add the thyme to the top of the dough and gently press down on that as well.
Finish with some flaky sea salt and fresh cracked pepper.
Bake at 400 for 10 minutes, rotate the tray 180 and bake another 10-14 minutes until light golden brown on top.
Slice into squares and enjoy!
*a good method for creating a warm and draft free place for your dough to rise is to turn your oven on at 350 for 5-6 minutes. Then turn off and place your dough inside!
Happy Foods are the Best Foods!