Tomorrow is Super Bowl Sunday which is essentially a holiday. So, like every holiday in our family we have a theme and a super fun menu planned!
Because its Florida vs. Kansas City this only made sense:
Mojitos
Cubano Sandwiches (Florida, Miami specifically)
Kansas City Ribs (obvious)
Cornbread
Coleslaw
Simple Green Salad
Dulce de Leche Magic Bars
Football Cookies
Who doesn't love a theme?! Now, my brother in law has really become a master at smoking meats so he is in charge of the majority of the menu. I, on the other hand, will take care of the cocktails and the desserts. And no football party is complete without something in the shape of a football, right? These cookies are perfect. I originally created the recipe for Enjoy Life Foods years ago but each and every year since then they make it onto at least one of my menus for football games. They're just too cute!
Most of the ingredients are probably things you have in your pantry, aside from the quinoa flakes. If you can't find them in time you can easily sub some quick cooking oats. No problem! And if you can't have oats then just sub a little extra flour.
Have fun and remember no crazy parties, keep your party to your bubble and have fun with your menu. Next year we can all throw a huge bash and I'll have an even grander menu for us all to cook up!
Stay Safe out there, Drizzlers!
xo, kendra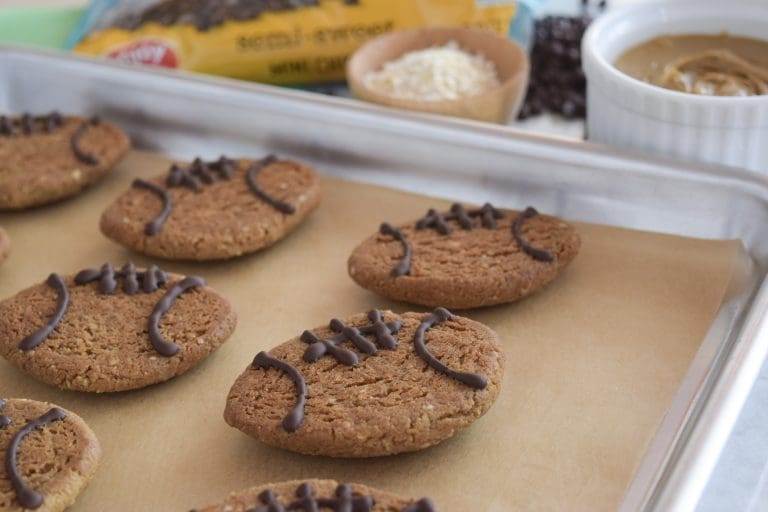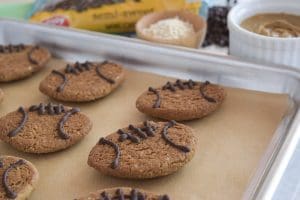 Football Meltaways
Recipe Created for Enjoy Life Foods
Adaptable and Free From the Top-9 Food Allergens
1 1/3 c. gluten free flour blend (be sure your blend contains xantham or guar gum. If not-add 1/2 tsp. xantham or 1 tsp. guar)
1/3 c. quinoa flakes*
1 tsp. baking soda
1/2 tsp. salt
1 c. sunbutter (or peanut butter if you can eat peanuts)
1/2 c. vegan margarine (or butter if you can have dairy)
1 c. packed brown sugar
1 Tbs. flax meal + 3 Tbs. warm water (or an egg if you can eat eggs)
1 tsp. vanilla extract
1/2 tsp. cinnamon
*If you don't have quinoa flakes or can't find them: sub some quick cooking oats or add 1/4 c. more gluten free flour blend.
Chocolate Laces
1/2 c. Enjoy Life Foods Dark Chocolate Morsels or Mini Chips
1/2 tsp. flavorless oil such as sunflower or grapeseed
Directions
Preheat oven to 350˚F. Line two sheet trays with parchment paper and set aside.
In a medium bowl mix together the gluten free flour, guar gym, quinoa flakes, baking soda and salt. Set aside.
Using a stand mixer or hand mixer whip together the sunflower seed spread (or PB) and vegan margarine (or butter). Mix a minute or two until a little fluffy.
Add the brown sugar, the flax meal-water mixture (or egg) and the vanilla and mix until well blended.
Sprinkle in the flour mixture and mix until thoroughly combined.
Scoop out about 2 tablespoons worth of dough and shape into a small football. Place on the parchment and gently press to flatten slightly. Continue with remaining dough.
Bake for 10-11 minutes until set. Cool.
For the football laces melt together the Dark Chocolate Morsels or Mini Chips and the oil until smooth either over a water bath on the stove or in the microwave at 30 second intervals. Remove from heat and cool 10-15 minutes.
Turn cookies upside down for frosting, they're easier to frost on the flat side!
Pour into a piping bag fit with a narrow tip or into an uncut resealable plastic bag. If using the plastic bag twist to close off the top to form just a small pocket where the chocolate is. Then snip a tiny bit off the corner, hold upside down when you aren't piping the laces (so the chocolate doesn't drip everywhere!) and then turn the correct way to for the football laces.
Pop in the fridge for 20 minutes to set and then enjoy!
Happy Foods are the Best Foods!